The decision to cancel or continue with an exhibition during the Coronavirus pandemic has faced many in the gallery sector since doors were closed.
For Anouska Phizacklea, Director of Monash Gallery of Art (MGA), who is one of three judges for the annual Bowness Photography Prize, the answer was easy but not without its challenges.
'There was an absolute commitment by everyone involved that this year the Prize would take on new meaning at what is such a challenging time for the creative sector, especially how to increase our support of artists, and to consider the role that public galleries can play at this moment,' said Phizacklea.
Echoing that passion and to support artists, the MGA Foundation has reduced the entry fee for the 2020 Bowness Photography Prize from $55 to $35. 'The reduced fee is a direct response and acknowledgment of how challenging it is for artists.'
Phizacklea said that while the entry fee won't cover the cost of administering the Prize this year, the MGA Foundation – organisers of the annual acquisitive prize – were committed to supporting artists during these trying times.
Established by the MGA Foundation in 2006 to promote excellence in photography, the annual prize has become an important survey of contemporary photographic practice.
With acquisitive prize money of $30,000 as well as a $5,000 People's Choice Award, the Gallery receives up to 900 entries annually, driven by the fact that it is considered one of the country's most open photographic competitions, with no theme imposed, no scale limitations, and no age or career barriers.
Phizacklea described the Bowness Photography Prize, which is now in its 15th year, as an anchor to MGA's exhibition program.
'It is an important part of what we do. Internally, it provides the curators access to artists they may not see, that may not be represented or are located in a different state, and it allows us to access artists across Australia, as well as Australian artists stationed overseas,' she explained.
Phizacklea said the great advantage of being part of the Bowness Photography Prize is that an artist can see their work alongside that of their contemporaries.
'It is pretty amazing to be able to provide an opportunity for artist's work to be seen by new and diverse audiences, to see what others are doing, and, for MGA, it helps us to facilitate a bigger conversation about photography and the important role it plays in society,' she told ArtsHub.
MORE THAN A PRIZE – A CONTEMPORARY PHOTOGRAPHY SURVEY
While the Bowness Photography Prize officially became acquisitive in 2017, MGA has made it a priority to go back and purchase the work of all past winners.
This year MGA is celebrating its 30th anniversary, presenting a moment to reflect upon what the prize has meant within the photographic landscape.
As a kind of annual snapshot, Phizacklea said the prize not only reflects what's happened in the past year, offering a social, environmental and political read, but that it also provides a summary of innovation across the artform.
Works entered must have been produced after 1 May 2019.
Phizacklea explained that with two guest judges invited each year, 'you get a very different focus and attention, there is an intensity and a new momentum to the prize – the judges' specialties infuse into that year which means you never get the same prize every year, and that is very exciting.'
The 2020 guest judges are internationally celebrated artist Fiona Hall and Dr Shaune Lakin, NGA Senior Curator of Photography, in addition to Phizacklea herself.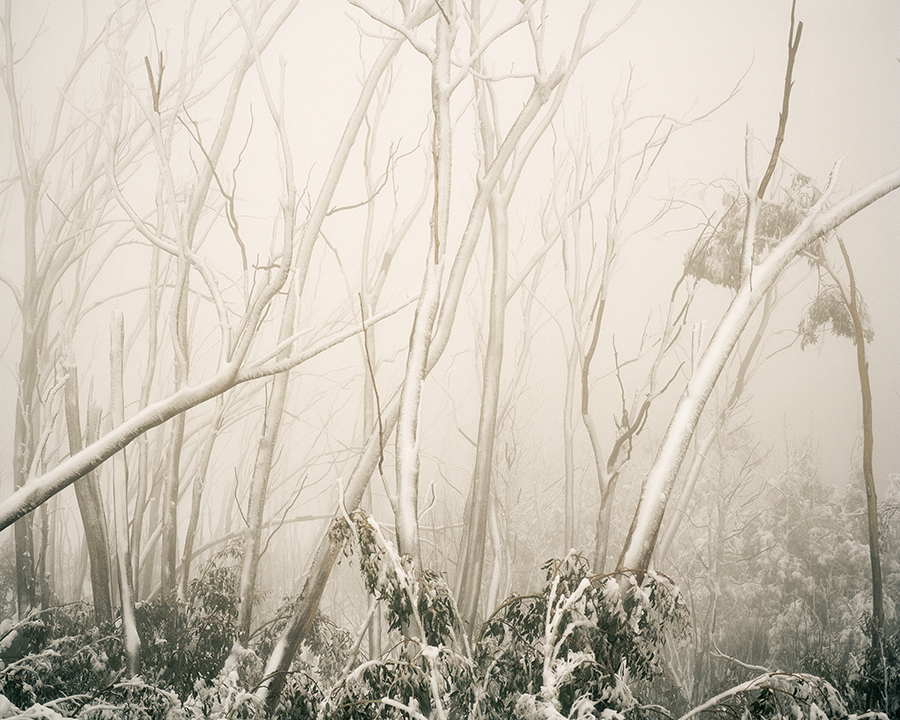 Katrin Koenning, Three (detail) 2018 from the series Lake Mountain, Monash Gallery of Art, City of Monash Collection; courtesy of the artist and Reading Room (Melbourne).
IS THIS THE RIGHT PRIZE FOR YOU?
The Bowness Photography Prize does not impose any career barriers. Whether you are an emerging artist or have an established practice of 50 years, all entries compete on the same playing field.
In the past, finalists have included fine art and commercial photographers, film-based and digital works, and analogue and camera-less artworks.
'How people make a photograph is very different, the way people approach image-making differs and artists are continuing to alter the way they make work as technology changes 'I have definitely noticed a shift in how photography is embedded in multiple types of media.'
She added: 'The prize really pushes the boundaries of what people perceive photography to be – and that is exciting. I love to see the inventiveness; to see where photography is going.'
To help artists apply this year, and as an outcome of the challenges of COVID-19 restrictions, MGA will work with the shortlisted artists on the logistics of their entries, offering guidance on how they can produce, frame and ship their work if they are not based in Melbourne.
'That is why we changed the date this year, to push it out to allow artists more time to manage such logistics during these difficult times,' said Phizacklea.
In another change this year, the award announcement will be made at the end of the prize to reflect the anticipated easing of restrictions that will allow artists and visitors to celebrate the awarding of the prize together.
KEY INFORMATION:
Entries close 8 July.
Work/s must have been produced since 1 May 2019.
Entrants must be Australian citizens or residents for at least 12 months.
Shortlisted finalists will be advised by email on Thursday 13 August.
Shortlisted works will be exhibited from Saturday 31 October 2020 to Sunday 7 February 2021.
Discover more about how you can become part of this year's Bowness Photography Prize.