What makes a new interpretation of Shakespeare work? And what makes one of the Bard's lesser performed plays work, particularly in this case, Measure for Measure?
It is true that fresh takes on Shakespeare don't always work. Some etch indelibly on the memory like Julius Caesar performed as Mussolini, Titus Andronicus set in a Fassbinder-like Germany and, most memorably, the 2018 TheatreiNQ production of The Comedy of Errors set in the Wild West.
So, it's not too surprising to see that this plucky theatre company's latest offering of one of Shakespeare's notoriously "difficult" plays should offer up a definitive version. But then it occurred to me that I had not seen any productions before and pondered why, like The Tempest, Measure for Measure is not performed as often as other works in the canon. Perhaps it's because it is neither fish nor fowl. Though traditionally classified as a comedy – it has comic elements – its dark themes give it an ambiguity that is hard to overcome.
It is the theme of power and how absolute power can corrupt absolutely, and how those in power use all the tools at their disposal to grasp and hold on to it. The central plot is the use of sex as a weapon, and in recent years with the doors being blown wide open on – among other things – the proverbial casting couch, it is a theme no less relevant today as it was 520 years ago when Shakespeare first adapted this story.
And this is just where Terri Brabon, Artistic Director of Townsville's TheatreiNQ, comes in. With her vast experience of Shakespeare in her career, she has never played in any production of Measure for Measure nor seen one, but this gave her leeway for a completely fresh approach. This is what she has taken and it certainly works.
Bringing this interpretation to life has meant that Brabon has collaborated with her implacable team to create a particular stylish world – and this is what sets this production apart. She has given it a certain visual mien, and a corresponding accessible 20th century setting that has inspired a number of attendant creative tools cleverly integrated into the action.
The inspiration comes from depositing this production firmly in the Art Deco world of the 1920s Jazz Age. Instead of opting for perhaps the more obvious route of German Weimar cabaret, here we are in the world of gangsters and pseudo-Prohibition. We are, after all, dealing with a brothel, this time creatively called Mistress Overdone's Day Spa. This in itself gives clues to the myriad light touches that cause the play to rise above its dark ambiguity.
Designed by Brendan O'Connor, and dominating Queen's Park, the striking Art Deco set is in black and gold (with obligatory contemporary light fittings) and could quite easily have been lifted from a ballroom in Eltham Palace. It surrounds a massive central screen, which, like a silent movie, offers scene sets, title cards and hilarious silent movie-style action segments.
The costume design is a particular triumph in hues of black, white and grey – made all the more interesting by the use of shapes and textures, and all in keeping with the Art Deco design. Even the striped prisoners' uniforms fit in with the colour scheme.
The plot is simple. A Viennese duke backs away from his public life, and hands over to his deputy, while at the same time donning a disguise as a friar to observe what happens. The deputy issues a proclamation condemning anyone to death who is caught having sex outside of marriage.
What ensues is a story that looks at the many layers of power abuse, in particular the central plot that sees Angelo attempt to trade sex with the innocent Isabella for the life of her brother, Claudio, who has been condemned to death under the rules of the absurd proclamation.
Recent NIDA graduate Harlee Timms returns to TheatreiNQ to play the Duke. His is an urbane and impressive interpretation of an aristocrat and a perfect foil for the Harvey Weinstein-ish villainy of Angelo, played by Brendan O'Connor.
O'Connor manages to pose this question about Angelo: is he inherently evil or is he just a mere mortal succumbing to temptation on a single occasion?
Emma Lamberton offers a sympathetic portrayal of the pure and moral Isabella, a symbol of goodness against a background of moral decay.
As is customary in TheatreiNQ productions, among the disciplined ensemble are some truly sparkling performances, many of them providing comic relief from the tragedy that is the central plot.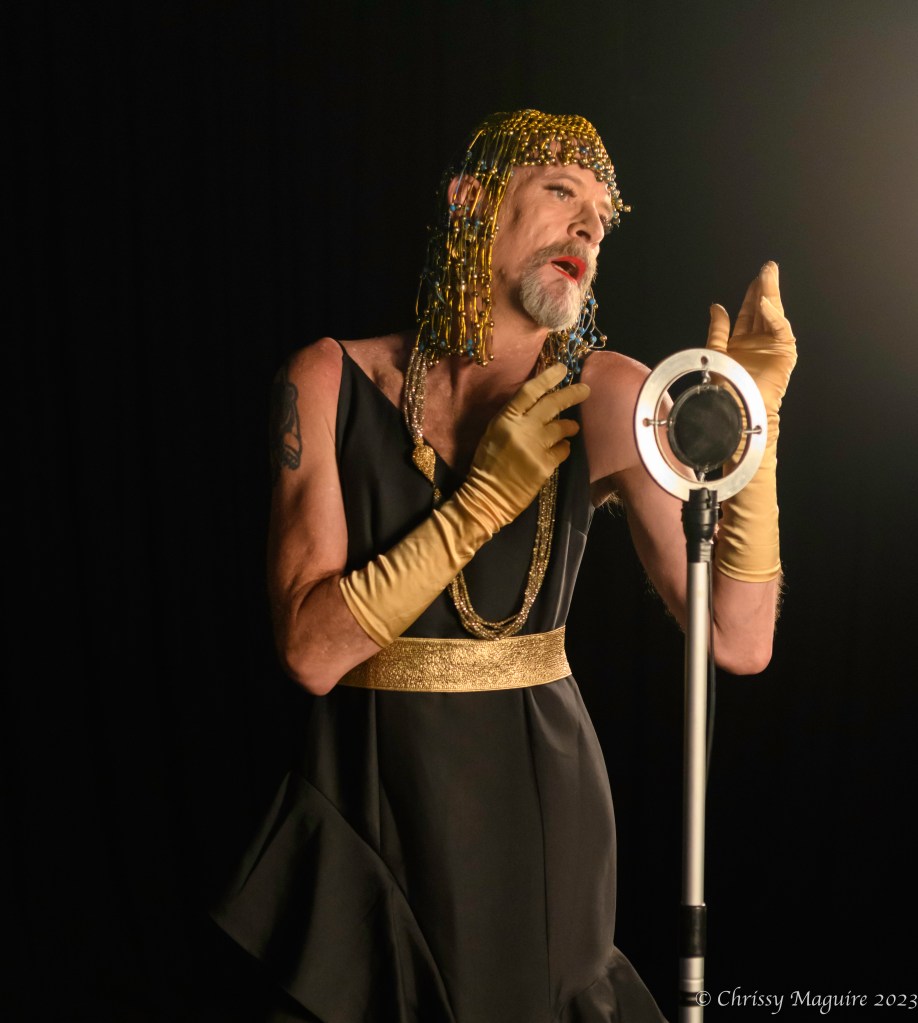 In more ways than one, topping this with bling and glitter is Robert Street – in his best performance in his long history with TheatreiNQ – as Mistress Overdone. His two musical numbers are highlights of the night where he hysterically lip-syncs to almost unrecognisable 1920s versions of Madonna's 'Material Girl' and The Buggles' 'Video Killed the Radio Star.'  
Michael Gleeson excels too as Lucio, played as a moustachioed loudmouth lout in a chequered suit, while Paris Walsh succeeds as the aptly-named sex worker, Pompey Bum. Act Two, however, belongs to Brabon in a scene-stealing comic performance as Mariana, with also notable performances from Michael Sams and Sally McCutcheon.
Read: Theatre review: Unprecedented, HotHouse Theatre
This production is an example of style and interpretation enhancing the truth of a company's abilities and worth rather than simply providing a gloss.
Measure for Measure by William Shakespeare
A TheatreiNQ production
Queens Gardens, Townsville
Director: Terri Brabon
Set: Brendan O'Connor
Costume: Kathy Brabon, Terri Brabon
Lighting: Jamie Schmidt
Production Manager: Chris Nobile
Lighting Operator: Daniel Lobley
Sound Operator/ASM: Fionn Baker-Goodson
Front of House Manager: Anne-Marie Smith
Cast: Harlee Timms, Brendan O'Connor, Sally McCutcheon, John Goodson, Emma Smith, Emma Lamberton, George Abednego, Lara Hodgson, Charlotte Davies, Alyssandra Higgins, Kiahna Culleton, Michael Sams, Hunter Sams, Kaden Ramm, Nicholas Rose, Ally Armitage-Cosgrove, Robert Street, Paris Walsh, Lily Bartlett, Michael Gleeson, Terri Brabon, Keely Pronk
Tickets: $33- $42
Measure for Measure will be performed until 24 September 2023