Immersive theatre has been a bit of a sexy trend since the runaway success of UK-based theatre company Punchdrunk's Sleep No More in New York in 2011. In Australia, versions of immersive theatre have been popping up, from Underground Cinema (established in 2009) through to Malthouse Theatre's Because The Night – based on Shakespeare's Hamlet – earlier this year.
The newest fully immersive theatrical experience is by Broad Encounters, the crack team behind 2018's Edgar Allan Poe-inspired A Midnight Visit. Love, Lust, Lost is an underwater seafaring-themed choose-your-own-adventure set in the old Austral Picture Theatre, an Art Deco former cinema in Collingwood, Melbourne.
The experience, both immersive and interactive (unlike A Midnight Visit, characters will ask you questions that they want you to answer), is designed to be experienced as you wish. For this reason, no two audience members' experiences will be the same. This does sometimes cause a bit of FOMO*, as you wander through the corridors hearing strains of performances going on in different rooms that you aren't in. But if you can enjoy the sense of being the accidental curator of your own experience – it is really an enormous amount of fun.
Love, Lust, Lost is full of the elements that made A Midnight Visit so remarkable – a fully-realised design concept that transforms the entire multi-floor space into a series of smaller theatrical spaces, connected by corridors and (sometimes secret) passageways – as well as atmospheric lighting and an ominous soundscape that help create the sense of being in an underwater vessel that time and civil society forgot.
There is an enormous amount of work that has gone into the design, and the effect is like walking onto a film set. Each room is designed with its own unique personality, with so much attention to detail that you could spend all your time just admiring the set pieces and props in each room.
You can travel from the brightly-lit beauty salon, with Hollywood make-up mirrors and black and white tiled floor, to its adjoining rooms that betray darker themes in the narrative at play. When this reviewer attended, a witch-like character brushed an audience member's hair before beckoning them into a blood-spattered room next door; while a dentist's chair sat in the corner next to a rusty metal trolley full of a terrifying array of equally rusty blood-encrusted implements. We escaped through a doorway of clinking chains to find a red neon-lit room with a leather harness hanging from the ceiling – a window through to a brighter room revealing a pastel-flowered swing.
The design raises lots of questions and provides clues that lead you to propose different possible narratives and connections between characters. As you encounter the characters in the show, they may beckon you closer or whisper in your ear, revealing more secrets.
There's Captain Anderson (Sandro Colarelli), whom you meet at the beginning of the adventure, before you are asked to make your first choice – left or right, into the unknown. Later, he bailed me and my theatre companion up and sang a sea shanty for us as we clapped in time. The song is rather dark, leaving you with a clue as to what may be happening on the EV Nautilus. Things work a bit differently in the deep, it seems.
In another room, we encountered a man dressed in leather (Jeremy Lloyd) dancing on a table with a woman in a sailor's uniform (Bri Emrich – an A Midnight Visit alumna). The pair, clearly lovers in the story, are dance and circus-trained – as are several of the multi-skilled cast of performers, which also includes musical theatre-trained actors and cabaret artists.
A tutu-wearing pixie-ish character appeared from a doorway and invited us through a corridor of kelp-like hangings into a secret bar where we had shots under a blow-up octopus arm.
The ship's chef stopped to ask me what I wanted to eat. Later we saw him in a stoush with the man in leather in a cage.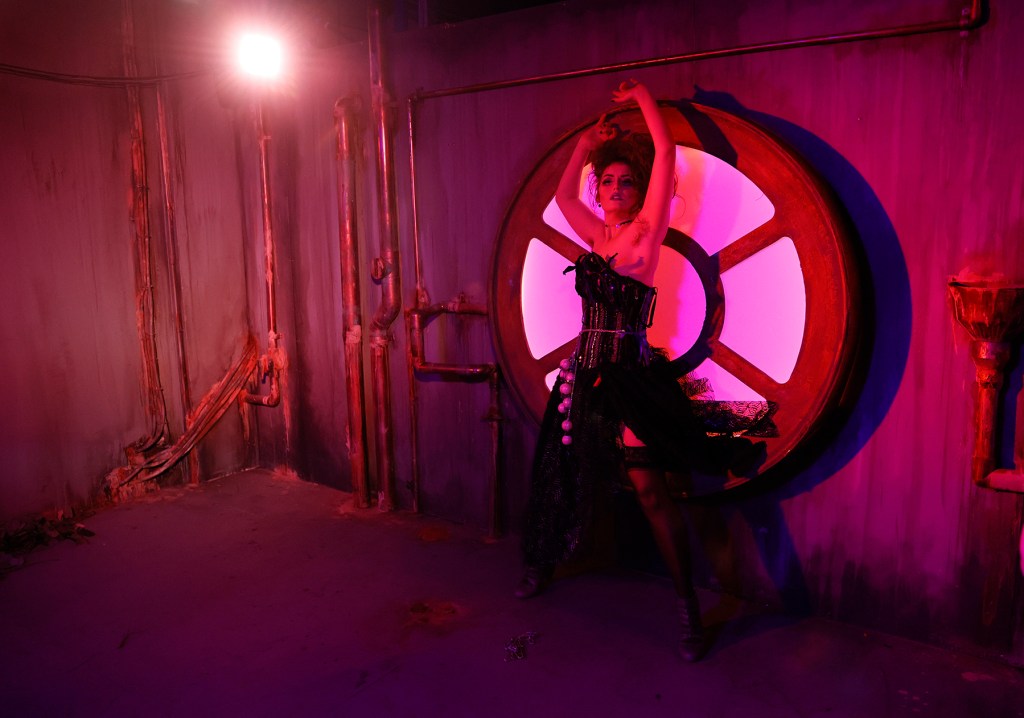 We stepped past a wriggling green character making its way through the dark passageways on its belly, like some sort of sea slug.
Because Love, Lust, Lost is immersive, it can feel a bit like you're missing quite large chunks of the story, and perhaps aren't piecing together all the narrative clues – particularly if you're like me and enjoy going off on your own adventure, away from the crowds piling into an overstuffed room.
A chat after the show revealed a totally different series of experiences that we had missed and, at the show's conclusion, when the audience was ushered into the largest room for the finale, I realised that I had completely missed seeing one of the characters at all. This doesn't take away from the experience, but it does feel like the show is designed to be seen multiple times; as you exit, an usher provides you with a 15% off code to use if you book again – 20% if you book straightaway.
The beauty of having a juicy theme with lots of history, myth and legend to squeeze out of it, is that there is enough richness in the dramaturgy and satisfaction in just being in the space itself (we found a moment of pure joyful abandon bouncing away in the hidden jumping castle), so that even if you leave a little confused about what just happened, it just leaves you hungry for more.
Read: Theatre review: The Importance of Being Earnest, Roslyn Packer Theatre
After being bowled over by A Midnight Visit, I had high expectations for Love, Lust, Lost, but this second work by Broad Encounters truly cements the company's reputation as the leading creator of exciting and thoroughly immersive theatre in Australia right now.
And advice for curious creatures: if you get asked to follow, do follow.
* fear of missing out
Love, Lust, Lost
Austral, Collingwood, Melbourne
Creator, Creative Producer and Co-Writer: Kirsten Siddle
Stage Director: Scott Maidment
Co-writer: Helen Cassidy
Associate Stage Director: Drew Fairley
Fight Director: Nigel Poulton
Choreographer: Jo Cotterill
Company and Stage Manager: Tarah Walsh
Head of Set Design: Mike Finch
Set Design: Josh McIntosh, James Browne, Dave Angelico, David Jon O'Neill, Kirsten Siddle, Stephen Wolf
Musical Arrangements and Head of Technical: Mik La Vage
Lighting Design: Jason Glenwright
Scenic Sound Design: Michael Therilor (Kpow), Peret von Sturmer (Kpow)
Costume Design: Olga Dumova (Originating), Melanie Gillbank and Laurie Verling (Melbourne)
Make-up Design: Tiffany Beckwith Skinner
Head of Art Department: Ebony Webb (originating)
Associate Producer: David Jon O'Neill (originating)
Operations Manager: Ruth Gardener (originating)
Sets and Props: Clo Love, Amy Tanner, Claudia Soler, Stephanie Crowe, Ashley McNeil, Tyler Marszalek, Jake Martin, Loren Bell, Michael Jenkins, Hugh Wakfer, James Kher-Bek, Daniel Addison, Daniel Russell, Dave Angelico, Leo Herreygers, Maddy Barnsdall, Claire McFayden, Lyndal Siddle, Jamie Fodor, Hannah Siddle, Regan Henry, Alice de Groot, James Kher-Bek, Ivy Fisher-Elshaug, Jonah Harrison, Stephen Wolf
Technical Production: Freddy Komp, Geoff McGahn, Jamie Carolan, Nathan Gummow, Max Mackenzie, Hugh Wakfer, Lee Stout, Elliot Glass, Oliver Van Boxtel, Tom Ansell
Stage Management: Holly Mouat, Aiden Meredith, Claudia Soler, Stephanie Grima
Cast: Sandro Colarelli, Bri Emrich, Sho Eba, Callum Mooney, Chloe Towan, Jeremy Lloyd, Meg Hickey, Kristian Šantić