Written by first-time indigenous playwright Nathan Maynard, The Season, tells the story of three generations of the Duncans, a Tasmanian Aboriginal family, maintaining one of their long-running traditions. Specifically, this involves catching mutton birds on Big Dog Island – somewhere in Bass Strait between mainland Australia and Tasmania – for a particular six-week period of every year. Apart from the economic side of things, it is also a chance for the scattered parts of the family to gather and reconnect. With the threat of dangerous snakes and Pop's volatile temper, the family reunites with a culture that's still very much alive.
The Season is full of love and warmth, and ratbag larrikin humour with practical jokes being played on some unsuspecting family members (which is funny if you like that sort of thing). There is fine ensemble work from the cast of seven (some of whom double roles). There are a couple of lyrical speeches and lots of strong language, innuendo and some great sight gags.
At the beginning of the performance there were some problems with volume of projection and pacing of dialogue (nerves possibly?) so perhaps some of the audience missed things, but this was soon overcome.
The set design by Richard Roberts was inspired and there was fabulous atmospheric lighting by Rachel Burke as realised by Simon Rush. The main areas (the home and the beach) were delineated but also fluidly interwoven.
The Duncan elders Ben (Maitland Schnaars) and Stella (Della Rae Morrison) travel to Dog Island as usual with their son Ritchie (Matthew Cooper) and Stella's rather bawdy and foul-mouthed sister Marlene (Lisa Maza). This year, however, their daughter Lou (Nazaree Dickerson) has returned from Melbourne bringing her teenage son Clay (James Slee) to join them.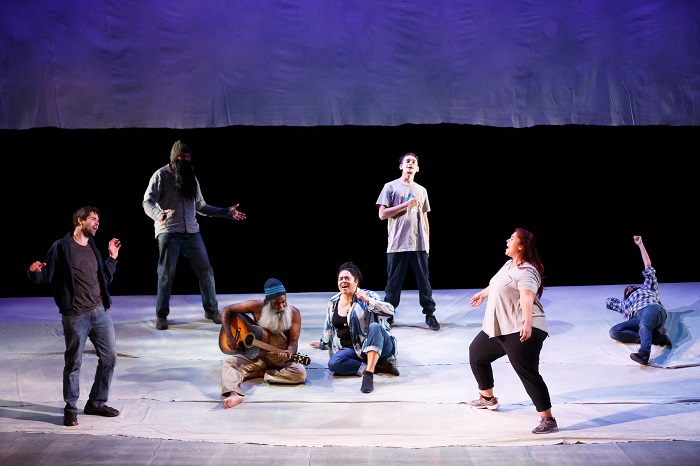 The cast of The Season.
Mutton birding is a messy and dangerous business: gingerly inching your arm down possibly snake-infested burrows, then squeezing guts and gurry out; but the inherited, almost instinctive work unites the family. Traditions are passed on, totemic legends recalled, tensions volcanically bubble and long hidden secrets are revealed.
Schnaars and Morrison lead the excellent ensemble work. Their lifelong love wraps them (and the audience) in its warmth. Maza is hilarious, and ultimately poignant, as Aunty Marlene with great scorching repartee who must battle her demons. Marlene's enthusiastic semi-secret trysts with Neil Watson add to the comedy. Cooper gives a robust performance as Ritchie, who is frustrated at having to wait too long for the baton of responsibility to be passed while Dickerson is full of reticent turmoil and pain over a long hidden secret.
Slee as teenage Clay gives a terrific performance blending cheeky hopefulness, susceptibility energy, eagerness to learn and lanky physical awkwardness. There is a safe-sex talk between mother and son that reveals embarrassment yet also huge love.
Trevor Jamieson with his great flowing beard has fun in his two roles of Neil and juggles two kinds of clowning as two different outsiders to the family – officious Senior Ranger Richard Hadgeman and womanising over-excitable Duncan family arch-rival Neil Watson.
The play seeks to strike a delicate balance between almost hidden emotion and raw teasing comedy. The Duncans are a great mob, and this is a thoughtful play revealing a new Indigenous voice showing life now.
3 ½ stars ★★★☆
The Season 
By Nathan Maynard 
Director: Isaac Drandic 
CAST :Mathew Cooper, Nazaree Dickerson, Trevor Jamieson, Lisa Maza, Della Rae Morrison, Maitland Schnaars, James Slee 
Set and Costume Designer: Richard Roberts 
Lighting Designer: Rachel Burke 
Sound Designer: Ben Grant 
Dramaturg: Peter Matheson
25-29 September 2018
Seymour Centre, Sydney