Terrain, a 2012 Bangarra dance production, graces the screen as part of the Sydney Opera House Digital Season. With captivating design and choreography, the work is a thematically rich and cohesive experience, intensely exploring the Arabunna people's relationship to Lake Eyre. When it first premiered, the piece garnered two Helpmann awards and critical acclaim – thankfully, this recording conveys the sumptuous detail and stunning power of the live production.
Choreographer Frances Rings grips us from the start. On a blank stage, a group of dancers entangle one another, then move fluidly in contact, unidentifiable limbs extending and retracting. Blended together as one, we see there's an effortlessness that comes from this interdependence. Their movements have a subtle power, offering delicate moments of suspension and amplification. When one movement follows another, it doesn't necessarily feel causal. Instead, it feels like a kind of harmony.
Not long after this, a painted backdrop fills the back wall – ribbons of gold undulate across a textured gray, and the effect is striking. The image changes for different sections of the work (there are nine in total), turning earthen brown with translucent, watery blues, to bright red scrawls on black. It feels like we are looking at the earth from the air, then somehow end up inside the earth itself.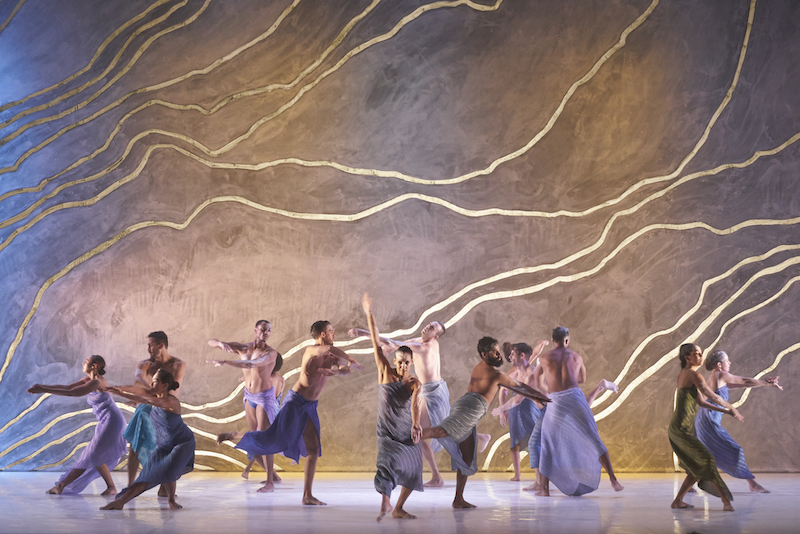 Bangarra Ensemble, Terrain by Bangarra. Photo by Zan Wimberley.
Costume Designer Jennifer Irwin toys with the idea of how 'landscape becomes a second skin', and ensures that the costumes for each section take on compelling textures that palpably affect the tone. She decorates the ensemble with white ruffles in one part, shrouds them in grey wisps in another, and so on, finally wrapping them in flowing skirts of metallic purple and teal. Along with Jacob Nash (set), the design of each section is visually bold and distinct.
The dance feels most powerful when its participants move with a lively, almost messy, urgency. One phrase sees dancers' backs on the ground and legs up, extending and poking the air at odd, frenetic angles. Another thrilling sequence occurs when a quartet of female dancers spin and writhe close to the floor in a wild but controlled canon. The coiled intensity breathlessly unravels – it feels like pure waves of energy, like the transmission of an ineffable emotion.
We see the action as the recording wants us to, and to that end the camerawork is unflashy but effective. At its best, we get a closer look at the costumes that would have surely been lost to those sitting farther back in a theatre. Once or twice, however, the frame omits some of the dancers, which is especially frustrating when a small group is performing very specific phrases, dulling the overall effect.
David Page's music is distinctly modern, with piano and pulsing electronic blips, while lighting design by Karen Norris successfully directs our focus. Artistic Director Stephen Page must be praised at ensuring all production elements shine as much as they do.
With great imagination and execution, Terrain shows us a world where the connection to land is ever present, ever dynamic and ever powerful. 
You can watch Terrain for free until June 4.
4 stars out of 5
Terrain
Bangarra Dance Theatre for Sydney Opera House Digital Program 2020
Key Creatives: Artistic Director: Stephen Page and Choreographer: Frances Rings
Available until 4 June 2020