Sva Kranti – which means 'the revolution within' – is a homage to Indian women's resistance framed within a series of imagined conversations with Gandhi. Through theatre, dance, music and multimedia, activist and creative powerhouse Mallika Sarabhai recalls histories of non-violent struggle, placing women's resistance within – and at the sharp edges of – the dream of democracy.
The performance begins with an acknowledgement of the Boonwurrung and Woiwurrung peoples whose land Footscray Community Arts Centre occupies, and a warning that the show makes reference to suicide and violence against women.
The references to suicide in the show are incredibly confronting, not because they're graphic depictions of the act but because of how they're positioned in relation to activism.
'I want to live my way, or not at all,' declare four sisters who make a suicide pact after repeated humiliation in the marriage market. Though it's not uncommon that non-violent resistance involves a degree of self-harm – tactics like hunger strike and sewing lips shut – these suicide narratives invite the question of how non-violent struggles contend with violence against the self. Non-violence is not simply martyrdom, though perhaps it inherits some of the emotional symbolism of martyrdom.
In view of Sarabhai's colossal reputation in the Indian classical dance world, some audiences may be disappointed to find that this production is quite light on dance. There are several short dance sequences but most of them are interludes or flourishes in the drama rather than driving the narrative – for example, each of the four sisters is characterised by a particular dance style drawing from bharatanatyam, Michael Jackson, Bollywood, and mohiniyattam, but the story itself is told through monologues. It seems like a missed opportunity, given the incredible narrative power of Indian dance forms, and Sarabhai's celebrated role in developing new language within these frameworks.
Sarabhai is the sole onstage performer in Sva Kranti but clever lighting and projection design from Yadavan Chandran brings other actors into the piece by projecting their performances onto two vertical panels in the first act. It's quite an effective way to blend live and video performance, though the technical set-up also feels like a shift away from the more grassroots, street theatre format that informs this production.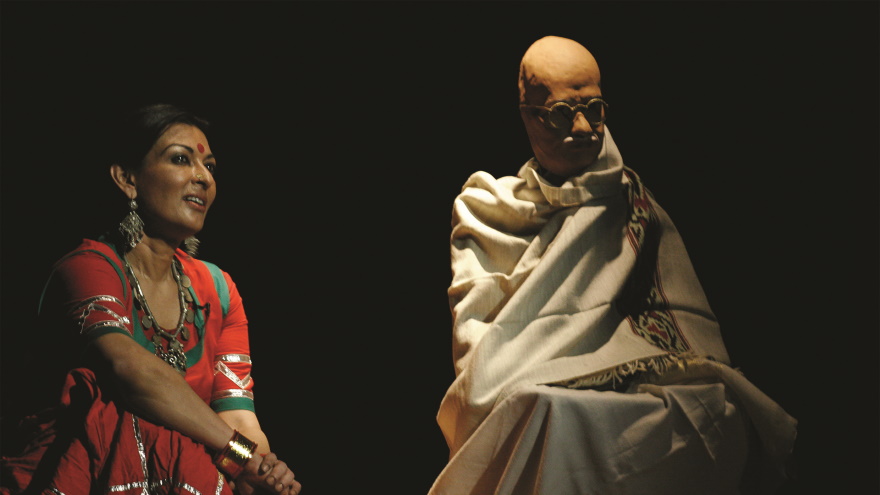 Photo: Darpana Archives.
Interlinking the various stories are scenes in which Sarabhai, seated on the ground, converses with an effigy of Gandhi, seated in a chair. Her ambivalence in some of these conversations helps to undercut the more didactic parts of the performance, but there is much that is left unspoken – especially in light of Gandhi's troubled relationship to women, sexuality, and feminism, and the current struggle in India against Hindu supremacism, anti-Muslim violence, and the discriminatory Citizenship Amendment Act (CAA). Sarabhai has been a very outspoken critic of Modi, Hindutva and the CAA, and the final scenes in the show touch on this struggle but it's clearly an epilogue on a production created more than a decade ago.
Sva Kranti is an ambitious work, and ultimately one that doesn't quite stand on its own. There are many interesting tensions here between different understandings of power, resistance, violence and citizenship but some questions feel under-explored while in other scenes the didacticism is overt and perhaps simplistic.
The 60-minute performance is followed by a 30-minute discussion between Sarabhai and artist-curator Nithya Nagarajan. For me this was the highlight of the evening, contextualising the performance in Sarabhai's history of practice across art and activism, and in the present moment, when state-sanctioned anti-Muslim violence has killed 46 people in Delhi since 23 February. The situation is equally desperate in China, where millions of Muslim and ethnic minority citizens have been subject to detention, surveillance, re-education and other policies suppressing religious and cultural expression, and it seems everywhere in the world, ethno-nationalist violence is increasing.
Sarabhai surveys this moment with clarity and urgency and offers a frank assessment of the Indian diaspora. 'The diaspora remember an India that never existed', she says, and have mobilised more in favour of Hindutva than its opposition. It's a much needed challenge to an Australian arts scene in which migrant communities are often uncritically celebrated, romanticised and depoliticised whenever we're not invisible, and one that speaks to my own frustration and impotence in the face of Han supremacism.
When taken in tandem with the post-show talk, Sva Kranti is rare, refreshing and thought-provoking despite its faults. I want to see more work like this, especially in this country that has so much to learn from other anti-colonial struggles for democracy.
3 stars out of 5 ★★★
Sva Kranti: The Revolution Within
Creator/performer: Mallika Sarabhai
Videoscape/lighting design: Yadavan Chandran
Interviewer: Nithya Nagarajan
28-29 February 2020
Footscray Community Arts Centre, Footscray VIC
Tickets $30