Christopher Tomkinson, Eloise Winestock and Oliver Ryan in Sport for Jove's Rose Riot. Photo by Seiya Taguchi.
Sport For Jove's Rose Riot consists of two shows: The Hollow Crown and The War of the Roses. Director and adaptor Damien Ryan has condensed Shakespeare's English history cycle into approximately seven hours of gripping theatre: if you catch both productions (which you can do in a single day) you will see scenes from Richard II, Henry IV parts 1 and 2, Henry V, Henry VI parts 1, 2 and 3, and Richard III.
The plot of Shakespeare's double tetralogy loosely follows the historical events that occurred during the English civil wars between the houses of Lancaster and York, rival branches of the royal house of Plantagenet. Shakespeare ducks and weaves around the historical facts, creating a compelling narrative which is as relevant as it ever was if you consider those who live in war torn regions today.
Director Damien Ryan's theatrical genius is on full display in this must-see rendition of Shakespeare's timeless history cycle. This is the tenth summer season of outdoor Shakespeare staged by Sport For Jove, and the Olympian undertaking of mounting eight plays across two productions no doubt represents a determination to mark the decade with something truly special.
The setting for the plays at Bella Vista farm is stunningly bucolic. This year the backdrop has been decorated with roses representing the red rose of house York and the white rose of Lancaster (Set design: Anna Gardiner and Damien Ryan). One of the sets is constructed from a shiny red material, such that it appears slick with the blood spilled in the tussle over the hotly contested crown. Costuming (Anna Gardiner) twenty five actors looks like a staggering undertaking, especially given the costumes are constantly changing. In one battle scene much of the garb is stripped away, leaving white undergarments, giving a greater sense of the humans beneath the uniforms: the exposed limbs are fragile.
In keeping with modern efforts to redress a lack of gender balance on Sydney's stages, and a more general imbalance in the classics and Shakespeare especially, many key roles are cross-cast; delivering a female Henry V and Falstaff, and inviting the audience to interrogate assumptions regarding gender.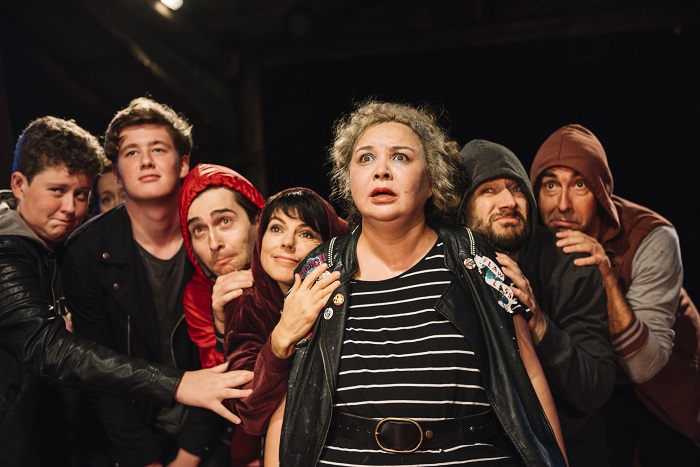 Bron Lim and ensemble in Sport for Jove's Rose Riot. Photo by Seiya Taguchi.
Ryan writes that, due to the historical inaccuracies, the cycle may fail as history, but Shakespeare wasn't writing history, he was writing about an eternal present: this philosophy is brought to life in one instance by showing us masks of deposed contemporary political figures such as Tony Abbot, who Ryan notes must have at times felt exactly what Richard II experiences.
As for the performances, there are twenty five actors across both shows, with many returning for their 8th, 9th and 10th seasons. Each has their moment to shine in the outdoor footlights. The audience gets the chance to see both artistic directors take to the stage; Terry Karabelas, with the heftier role of Richard III, captures the menace of Richard III with a wonderful, mesmerising intensity. Ryan notes that working with cut down versions of so many plays means some characters and treasured moments are lost, but many more are retained.
This production offers a chance to hear innumerable favourite lines: 'O for a Muse of fire', 'we happy few, we band of brothers', 'Was ever woman in this humour woo'd?' It's a great opportunity to experience these treasures of the English canon properly contextualised.
4 ½ stars ★★★★☆
Rose Riot – The Hollow Crown
A Sport for Jove Production
Sydney Hills Shakespeare in the Park
Damien Ryan – Director, Adaptor & Set Design
Anna Gardiner – Set & Costume Design
James Brown – Composer and Sound Designer
Matt Cox – Lighting Designer
Tim Dashwood – Fight Director
8 December 2018 – 27 January 2019
Bella Vista Farm, Sydney