Gabrielle Nankivell's Neon Aether; part of Sydney Dance Company's triple bill, Bonachela / Nankivell / Lane. Photo credit: Pedro Greig.
With 1969 marking both the founding of Sydney Dance Company (SDC) and the Apollo 11 moon landing, it's fitting that this 50th anniversary SDC program – unimaginatively entitled Bonachela / Nankivell / Lane, after the three choreographers featured – begins with Gabrielle Nankivell's Neon Aether.
In darkness we hear the clump of heavy boots, the mechanical groan of an elevator transporting an astronaut to the launch pad, the amplified voices of NASA Control, before Damien Cooper's dramatic lighting illuminates the stage and the dancing begins.
A slow upwards reach of arms and softly bobbing bodies accompanied by Luke Smiles' rich composition and sound design suggests weightlessness. Elsewhere in the piece the dancers revolve around a central body, evoking the mechanical orbits of an orrery, while the colours of Harriet Oxley's costume designs hint at planetary origins and commonalities; an impression aided by choreography which features careful clusters of dancers in an unfolding series of duets and solos (the red-clad Ariella Casu's transition from observer to participant is especially thrilling).
Occasionally a dancer leaps, as if testing gravity; elsewhere they flex and flicker, crouch or extend their torsos, while the weightless motif is repeated more than once as the dancers sweep and circle intricately across the stage.
The work's reliance on regular blackouts to punctuate the dance sequences begins to feel a trifle repetitive as Neon Aether builds towards its climax, making a late shift to rapidly unfolding tableaux a refreshing change, but overall, it's a rich, impressive and compelling production; a fitting curtain-raiser for this significant anniversary program.
Rafael Bonachela's Cinco. Photo credit: Pedro Greig.
SDC's Artistic Director Rafael Bonachela celebrates an anniversary of his own this year, with 10 years having passed since he took over the company's reins in 2009.
Cinco ('Five') his latest work choreographed on the bodies of SDC's athletic cohort, is considerably more formal than Nankivell's contribution to the program.
Coolly dynamic and fast-moving, the piece features five dancers (one for each decade of the company) and a score by Argentinean composer Alberto Ginastera: the five movements of String Quartet No.2 Op.26.
Damien Cooper's lighting design creates striking chiaroscuro effects and dramatic silhouettes as the dancers move in a fluid frenzy of formal lines and rapid assemblies to the accompaniment of stabbing strings. Bonachela's careful eye ensures all elements of the work are smoothly integrated, but while the pace is rapid, the overall effect is striking but oddly passionless. Greater variance in pace and increased emphasis on emotional shading might have made the work more memorable. As it stands, Cinco is easy to admire but a hard work to love.
Conversely, Melanie Lane's startling and inspired WOOF – the final part of the program – is an outstanding piece of contemporary dance and an artistic triumph; inventive, bold and memorable.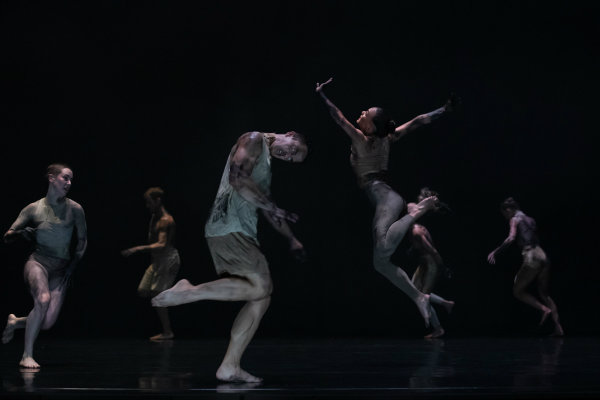 Melanie Lane's WOOF. Photo credit: Pedro Greig.
Twelve dancers enter the darkened space. The only sound save for the soft whisper of feet on the stage is a quiet humming, slowly building in intensity, which we soon realise the dancers are generating themselves as they form a series of tableaux. Bodies twist and hold; the humming ceases and silence falls.
A slightly distorted, amplified cello begins to play; soon the distortion takes precedence, transitioning into a thrumming electronic score, accompanyied by rich lighting states and increasingly complex choreography; Caravaggio at a rave.
The dancers' hands and forearms are covered in some black liquid or powder; with every touch, they leave traces of themselves on the clothes, backs and faces of their compatriots, whether resting their hands on a shoulder or lifting a body into the air in a controlled and striking moment of human puppeteering. We are all marked and shaped by our community, Lane seems to be telling us, no matter whether they're holding us up or tearing us down.
As WOOF builds towards its climax, dancers sashay and preen, arses wiggling, heads bobbling. The production's final image, as the dancers step through the rear curtain into a realm of golden light, is simple but exquisite.
Fluid, transfixing and exuberant, WOOF is a fitting conclusion to the first work in SDC's 50th anniversary program. Lane developed the piece as part of the company's New Breed program, an annual showcase of emerging choreographers. Now on the mainstage, it dazzles and delights – a joyous foreshadowing of the potential of Sydney Dance Company's next half century.
Four stars: ★★★★
Bonachela / Nankivell / Lane
Sydney Dance Company
The Playhouse, Arts Centre Melbourne
8-11 May 2019
Neon Aether
Choreographer: Gabrielle Nankivell
Music: Luke Smiles
Costume: Harriet Oxley
Lighting Design: Damien Cooper
Dancers: Ariella Casu, Janessa Dufty, Dimitri Kleioris, Luke Hayward, Jesse Scales, Emily Seymour, Mia Thompson, Victor Zarallo

Cinco
Choreography: Rafael Bonachela
Music: Alberto Ginastera – String Quartet No.2 Op.26
Costume: Bianca Spender
Lighting Design: Damien Cooper
Dancers: Davide Di Giovanni, Holly Doyle, Riley Fitzgerald, Chloe Leong, Charmene Yap
WOOF
Choreography: Melanie Lane
Music: Clark
Costume: Aleisa Jelbart
Lighting Design: Verity Hampson
Dancers: Ariella Casu, Dean Elliot, Chloe Young, Janessa Dufty, Dimitri Kleioris, Jacopo Grabar, Liam Green, Luke Hayward, Emily Seymour, Jesse Scales, Mia Thompson, Victor Zarallo
Additional dates:
VIC
16 May: Warragul
18 May: Frankston
22 May: Bendigo
25 May: Mildura
NT
27 July: Darwin
31 July: Alice Springs
SA
3 Aug: Whyalla
8 – 10 Aug: Adelaide
TAS
15 -17 Aug: Hobart