Buxton Contemporary is a bit of a tardis. With a modest corner entry into a heritage building, one is not expecting a giant – both in physical space and ambition. You move through a series of galleries that incrementally punch into an impressive scale – elegant, dynamic and surprising on all levels.
Buxton's current exhibition Between Appearances: The art of Louise Weaver is a great example of the gallery's mission to present, in depth, the work of a living artist in their collection, and to commission new work in the process. Weaver's exhibition is the second in this ongoing series of monographic surveys.
Now open for just over 18 months, the gallery has developed out of the philanthropic gift of the Michael Buxton Collection to the University of Melbourne.
Curator Melissa Keys has given audiences a soft entry to a complex body of work. A suite of works on paper, and small three-dimensional works – all in black and white and set against pale blue walls – have a cloudy kind of soft landing upon entry. This intimate, delicate suite of works welcome the visitor into a chapter of Weaver's career that may be less familiar, one that draws on cosmology and a web of networks.
A highlight was a suite of wall-based sculptures made from foam, papier-mâché and pumice, before being coated with marble. Caught between the monolith and a modernist echo, their bulk is uncanny in its weightlessness. They demonstrate Weaver's capacity to read material, and to push it beyond conventional understandings.
Between appearances: the art of Louise Weaver, installation view at Buxton Contemporary, 2020. Photo: ArtsHub.
This is perhaps best understood across her oeuvre through her sculptures of familiar animals wearing crochet skins, transforming them into fantastical creatures, often iridescent in palette, and adorned and bejewelled.
Among them is the installation Taking a chance on love (2003, pictured top) – a tableaux fairytale woodland cast in red. Keys explains that Weaver was particularly interested in the retinal quality of red, and at the time of making this major piece, was looking at Mark Rothko's metaphysical canvases. It certainly does have a lasting impression.
Alongside it sits the sculpture, It would seem that eyes can live without hearts (Oracle fox) 2005, one of Weaver's more recognisable works, depicting a green fox dressed in a Comme de Garcons scarf, its title harking back to Greek mythology and the role of prophecy.
As viewers, we start to get a sense that her world moves between make-believe and memory, sliding between abstraction and figuration with ease, slightly unsettling yet familiar and luscious.
While we tend to fall witness to the intensity of Weaver's practice in these signature animal works, this exhibition pulls that connection across her 30-year career, to abstract 'paintings' laboriously constructed by hand-sewing woollen thread through the warp and weft of a hessian support, to her use of Japanese Kozo Paper in a suite of framed works from 2011 made in the aftermath of Japan's tsunami and which captures the kinetic energy of natural phenomena.
They are intense studies – micro flurries, Keys calls them – which have the shimmer quality of sequins and the flotsam of nature's uncontrollable force – graspable but never controllable.
While Weaver's signature animals have remained a constant, this exhibition also fleshes out eloquently – and elegantly – Weaver's move into abstraction, compositions that respond to architecture and sound environments.
Also made from Japanese Kozo Paper, meticulously woven into the screen-like installation, is Bird hide (2011), which creates a kind of artificial architecture dividing the gallery space.  You start to get a hint of the dimension of Weaver's work – its physicality and aural component – in this work. Its shadows are beautifully considered, and it is set to a soundscape of birdsong.

Louise Weaver, Bird Hide, 2011. Installation view at Buxton Contemporary, 2020. Photo: ArtsHub.
There is a lot of work in this show – over 100 pieces – and yet it has great breathing space and pace. It is a real credit to Keys as the level of attention to detail in presenting these works is evident and clearly very much in sync with Weaver.
It is an idea that is developed further in three newly commissioned works upstairs. Cradling 2019 is a painting, with its stretcher exposed, custom fit between two columns; in Nocturne (Entr'acte) 2019, vertical silver panels mirror the stainless steel freight lift that dominates the gallery space; while Dream diviner 2019, comprised of a ballet barre, video and sound piece, speaks to the building's history.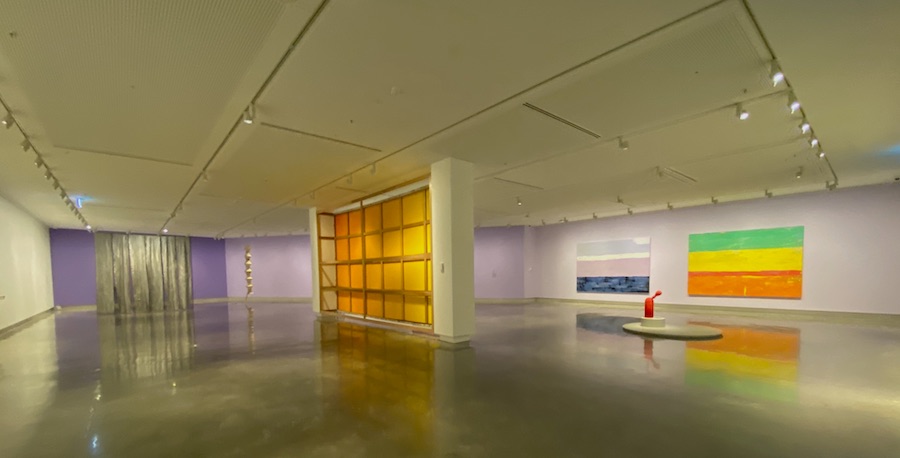 Between appearances: the art of Louise Weaver, installation view at Buxton Contemporary, 2020. Photo: ArtsHub.
Weaver is interested in the thresholds that space and environments offer, and this is further played out in the way the wall palette of this gallery is deeply considered. The verso of the painting Cradling moves from a glowing yellow to a resonant orange, its burning hue hinting at sunset and climate warming.
Echoing that tonal gradient shift, the gallery walls are painted from a light violet to a deep purple. The colour choice bounces off two expansive canvases that hang in the space. One could continue to intellectualise the connections that bounce around this upper gallery – it is so tightly curated.
This gallery reads both as a collection of individual works and a holistic installation. It is an erudite and eloquent exercise in curation to pull that off. Weaver and Keys clearly have been deeply in sync creating this exhibition, and it is a joyous journey to be taken on.
5 out of 5 stars ★★★★★
Between Appearances: The art of Louise Weaver
Curated by Melissa Keys
15 November – 9 February 2020
Buxton Contemporary, Melbourne