A lithe young woman in modest but provocative underwear dances on stage before she dresses herself in her school uniform. A bunch of unknown hooligans fling themselves around the stage in something reminiscent of Fight Club meets The Sex Pistols' God Save the Queen. In the final moments, Lilly, (Zoe Hawkins) takes out an unknown packet of something and proceeds to blast it up her nose. So while the genius of playwright Simon Stephens's adaptation made the hugely popular The Curious Incident of the Dog in the Night-Time a global hit, you know from the get-go there won't be any cute puppies or parental redemption in Punk Rock, presented by Ben Walter's Patalog theatre company. There are just as many rewards in this high-impact adrenalised production though. Punk Rock is, as Stephens says, 'one of his more hipster plays'. And how hip? Well, given that the tragically deceased playwright Sarah Kane and the luminous feminist playwright Caryl Churchill are among Stephen's favourites, you'll find you're in for a muscular night in the theatre. And if you're going to employ the urgency of youth, both corporeal and ephemeral, to say something unspeakably raw and frightening, you might as well go hard.
Seven astute and brilliantly rendered youths stuck in a very English grammar school library pre A level-exam period, are by turns anxious, self-absorbed, bored, apathetic and brutal, playing with each other until they descend into a kind of spin-the-bottle hellscape. The play focuses on the age-old conundrum about human nature: at what point do we lose our humanity and become the savage hunter or the hunted? These so-called privileged adolescents, with their profound sense of nihilism, guilt and shame, reveal their ultimate fragility as they carve into each other's insecurities, pick off the scabs of their neuroses, and exploit each other's weaknesses in extreme measures. The acting and direction are near faultless. Particularly compelling is director Ruby Rees's use of constant action and movement, contrasted with trippy voyeuristic scenes of sex, violence, bravado, and competition. When mining recognisable teen archetypes (skins, history boys) and using abject cruelty, and mercy conversely as a climatic counterbalance, it reaches its zenith. The constant motion could be excessive but is always churning in tandem with the actors' inner turmoil. The energy is volcanic.
New student Lilly – played with disarming insouciance by Hawkins – is an intriguing foil to the current group of students when she arrives to unwittingly shake things up. Her counterpart, William (Ben Walter) expresses his unfulfilled longing in boy-meets-girl style, and they discuss their privileged lot in life as William's delusions of grandeur expand. There's casual racism, classism and caustic observations about precisely who is being watched – and so by definition, who isn't – in William's anecdote about surveillance activities, and mountains revealed in Lilly's long list of teenage fears, which include black people and snakes. It's a testament to the enduring nature of the play that none of the themes of teenage angst have diminished – only magnified in a decade of ever increasing world chaos and receding individual freedoms. Walter's mastery of memory, unreliability and expert interiority is an impressive tour de force.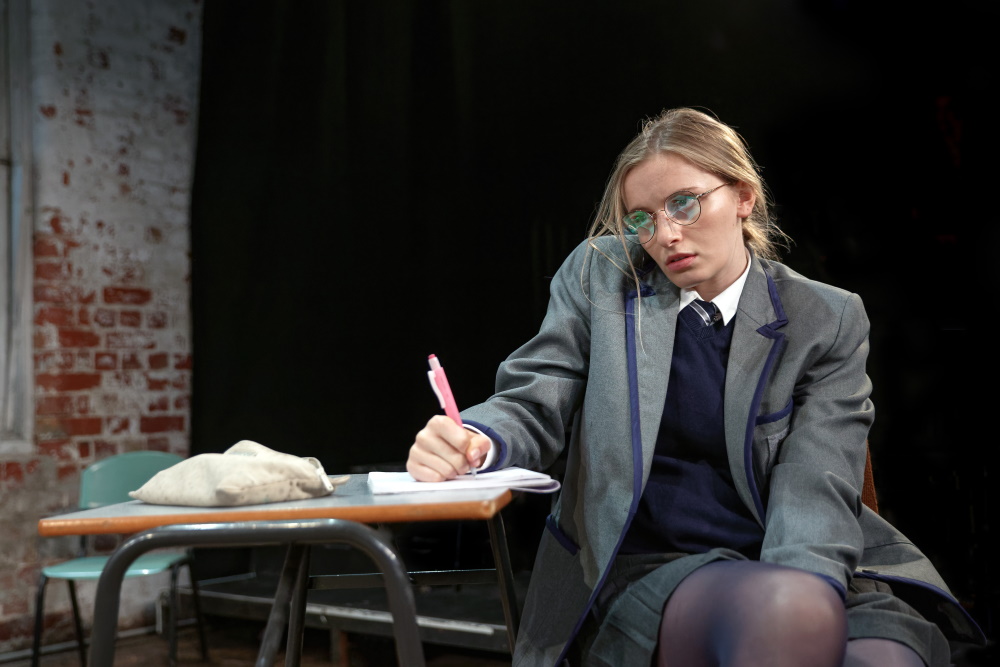 Photo: Craig Fuller.
Ruby Duncan as Cissy embodies a brittle but vicious little girl, ignoring all of her responsibilities with amusing theatricality and ennui. As Tanya, Annie Shapero is stripped bare by the impossible expectations of being 21st-century desirable. And as an ensemble, all seven actors are evenly matched in skill, and synchronisation that's pure joy to watch. As Chadwick Meade, the Mod-inspired, bullied outsider with a 'scholarship tie', Laurence Boxhall gives an especially nuanced and taut performance. He delivers a treatise on the state of the world that in 2009 would have been simply pertinent to the times, but has now been eclipsed by the actual horrors of these much lauded proclamations tenfold. There are men organising online called incels (involuntary celibates) who demand to have sex with beautiful women for one thing, and online hatred and gun violence, cancel culture, dishing 'tea' or gossip and the bots are coming for us.
There are also unexpected moments of tenderness – especially in relation to one of William's favourite teachers. But nasty jibes about 'old people' will make any 'Ok Boomer' generation wince, as will the hyper-masculinised bullying expertly manifested by Karl Richmond as Bennett. Richmond's sweet moment with alpha male rival, Nicholas (Flynn Smeaton) reveals a painful repression and self-loathing deeply hidden. The ending is like a benediction and a prophecy: the removal and peeling back of all theatrical artifice until there are just people making statements of fact – or are they? Jessica Clarke's performance is wonderfully restrained here.
Lighting design by Richard Vabre is suitably frenetic, and menacing with laser projections and games that are thrilling technical treats. The set is fully optimised with seamless transformations of ordinary objects but the set poses questions about its poverty. No doubt the libraries of grammar schools these days are more likely to have plush bean bags and velvet covered reading nooks. An update here would have been apt – further emphasising the disruption. But the angst and fury of UK punk scene is creatively plundered in the blacked out garage-style nightclub entrance – complete with colloquial graffiti in lurid colours by Freya Allen – and the costumes were on point, right down to the school skirts rolled up at the waist. The sound design discombobulates the audience and is a full throttle assault from sound designers Daniella Esposito and Finial Langham, who utilise Big Black from the original and other sonic shock treatments.
This a masterful re-working of an important commentary on the social failures that have lead us to this point in time from a talented, vibrant, and visionary company. Unmissable.
4.5 stars out of 5 ★★★★☆
Punk Rock
By Simon Stephens
Directed by Ruby Rees
Produced by Ben Walter
Set and Costume Design by Freya Allen
Lighting Designer: Richard Vabre
Sound Designers: Daniella Esposito and Finnian Langham
Stage Manager: Ashleigh Walwyn
Assistant Stage: Manager Brooke Simmonds
Cast: Laurence Boxhall, Ruby Duncan, Ben Walter, Annie Shapero, Karl Richmond, Jessica Clarke, Flynn Smeaton and Zoe Hawkins
4-15 December 2019
fortyfivedownstairs, Melbourne VIC
Tickets $35-$45