'What happens when four of the world's best opera companies collaborate?,' asks Opera Australia in its marketing? The answer: Director Damiano Michieletto's The Tales of Hoffmann.
The much anticipated world premiere of Michieletto's rethinking of Jacques Offenbach's masterpiece, opened at the Sydney Opera House this week (11 July). The new co-production – in what could be considered a sensible rationalising and cost-share model – brings together Opera Australia, Royal Opera House Covent Garden, Opéra National de Lyon and Fondazione Teatro La Fenice di Venezia.
Kicking off the world premiere, internationally celebrated, home-grown soprano, Jessica Pratt has returned to Australia to perform the lead role – well, all four of them – a gong afforded to few performers. Her performance has already had critics mentioning Dame Joan Sutherland's 1975 performance as a comparison.
Similarly, Croatian bass-baritone Marko Mimica plays all four villains in a dynamic performance, making his Opera Australia debut and pleasing the crowd. While, Peruvian tenor Iván Ayón Rivas sings the title character of Hoffmann, joining Pratt in delivering emotional impact and vocal strength.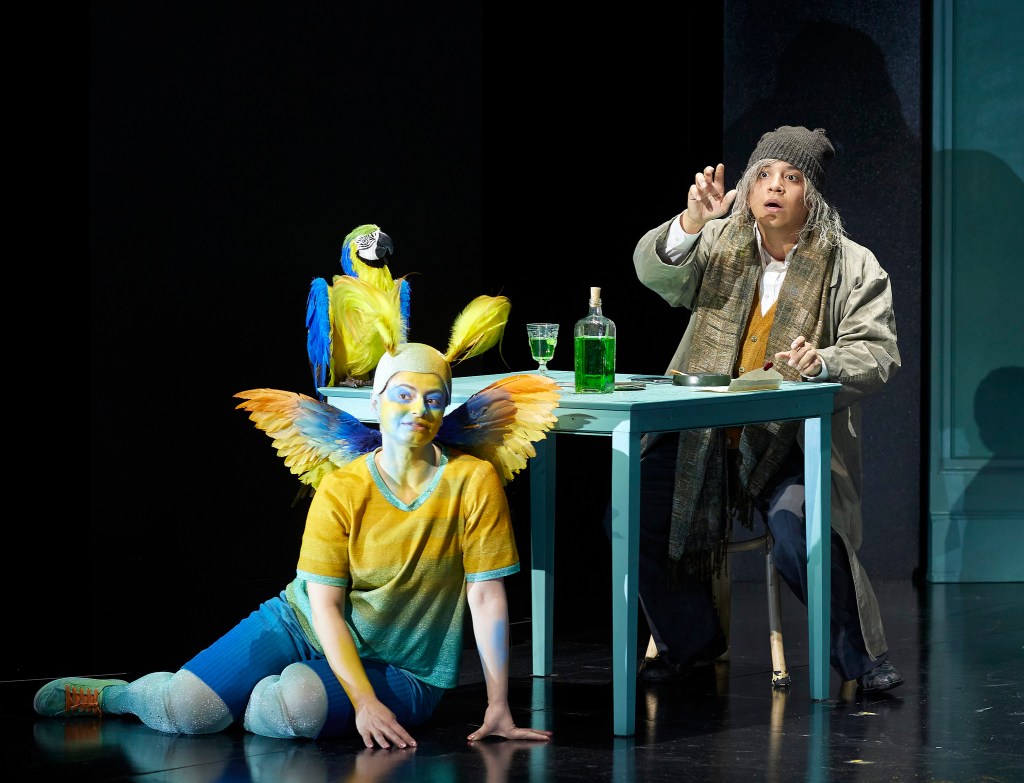 Working with the inherent challenges of Hoffmann
Michieletto's new version of Tales of Hoffmann has risen like a phoenix from COVID lockdowns, after it was postponed in 2021. It is a relatively short season this month, and promises to sell out on its opening night success alone.
Putting delays aside, Hoffmann (as it is colloquially known) is one of opera's more complicated scores – arduous, really – and demands technical precision alongside theatrical drama, plus Michieletto adds comic interludes. Take for example 'The Doll Song', a staccato-like aria that demands Pratt to hit a high F. As if that challenge is not enough in itself, she does it atop a school desk pretending to be a wind-up doll, and in motion.
But such demands do not faze this cast, which shape-shift our expectations of Hoffmann from traditional drudge into a glittering world of fantasy and villain-wielding twists.
While Pratt's "mechanical" gestures as Olympia in the first act need a bit of a Michael Jackson moonwalk injection, her focus is steadfast, and her soulful lament as Antonia in the second act, twisted physically and emotionally in pain, is sublime. And, it goes without saying, she is right at home in the calculating character of Giulietta.
From the beginning, Rivas arrives on stage more like a 'hobo' in dishevelled attire and quick to descend into a world of absinthe, as fellow tavern mates sing 'Glou, glou, glou' ('glug, glug, glug'), finding their muse in the bottom of a bottle – funny timing during Dry July.
Hoffmann's Muse sparkles with that absinth tone (her wig reminiscent of the Redhead matches model, but in green). Performed by mezzo Sian Sharp, the Muse introduces each scene with surety and strength.
The role is often folded into that of Nicklausse, and performed by one singer, but Michieletto has drawn these two out as key players weaving Hoffmann's tale. Agnes Sarkis performs Nicklausse, with her alter ego parrot completing her stunning costume.
French conductor Guillaume Tourniaire is at the baton, keeping the energy buzzing with great stamina and precision.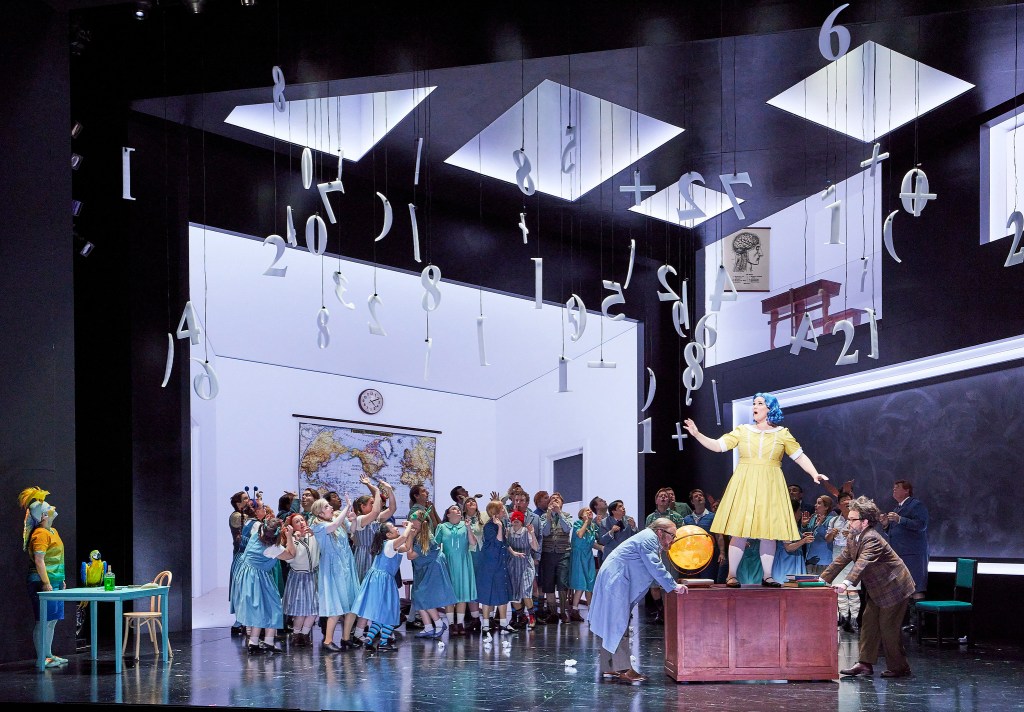 New production creates impactful world of fantasy
Time feels slippery in this opera, caught more in a world of fantasy and personal gremlins than, say, the 30s, 50s or 70s, which are hinted at by the costumes, but without locking in a thematic framework.
The trio behind the success of Il Viaggio a Reims' in 2019 return as collaborators on Hoffmann: Alessandro Carletti on lighting, Paolo Fantin as set designer and Carla Teti as costume designer – and it is their work that truly places this opera to be a quick favourite.
The stage is set as a series of three rooms – one for each short story that the tipsy Hoffmann remembers of his great loves lost. Illuminated windows look down onto the scene, while onstage the narrative is often peppered with ballet students, men on stilts, sequinned devils, acrobats and a chorus of raucous school students or drinking lads.
Choreographer Chiara Vecchi has created scenes that move from great pep through to emotionally dramatic vignettes, such as a rowdy classroom-cum-laboratory to Hoffmann finding himself trapped inside a mirror in Act Three, or the sweet high of watching little girls dancing to Antonia (Pratt) caught in her nightmare of a circling music-box ballerina.
Overall, this new production feels short for its near four-hour length, taking audiences on a journey of fevered imagination, absurdity and deep emotion.
The Tales of Hoffmann
Opera Australia
Presented in the Joan Sutherland Theatre, Sydney Opera House
11–22 July
Ticketed.