Miss Saigon has all the elements of an award-winning musical, from a tremendous set to show-stopping performances. With such production values and dedication, there is no doubt that the standing ovation it receives are deserved.
A highly successful musical on both Broadway in New York and in London's West End, Miss Saigon is a broken love story between a US soldier, Chris, and a Vietnamese girl, Kim, towards the end of the Vietnam War. It is the presentation of this plot line, though, that makes the Miss Saigon experience feel extremely conflicting and uncomfortable to watch at times.
Famously facing backlash for reinforcing racial stereotypes, the Australian production of Miss Saigon has changed little to address concerns. From the outset, Vietnam is presented as an undesirable hellscape that has no redeeming features and is destined for doom.
While it is not inaccurate that the war and its aftermath did create much suffering, Miss Saigon fails to properly capture Vietnam's rich cultural heritage and vibrant energy. Saigon was a pulsating city even during the war, a time considered the "golden age" for South Vietnamese music and the arts. Miss Saigon ignores this by painting a picture of Vietnam as merely a strange and chaotic place where nothing makes sense.
Scenes like 'Dju Vui Vay' (The Wedding Ceremony) try to capture Vietnamese culture, but in an extremely exoticised way, only heightening the notion of Western normalcy. The exaggerated praying and mindless words being sung at the wedding are an oversimplification of Vietnamese culture, which attracted laughter from the audience when this reviewer attended. Rather than reducing Vietnam to a dystopia, Miss Saigon needs to imbue some more beautiful elements, whether accurately through Vietnamese musical styles, more áo dài or the set design.
Read: Why are we giving shows like Miss Saigon a rerun in 2023?
Moreover, all the Asian characters are either greedy and barbaric men with no moral compass or hypersexualised women who are all prostitutes. Miss Saigon direly needs to present the Asian characters with more dimensions, rather than furthering racial fetishisation and demonisation. While presenting this aspect of Vietnamese history may be important, the Asian characters should not merely be portrayed as evil communists or sexual objects for Americans. They should be humanised through more compelling backstories and explanations of their motivations.
In stark contrast, the Americans are portrayed as morally superior and innocent saviours who justifiably move on. The ignorance of the violent atrocities committed by the Americans and the omission of the South Vietnamese troops who endangered themselves for the cause, is also painful to watch.
Changes are definitely needed to improve Miss Saigon's problematic storyline, especially in an Australian context, where there is a lack of understanding of Vietnam.
Nevertheless, Miss Saigon is still enjoyable to watch due to the cast's extraordinary vocal, dancing and acting abilities.
The calibre of the entire cast is spectacular, as they all befit the story perfectly, but there are two main standouts. The most heart-wrenching performance is by Abigail Adriano who masterfully executes the role of Kim. Her soaring vocals are laden with emotion, taking the audience everywhere – from utter pain to hopefulness to devoted love. Another crowd favourite, Seann Miley Moore adds an unforgettable touch of personality into the show. His comedic take on the character of the Engineer, manager of the brothel, provides welcome respite between the heavier scenes.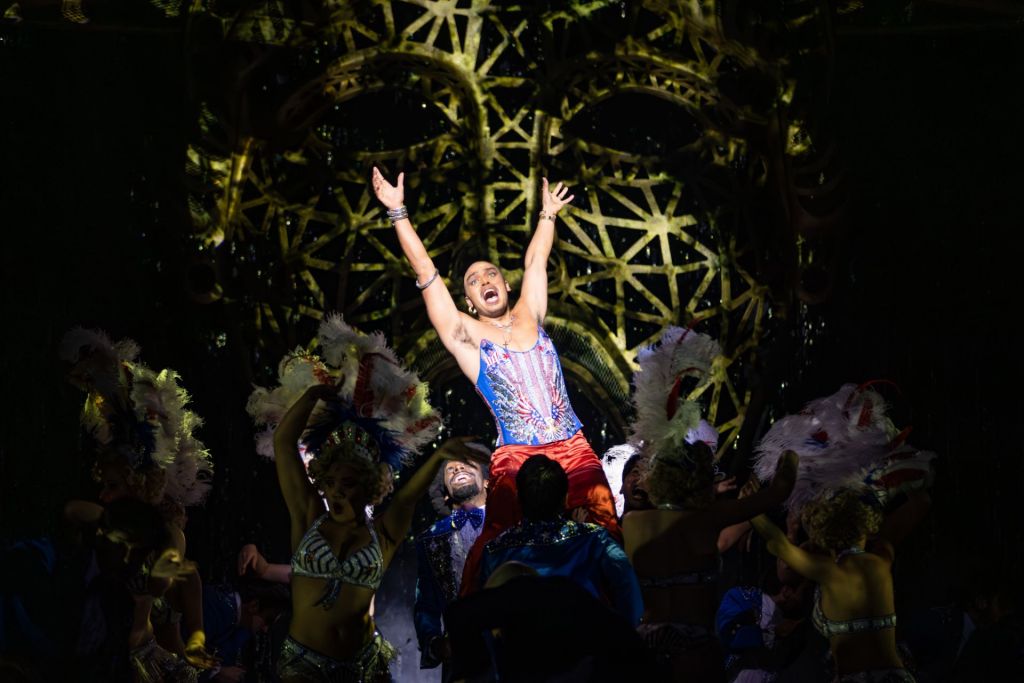 The stage design and set pieces must also be commended, adding much to the visual magnificence of Miss Saigon. There are a great number of spectacles, from the domineering figures of Hồ Chí Minh and the Statue of Liberty, to the waving flags held by synchronised dancers and the fire-breathing dragon gracing the stage. The lighting and pyrotechnics also enhance the power of the stage phenomenally.
These impressive set-ups are particularly evident in Miss Saigon's most riveting and poignant scene, the reenactment of the American evacuation from Vietnam by helicopter. The Fall of Saigon is still a painful memory that reverberates through the South Vietnamese diaspora, and the crowded gates capture the desperation, abandonment and betrayal that many felt. Yet, it is overshadowed by, and heightens, the previous scenes' articulation of Vietnam as merely an undesirable hellscape.
Thus, as captivating as the show is, Miss Saigon still presents a highly degrading and stereotypical version of Vietnam that already dominates Western portrayals. I implore the production to change Miss Saigon significantly.
Or, better yet, save the big budget and theatrics for shows that empower Asians and subvert racial power dynamics instead. We deserve equally award-worthy shows that make Asian Australians feel both represented and proud.
Miss Saigon is presented by Opera Australia, Cameron Mackintosh's new production of Alain Boublil and Claude-Michel Schönberg's musical Miss Saigon
Director: Laurence Connor
Cast: Abigail Adriano, Nick Afoa, Kerrie Anne Greenland, Kimberley Hodgson, Nigel Huckle, Seann Miley Moore, Laurence Mossman
Music: Claude-Michel Schönberg
Lyrics: Alain Boublil, Richard Maltby Jr
Original musical: Alain Boublil, Claude-Michel Schönberg (based on Giacomo Puccini's1904 opera Madama Butterfly)
Miss Saigon is being performed at Sydney Opera House from 17 August to 13 October; tickets $152-$299. It will be performed at Her Majesty's Theatre, Melbourne, 29 October to 3 December.
This review is published under the Amplify Collective, an initiative supported by The Walkley Foundation and made possible through funding from the Meta Australian News Fund.