On 10 December, The Playhouse at the Canberra Theatre Centre was full to celebrate Mikelangelo & The Black Sea Gentlemen's 20th Anniversary Commemoration of David Branson. It was magnificent. And as gloriously hilarious, musically astonishing and emotionally heart-punching, as David would have described it.
David Branson, as Señor Handsome, was an original member of Mikelangelo & The Black Sea Gentlemen. In 2001, the group played some small pub and festival gigs, busked around Canberra, recorded an album in a living room and were rehearsing their first theatre show at The Street Theatre in Canberra in December. David died in a car accident on the way to a final rehearsal.
When we tell and hear stories about David Branson, they will always sound like a story. He couldn't possibly have been so loving, passionate and supportive as the stories say. Or have been so much of a total pain in the bum. Sure, stories are never quite true, but ones about him are also likely to be understated, because it's hard to describe him and not sound like you're exaggerating.
Twenty years later, it still feels wrong that he isn't here, but grief has done the unimaginable thing it does and transformed memories to joy. And the Gentlemen went on to make more albums, tour Australia and Europe, and gain many adoring fans that fill every venue they play.
Led by the irresistibly enigmatic Mikelangelo (Michael Simic) on guitar, the gentlemen are Ruffino the Catalan Casanova (Pip Branson) on violin, The Great Muldavio (Phil Moriarty) on clarinet, Guido Libido (Guy Freer) on accordion and Little Ivan (Sam Martin) on double bass. Freer and Martin joined in the early 2000s. Pip Branson filled in for his older brother days after David's death, when the group decided to perform that concert. And he stayed.
I worked for a festival in Canberra in 2001. I knew David for less than a year, but time was already irrelevant. I saw the last shows that he directed and he told me about all of the theatre he made with the Splinters theatre and that he planned to make at La Mama in Melbourne.
He also told me about his new band that wore suits and hats and spoke in accents (that we somehow always think are ok). He told me about Michael and Phil and Ben O'Loghlin (original member). He also told me about his brother Pip, who played with Sidewinder and Something for Kate.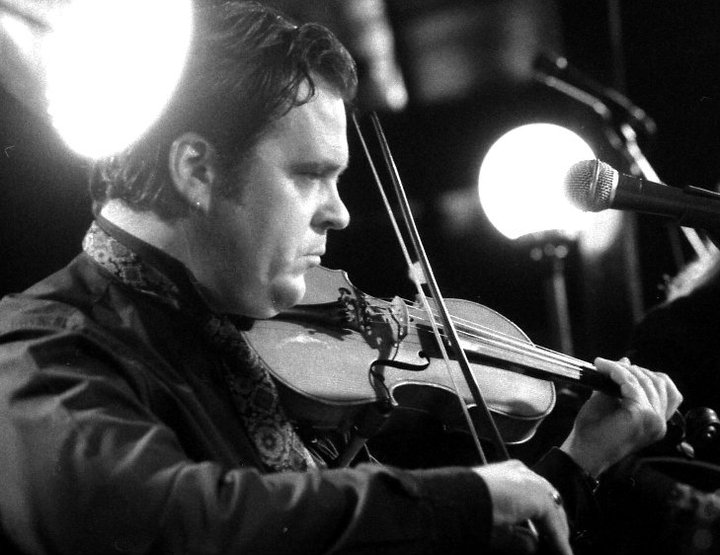 David always described the smallest performance as art that was ready to change the world. His enthusiasm could be overbearing – it was always hard to get a word in – but he was right about the Gentlemen. Their original combination of outrageous-enough-to-be-true character, story, cabaret and fearless chutzpah have created a group that once seen, cannot be forgotten.
They still wear suits that look hand-sewn by a 90-year-old tailor (who measures his clients in a laneway behind a nightclub), velvet hats and faded cravats, and they tell always-true stories of travelling through Europe in the 1920s or 1940s or 2000s.
The first half of the memorial concert was like being at their early concerts and songs like 'On Invisible Wings', 'The Song of Experience' and 'Things Will Never Be The Same' still have extra poignancy. There were also times to drop the characters and talk about the missing Gentleman and to welcome friends like Canberran-favourite Fred Smith, who wrote a folk song for his friend.
The second half of the set was from their album After The Flood, written during a residency in the Monaro Plains to tell and the stories of the people who left Europe in the 1950s and 60s to work on the Snowy Mountains Scheme. First performed in 2016, it's a remarkable depiction of 100,000+ people who worked and died digging tunnels, danced in Cooma's many nightclubs, and faced being different in a country that doesn't welcome difference. David would have loved it.
In the days leading up to the concert, Michael Simic talked about how David believed in you more than you believed in yourself. David was demanding and would ask for more than you offered, but he gave more than you asked for and it was so easy to forget his exasperating tendencies because he believed in the artists he worked with. Belief is so empowering.
I loved that David worked with young and emerging artists and that he gave them the freedom and confidence to make their own work and find their own voices. The results were mixed, but art comes from mistakes and experiments and going out there to find that audience who totally get your work. It really doesn't matter if someone doesn't get your work, especially if you have a supporter who is always on your side.
When David said, 'Love your work', he meant it.
It's sad that all we can do is talk about him today and that he doesn't get to share in the success of Mikelangelo & The Black Sea Gentlemen, but he loved them and loved their work and he believed in their success before they imagined it themselves.
Miss you, Señor Handsome. Still love your work.
Mikelangelo & The Black Sea Gentlemen
20th Anniversary Commemoration of David Branson AKA Señor Handsome
10 December 2021
The Playhouse, Canberra Theatre Centre