The solo exhibition from Yoshitomo Nara, Reach Out to The Moon, Even If We Can't, at the Art Gallery of WA (AGWA), channels a message of imaginative hope amid relative darkness. Nara, whose artistic prominence extends back to the 1990s, created these works after the Fukushima disaster of 2011 engulfed him in despair, rendering the previously prolific artist temporarily unable to draw or paint.
'I couldn't make picture on a blank canvas, but I found I could confront a piece of clay,' Nara explains. 'I wouldn't think about it with my mind. I would just attack it like a sumo, with my body.'
Finding his way back to drawing through the physicality of clay sculpture, Nara experimented with dimensionality and scale, eventually combining the sculptural medium with drawing, painting and photography to express a hopeful resistance, exquisitely encapsulated by this stunning exhibition.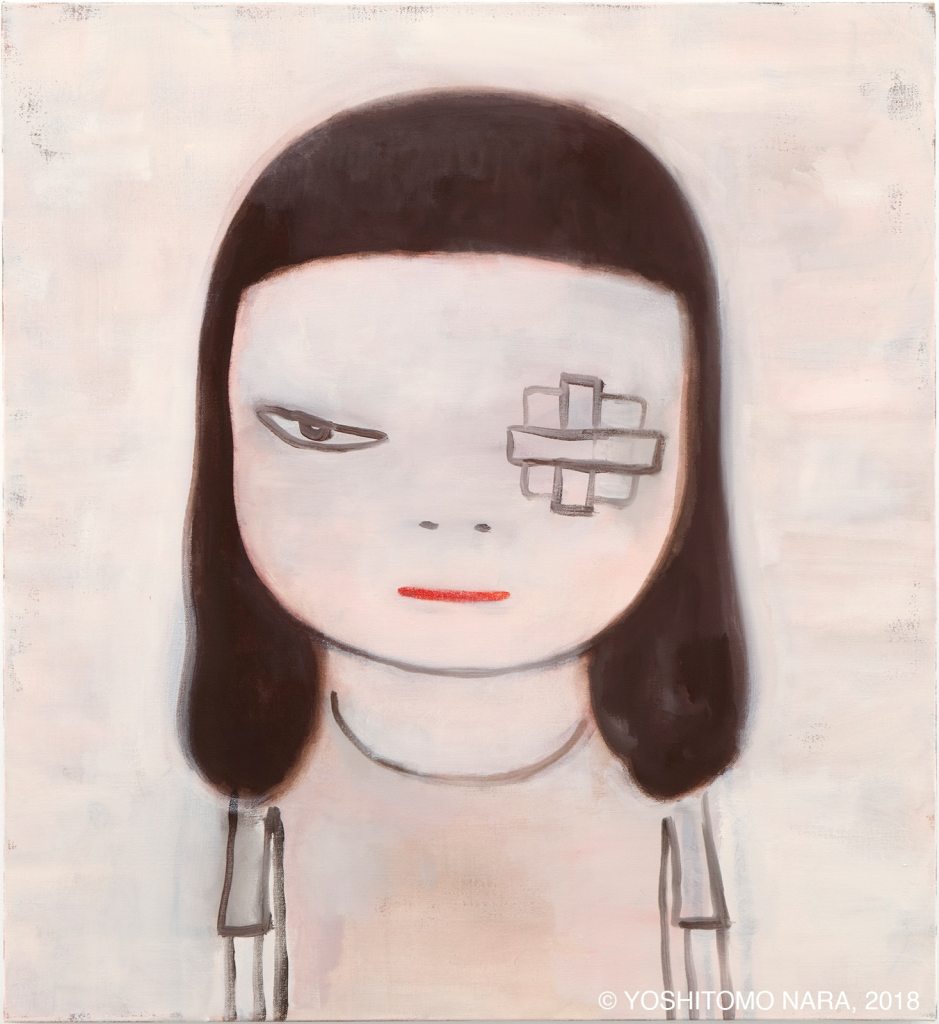 Nara – best known for his superflat children set against monochromatic backgrounds – encourages the asking of questions through his unique aesthetic, and begs the viewer to unlock their own inner punk rock infant. Some of Nara's sculptures are small, flat and cartoonish, like Bud Vase Mt Fuji (a volcano with a face), Day and Night/Vampire (a vase with a face) and Untitled (a ghost with a face), created in 2011, 2020 and 2016 respectively. Other artworks are imposing, textured and heavy with dimension, like Wicked Looking, Long Tall Sister and Lucy, all of which are gigantic heads of fibre reinforced polymer. 
No War Love and Peace (2020) – another large polymer head (but certainly not the largest) – bears witness to real world occurrences both positive and negative, without ever asserting a voice of its own. Conversely, situationally juxtaposed sculptures Long Hair Cat-eyed Girl (2012) and Regent Dog (2012) stare at each other as if they are about to argue, or embrace, or connect in some unlikely way. Several of the artworks on display are early sketches for the sculptures themselves, which effortlessly garner attention from even the most casual of observers.
Headache (2012, pencil on paper) uses loose, almost careless lines, and incorporates ripples – water being a long-standing motif in Nara's work – playing with scale in a way that mirrors the head sculptures accompanying the drawings.
Love or Nuclear (2013) is an unassuming pencil drawing. It depicts one of Nara's iconically big-headed, long-armed figures bracing itself against a plume of smokey thought (or thoughtful smoke) with the titular words declared in block letters. The final word extends towards the bottom right edge of the page, as if descending, or being crowded out by the presence of love. Drawn on a jagged-edged envelope and simply framed, this artwork is devoid of artistic pretension. Drawing on used spaces like envelopes and scraps of paper gives Nara's work a poignant immediacy and a sense of lived-ness not easily achieved by more made-for-purpose materials.
Photography does not feature prominently in terms of volume in this exhibition, but pulls its weight in emotional resonance. Depicting Ukedo Elementary School, at which 127 people died and 27 vanished during the 2011 catastrophe that has also been dubbed the Great East Japan Earthquake, Nara's photographs were taken two years after the devastating event, and contain vividly emotional imagery, such as a stopped clock and blackboard lessons forever frozen in time. These compositions provide haunting reflections on isolation and connection through defiant assertions of overt vulnerability.
Set aside from the rest of his works, Nara's 2019-2020 bronze sculpture, Auspicious Heavens draws the viewer from AGWA's main entrance into its largest gallery space. Much larger than life, this head demands immediate attention. In another section of the Gallery, audio-linked projections of Nara's fragmented and duplicated sculptural forms come together and break apart alongside quotes about attacking and confronting clay. Images float like wall-bound scrapbooks of anti-war messaging, complete with levitating words about rethinking value systems.
Brimming with contrast, this exhibition signals change within a consistent style. With works spanning 11 years, Nara's conveyance of the present, shaped as it is by both future and past, draws from a diverse array of artistic, political and cultural influences. Nara intentionally limits the depth of his two-dimensional work, with the flatness of his illustrations complementing the multidimensionality of his related sculptural forms.
Read: Theatre review: CAMP, Sydney WorldPride
Curated by Robert Cook, Reach Out to The Moon, Even If We Can't highlights Nara's solitary devotion to art as a tool for communicating subversive messages of equality, freedom and peace. Combining kawaii cuteness and uncanny expressions with rebellious anti-nuclear charm, Nara's intentionally mixed dimensionality simply stuns.
Yoshitomo Nara: Reach Out to The Moon, Even If We Can't
Artist: Yoshitomo Nara
Curated by: Robert Cook
Art Gallery of Western Australia (AGWA), WA
Free admission
Reach out to the Moon, Even if We Can't will be on display until 25 June 2023