The exhibition Undertow, presented in association with the Perth Festival, is currently open to the public at the Fremantle Arts Centre (FAC) and on-site nearby at the Fremantle Esplanade. 
Undertow brings together the work of storyteller-artists whose practices span a range of mediums. The exhibition title refers to the relationships people in Australia have with oceans and seas as places of arrival, departure, connection to land, and the deep ancestral stories of our island continent.
Curator Glenn Iseger-Pilkington has embraced the diversity of the artistic work with genuine passion and insight. He writes that 'Undertow is about what sits below, what can't always be seen, but is always felt. It is about going against the current, about deep reflection upon our worlds and lives and more than anything, it is about not resting comfortably in any truth which is not our own'. Iseger-Pilkington sees himself as the facilitator of others' stories and so encourages FAC visitors to access the artists' voices themselves through interactive technology. QR codes alongside each Artist's Statement provide access to reflective commentary and poetry by the artists, as well as to Iseger-Pilkington's response as curator.
Artist Ron Bradfield weaves together stories of his life as a saltwater man from Bard Country in the west Kimberley and as a member of the Royal Australian Navy. His installation pieces gather symbols and icons from both saltwater worlds in delicate harmony. Bradfield's work is thoughtful and shows restraint and respect for the traditional culture of Bard people, paying tribute to both his Bard ancestors and his Navy comrades.
At the Ridges of our Hands is a photographic initiative by Soul Alphabet celebrating the influence of the African diaspora globally. Artefacts around hair braiding and exquisite photographic works direct our gaze to ocean horizons as memories of journey to and from homelands. The works invite viewers to travel to places of connection and community through image and object.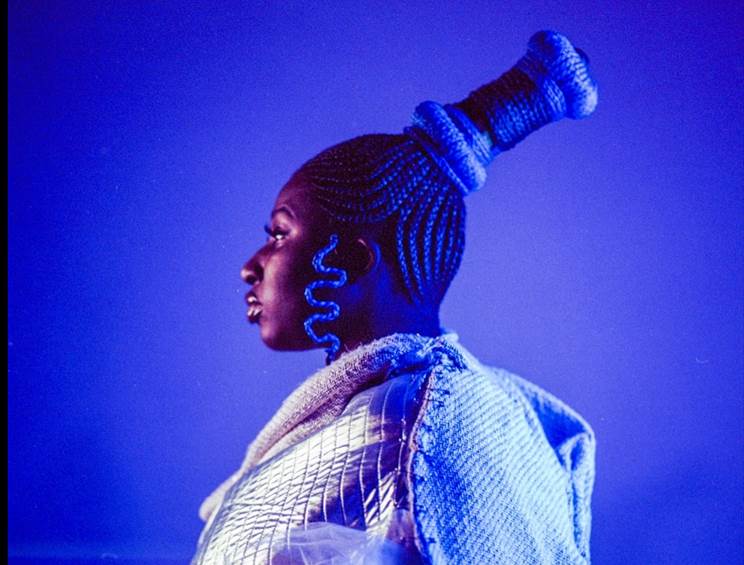 Samoan/Australian Angela Tiatia is interested in the colonial gaze, the body politic and the climate emergency in a global context. Her documented performance, Holding On, is a place-based endurance piece which features her own body as the subject, lying on a concrete slab in the Pacific Ocean. The sounds and movements of the ocean across the body resonate with mesmerising sadness. Large crabs cling to the rock, later scuttling into the depths, while the human body clings to the slab despite the rising sea level. The work invites you to take time to sit, watch, and consider the intimacies of human connectivity to place.
Badimia and Yued woman Amanda Bell has created the work Balak (Naked) using glass neon, LED lights, poetry, and sound, with yonka | kangaroo bones, salt, sand, tea, flour, sugar, flowers dug as a grave into boodja | country. Large neon words scrawled across a wall speak to the heart of the installation: 'our silence is full of rage'. As the sounds in the room build, you are pulled under, then cast upon silence, but not into emptiness. Things are being spoken in the silence. As you pay attention, you will feel this work unsettling the marrow in your bones.
Photographer and visual artist Sam Bloor has utilised two different locations for complex, nuanced text provocations. Within in the galleries of the FAC and on the carriages of the Tourist Wheel at Fremantle Esplanade Park, text is wielded as artful interrogation of Australia's stance on border protection, asylum seekers, political identity, and ideology. These are words you ride through and respond to through reflection as you catch your own image in mirrors of text. 
Read: Opera review: Wagner's Die Walküre, Melbourne Opera
Garry Sibosado is an artist, designer, and jeweller of the Bard people of the west Kimberley. He describes his beautiful work, Oongoonorr (Milky Way) as an 'ocean in the sky'. Guwan | pearl shell, native ebony, and cubic zirconia are sculptured into steel and suspended overhead. Delicately shaped, this slow work invites the suspension of time and consideration for connection with environment, and with self.
The artistic work of mother and daughter, Sonja and Elisa Jane Carmichael, Ngugi artists of Quandamooka Country, Queensland, has been installed in the main gallery of the FAC and is a stunning centrepiece for Undertow. Six large cyanotype works on cotton sweep skywards from a sandy base installed as a beach on the edge of the ocean. A selection of woven forms offers physical embodiments of 'water footprints' while a short video of the mother and daughter team share their connection to water and how they are 'getting our weaving back'. The works are intimate, personal, and evocative, filled with beauty, tragedy, concern, and loss.
Undertow invites listening. You can't rush through this exhibition. You'll need time to sit. Watch. Listen. Let emotions roll as tears across the canvas of your skin. Feel. You will hear stories echo through eons, reverberating through the interplay of sound, image, movement, object. The collective artefacts are whispering; stories shimmer with poignant beauty, confronting truth, and a yearning for home.
Undertow
Presented in association with the Perth Festival
Fremantle Arts Centre, Western Australia 
Curated by Glenn Iseger-Pilkington
Artists:
Cost: Free entry
Curator Tours: 1pm Tuesday 22 February | 11am Saturday 26 March | 1pm Friday 22 April 2022
Tactile Tours: 10:15am Thursday 10 March | 10:15am Thursday 14 April 2022
Undertow is showing until 25 April 2022