Master potters from all over Australia converged on Sturt Gallery & Studios on the weekend, to celebrate the exhibition TERRA NOVA – 70 years of breaking ground at Sturt Pottery.
Seventy years is the kind of moment that begs reflection. It's a time to ask what legacy has been left and what milestone developments forged. Mostly, however, it's a time to consider a community that is largely fused across time through a medium – pottery.
Understandably, TERRA NOVA is a dense exhibition that needs to give a nod to many who have played a role over that seven-decade trajectory. But, importantly, it is not a survey show or a map of talent.
A flotilla of pedestals at varying heights are arranged in clusters, and create a way to navigate the large number of vessels on show. It has been beautifully curated – given the tricky task at hand – to weave into a semblance of a narrative.
Some of the first works encountered are Anne Mossman's Eucalypt Studies (13-15), elegant cylinders from coloured porcelain (nerikomi) and oxidation fired. They find a connection, across a passion for porcelain, with the thrown unglazed works of Victor Greenaway. He adds a formal black band and red gestures with a ceramic pencil, giving them a clean retro feel.
They sit well alongside Janet DeBoos' trays of vessels (also thrown porcelain) from her Getting Lost/Coming Home series, and master potter and teacher, Les Blakebrough's Surf's Up (2019), a suite of small bowls made from his iconic Southern Ice Porcelain with Huon pine handle.
Blakebrough was the second director to shape Sturt Pottery (1959-1972) after a five-year run by inaugural director Ivan McMeekin (1953-1959). McMeekin pioneered Mittagong Blue, the famous glaze he dug from the Nattai River near Mittagong­, while Blakebrough's Southern Ice has become world-renowned. Among McMeekin's first students was potter, Gwyn John (later Hanssen Pigott).
Read: Vale Les Blakebrough AM, the creator of Southern Ice Porcelain
Bernadette Mansfield, editor of the international ceramics magazine, Ceramics Art + Perception, who opened the show, said that while McMeekin and Sturt Founder Winifred West were both great intellects with a firm vision, their tensions would never rest. She added that McMeekin's 'name will be forever synonymous with this place,' as the foundation stone upon which Sturt was built, and its drive for technical excellence set.
We see that easily, moving around this exhibition that celebrates seven decades of making.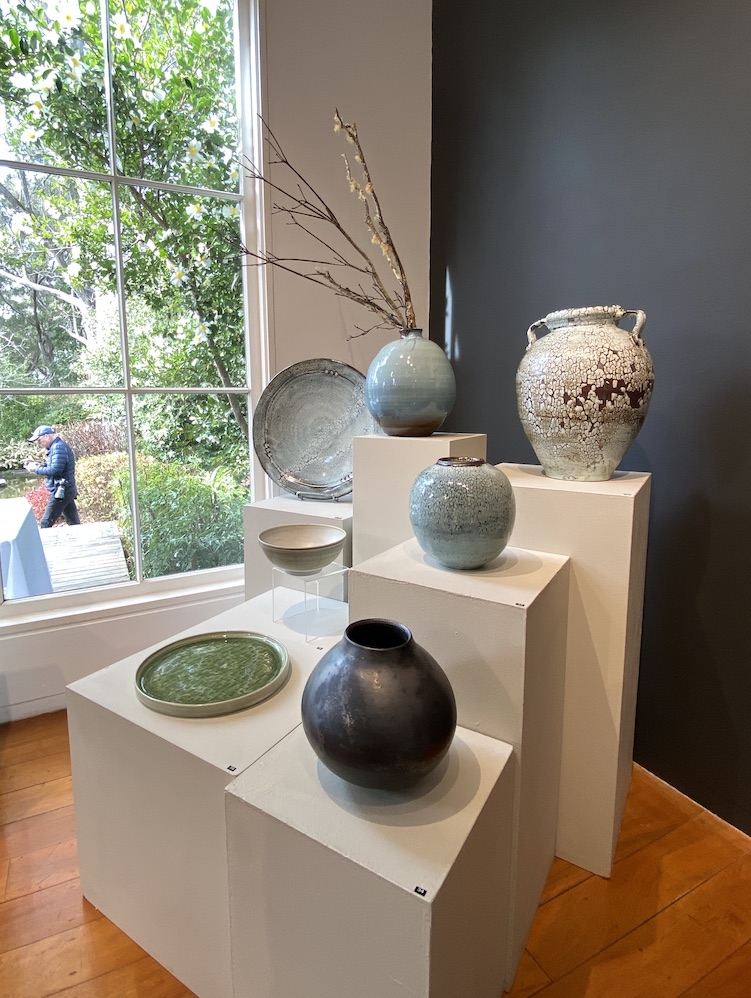 McMeekin's daughter, Susie McMeekin joins the exhibiting artists in another cluster of works, alongside Simon Bowley, who heads up Sturt Pottery today. It is a nice cycle, or synergy, of connecting past and present.
Susie McMeekin presents three vessels, each using a different technique and demonstrating her mastery. Bowley's works with their crackle finish (Stoneware crawley over chun glaze) are both elegant and sensual in their surfaces.
They are presented within proximity of another master potter celebrated for his surfaces and glazes. Five works by Greg Daly sit by a window in the gallery, the natural light playing off the lustre of his glazes with silver, bismuth, cobalt and copper dancing to light in sheer surface opulence.
In the centre of the Gallery things get a little 'meatier' aesthetically. A cluster of works by Jann Kesby use native clay and native ash glaze, and are wood-fired. Kesby, like many of the exhibiting artists, taught at Sturt in the 70s, and will fire Sturt's anagama tunnel kiln in a weekend workshop at the end of August to coincide with TERRA NOVA. Her works sit with a stunning handbuilt work by Tjunkaya Tapaya OAM, Kungkarangkalpa – Seven Sisters.
A large body of work from Ernabella Arts sits within proximity of these pieces, making a point by pairing the oldest pottery studio in Australia, Sturt (established 1941) with the oldest Aboriginal Arts Centre in Australia, Ernabella (established 1948).
A standout work is Carlene Thompson's Kalaya Ngura – Emu Country (handbuilt), and a lovely suite of Piti (oval plates or carriers) by Alison Milyika Carroll, Wira Walka (I-III), made from thrown white stoneware.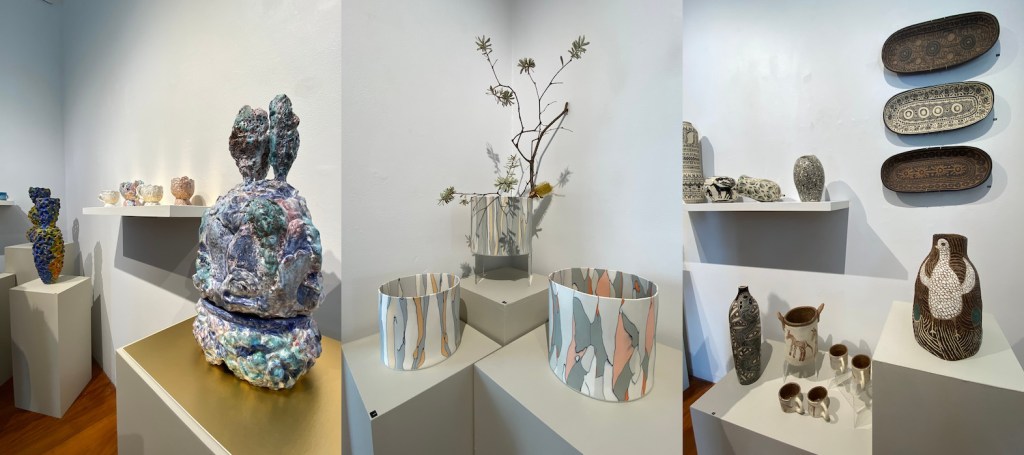 Circling around the Gallery, there are other aesthetic passions celebrated. The large gestural vessels by Simone Fraser from her Elements Series add a punch of colour with their bold blues and yellows. They are a good fit with Toni Warburton's suite of Cloud Cups, sitting proudly on a wall-mounted shelf, and paired with a major piece, Cloud Forest Sculpture in Two Sections, created from hand modelled terracotta with wheel thrown forms by Lino Alvarez La Paloma Pottery.
All these descriptions will attest to the breadth of material knowledge that is the signature of Sturt Pottery.
Read: Do we still value skill in arts education?
Mansfield concluded in her opening speech: 'We're a fickle lot, the ceramics community and, for some reason, slightly immune to success outside of a Sydney-centric parameter, especially if that success has come without struggle.'
She added, 'It is incumbent upon the keepers of our history, the tellers of our stories – indeed there's an obligation – to recognise that historical accounts can be influenced by power dynamics, political and personal agendas and cultural bias. By acknowledging the subjectivity of historical accounts, we foster a more inclusive and nuanced understanding of our set, at the same time as challenging assumptions… Congrats to the artists that have been selected to be part of this national important exhibition. Each of you is now woven into the legacy of Sturt Potter.'
TERRA NOVA – 70 years of breaking ground at Sturt Pottery
Sturt Gallery
28 May – 16 July
Mittagong, Regional NSW
Free
Artists: Les Blakebrough, Simon Bowley, Greg Daly, Paul Davis, Janet DeBoos, Simone Fraser, Shannon Garson, Victor Greenaway, Malcolm Greenwood, Steve Harrison, Fiona Hiscock, Kazuya Ishida, Ian Jones, Jann Kesby, Sandy Lockwood, Holly Macdonald, Susie McMeekin, Jeff Mincham, Anne Mossman, Megan Patey, Owen Rye, Fleur Schell, Mitsuo Shoji, Hiroe Swen, Toni Warburton, Steve Williams, Rachel Wood, Ernabella Artists.