In last year's September issue, Vogue Australia celebrated a new generation of designers who are pushing this country's fashion and textiles industry beyond its comfort zone of casual, coastal resort wear into brighter, bolder and more glamorous territory. One example cited was experimental label Iordanes Spyridon Gogos, founded in 2019 by Jordan Gogos. The University of New South Wales graduate's technicolour pieces also feature in JamFactory's latest exhibition, New Exuberance, which takes a similarly enthusiastic view of contemporary textile design in Australia.
Exhibition curator Meryl Ryan has praised the ingenuity of the 'eclectic and multidisciplinary' creatives at the heart of what is a 'thriving' industry. 
You'd be hard pressed to find anything to wear beachside in the collections of the fashion designers represented in this exhibition. Gogos's AAFW21 looks are an acid-bright riot of found fabrics and materials reconstructed into witchy, Wonka-esque silhouettes.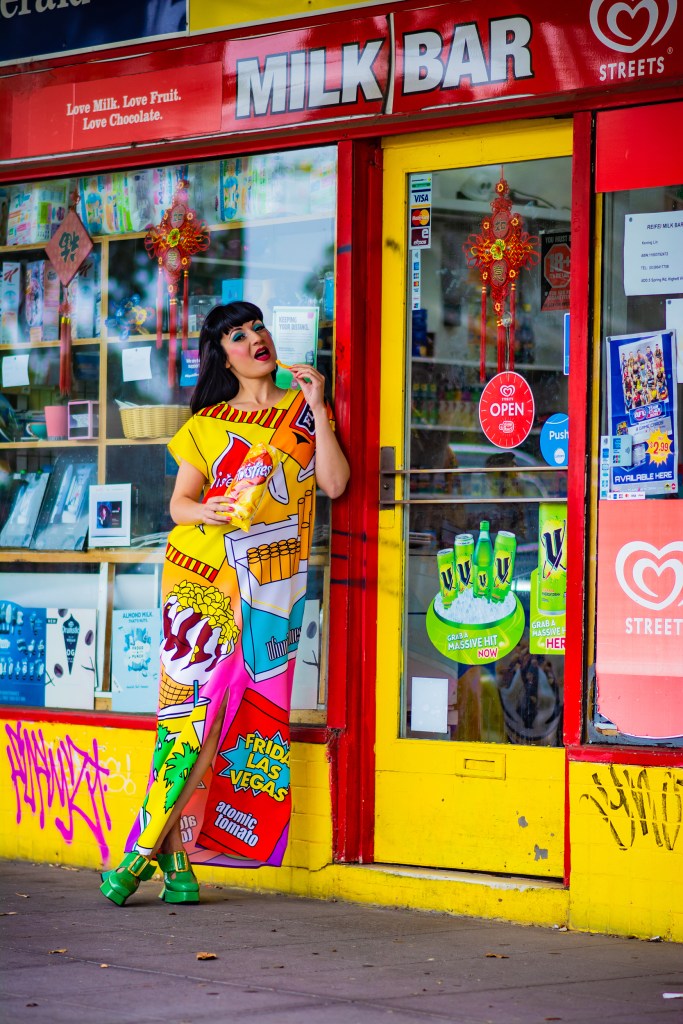 Suburban snack bar staples get a pop art makeover in Frida Las Vegas' hand-printed 'glamour sacks' and scarves, while collaborative knitwear label WAH-WAH Australia weaves political statements and cultural icons into its vibrant merino wool jumpers.
A highlight of the exhibition is an intricately beaded cocktail dress made of upcycled vintage fabrics from Romance Was Born. The Sydney-based label's entire jaw-droppingly beautiful 2021 RWB Forever runway show is available to watch on a screen set up in the centre of the exhibition (along with other shows by featured designers).
While you watch, you'll be resting on one of four Sitting Stones: a suite of seats designed by Caren Elliss, upholstered in screen-printed textile designs by women from the Ikuntji Artists centre. It feels slightly improper to be sitting on such eye-catching works of art, but a sign on the wall encourages visitors to use them: a reminder that textile design can be both beautiful and functional. This theme continues throughout the exhibition. There are twin armchairs by furniture designer Dean Toepfer and Tiwi artist Roslyn Orsto, and canvas benches from design studio Daniel Emma and Ndjébbana/Kuninjku artist Raylene Bonson. Many of these collaborative creations were commissioned by JamFactory itself. 
There is also room for more experimental textile-based art. Kate Just's Clothes Portraits attempt to capture fellow artist friends with patchwork wall hangings crafted from their old garments. These portraits are touchingly intimate, despite never showing us the subjects' faces (one friend combines a love of sequins with more practical hi-vis and surf-wear; another has a penchant for designer underwear and graphic T-shirts).
Nina Walton's Thank you Nanna v.2, 'painted' with layered cotton threads, hangs next to a video of the same piece being pulled apart, fibre by fibre. Across another wall, Jemima Wyman has created a literal smokescreen: a curtain printed with hundreds of images of smoke from photographs of protest flares, fires and tear gas. 
Read: Chagall's Jewish heritage spotlighted in new exhibition
New Exuberance is a snapshot of the diverse, ambitious and indeed exuberant work being created by these Australian designers. It is eye-opening to see the wide-ranging possibilities that this flourishing field encompasses.  
New Exuberance: Contemporary Australian Textile Design
JamFactory
Curated by Meryl Ryan
New Exuberance will be exhibited until 23 April 2023.