After a year's delay, Melbourne finally joins the ranks in opening its own Science Gallery with the ethos of combing art and science to build social impact.
The vast open plane and high-rise space is configurated for its inaugural exhibition, MENTAL: Head Inside – it's like walking into a carnival filled with engaging technological gadgets, emotion-churning booths and pods of self reflection.
The exhibition is not about mental health per se but presents the breadth of mental states that can feel relatable for audiences of all calibres.
In an earlier interview with ArtsHub, Head of Curatorial Tilly Boleyn explained: 'The exhibition acknowledges that not all mental health journeys are the same. It's not a show about cures or treatment … This is an inclusive exhibition that explores many different ways of being, surviving and connecting in 2021 [when it was originally due to open].'
Read: Art and science against the climate crisis
Surprisingly, comfort is a recurring theme, helping to dispel any reluctance in entering the transformative space.
'Cushions?' by Emily Fitzsimons softens the edges of pills through colourful knits and yarn and above it Dr Kellyann Geurts and Dr Indae Hwang's 'Thoughtforms' stages an invitation for visitors to capture abstract representations of their thought data at the press of a button. The results are 3D printed impressions of aspirations and emotions, providing a physical iteration of your inner workings.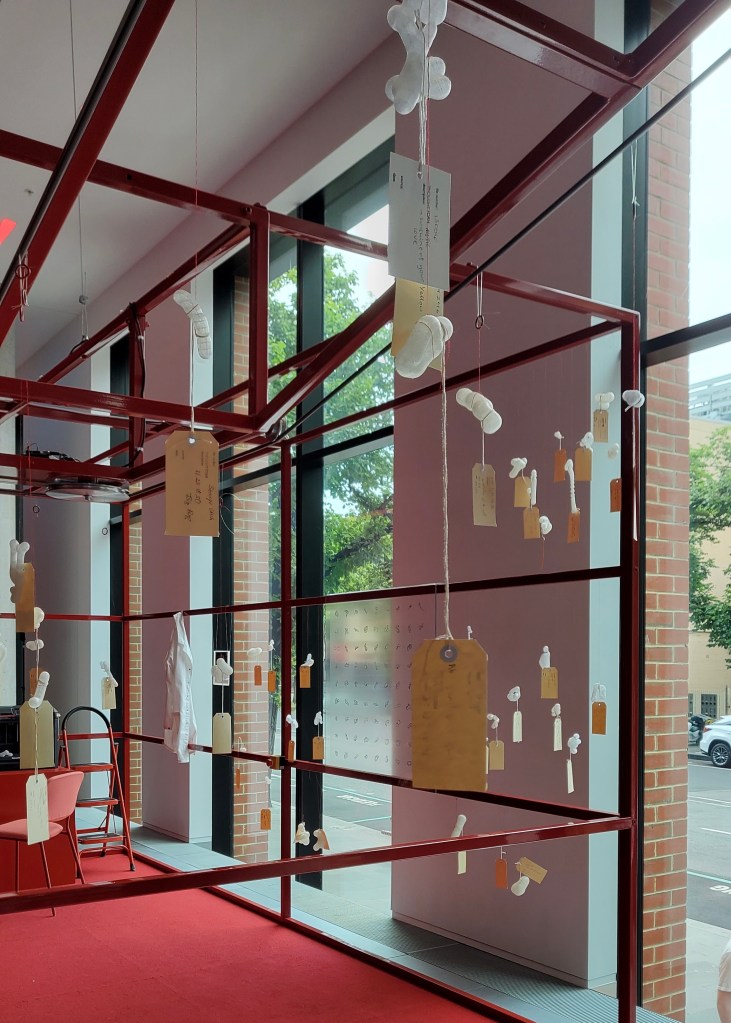 Rosie Kalina's 'Respite Space' is a site of rest and relaxation for First Nations people with monthly programs dedicated for mob.
Out of the more enticing experiments, Rachel Hanlon's 'Hello Machine, Hello Human' is, at times, confrontingly intimate. Picking up the handset means trying to pin down whether the correspondent at the other end of the line is AI or human.
Stepping through a circlet of pink curtains, Nina Rajcic and SensiLab's 'Mirror Ritual' makes an educated guess (with the help of AI) at your emotional state which can turn comically shady very quickly – so I've been told. My reading of 'so relaxed & ready to roll' turned out to be convincing evidence that soul mates do exist.
If you would rather run from your troubles, Hirohito Tango and Dr Emma Burrows' 'Wheel' will have you stepping up for research. The massive rainbow device might just entice you to become a human hamster and contribute to neuroscientific research on exercise and mood.
Apart from these highlights there are interactive letter stations ('Kind Words'), morphed storytelling photo booths ('Echo'), self-care room ('Selfcare 4eva 2001') and everything in between.
The exhibition is further tied together through an interactive online survey that portrays anonymous answers like a mind map. Things like 'Do you think the things robots say would make a big impression on you?' and 'How would you feel if a safe space for you meant that it excluded others?' will have minds churning in addition to the sensory feast.
The energy and passion of the curatorial panel – partly comprised of members aged between 15-24 – vibrates off the space, the activities and the staff.
If you are keen to check-in to as many activities as possible, I would suggest visiting at a quieter time to avoid a queue at the hottest destination. But other than that, is the Science Gallery as fun and exciting as it sounds? Yes, yes it is.
MENTAL: Head Inside is a free exhibition at Science Gallery Melbourne, running until 18 June 2022.
The writer would like to acknowledge with great sadness the sudden passing of artist Josh Muir, whose large-scale installation 'Go Mental' is included in the exhibition.