Dystopian Future explores the possibilities and risks in our future amid the turmoil of climate change, and rapid advancements in technology and science. Currently on show at contemporary art gallery Linden New Art, in alliance with Climarte, Dystopian Future incorporates three solo exhibitions from Melbourne-based artists Brodie Ellis, Simon Finn and Alicia King.
Juliette Hanson has curated the exhibition throughout two levels of the Italianate house. Located in the first section of the gallery is Brodie Ellis's multifaceted body of work Heavy Launch. Ellis uses sculpture, video and sound installation in order to criticise the unrealistic expectations and hope placed upon space travel. The first room displays three small sculptures delicately placed upon plinths. Their chaotic bronze form extends into an elongated thin vertical point, referencing the trajectory of a rocket launch.
Close by is a large white sculpture mimetic of an aeronautical spacecraft. However, rather than celebrating the upward propulsion of the rocket, the sculpture lays flat with a thick layer of clay covering its surface, grounding the vessel to the earth. Behind the sculptural installation is a video presenting short and distorted clips of rocket launches. The imagery flickers rapidly on the screen, abstracted to an almost unrecognisable state. Ellis questions the technological advancement of the rocket and challenges the notion that space travel will provide a viable option for human survival.
Simon Finn's Breath-Holding Dwelling expands into the next two rooms. His work is heavily inspired by Finn's free-diving experience and considers the relationship humans share with the ocean. Breath-Holding Dwelling encourages a deeper consideration of life under the surface of our seas and proposes an underwater structure for the diving community.
Finn uses scaled models and mixed media sketches to articulate this breath-holding dwelling. This underwater experience is brought to life through an immersive video installation, where the viewer is asked to hold their breath as they step into a dark room. Above them, a small screen is suspended from the ceiling displaying footage of the ocean's surface breaking and dissipating. The rhythmic motion of the waves above creates a meditative sensation as we explore the new underwater environment. However, the struggle to hold a single breath poses limitations to the oceanic immersion.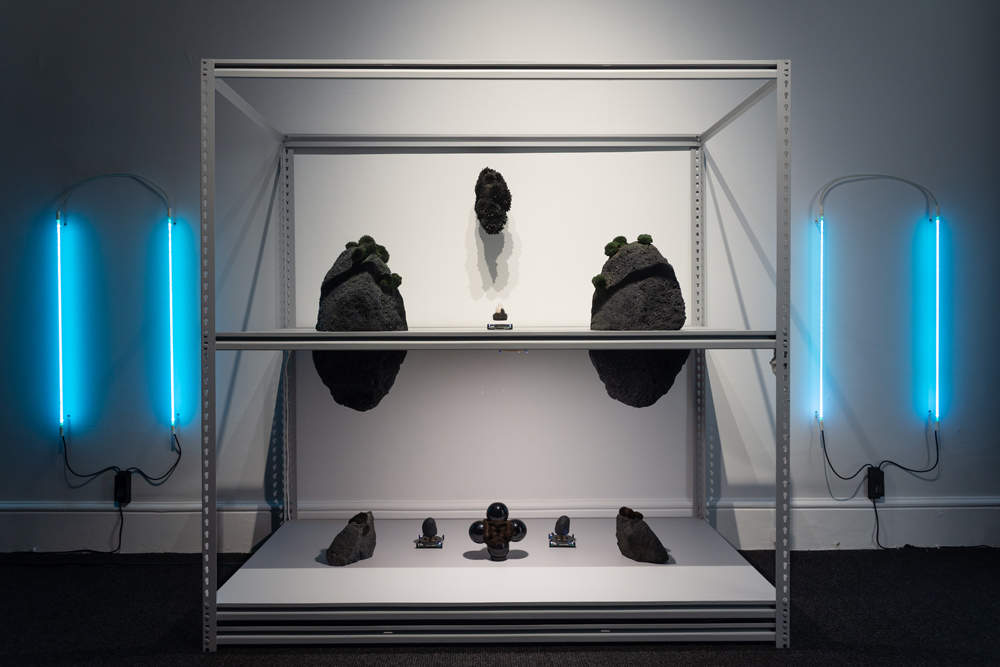 Alicia King, Summation of Forces [installation view], 2019, iron, resin, steel, neodymium, electromagnets, human tissue, glass, birch, neon. Image courtesy of the artist. Photograph: Theresa Harrison Photography.
Upstairs, Alicia King's exhibition Our Long Conversation features a series of objects made from iron, resin, human tissue cultures, and rare earth magnets. These objects are reminiscent of a science laboratory, and at first glance appear to include elements of crystallisation and bacterial growth, as well as golden pus oozing from porous forms.
King explores human obsession with technological supremacy and our capacity to alter and control the world around us. Our Long Conversation raises legitimate concerns about the ethics of biotech practices and the manipulation of nature. The series of work is a sensitive response to an ongoing community discussion, and a perfect exhibition for Linden New Art's Dystopian Future.
Each of the three solo exhibitions present a diverse response to the theme of dystopian futures. They identify a range of challenges and possibilities that technological and scientific advancements pose for our future environment.
3.5 stars out of 5 ★★★☆
Dystopian Future
Curator Juliette Hanson
Artists: Brodie Ellis, Simon Finn and Alicia King
7 September-10 November 2019
Linden New Art, St Kilda VIC
Free admission