Led by Thomas E.S. Kelly (Minjungbal-Yugambeh, Wiradjuri and Ni-Vanuatu), and Taree Sansbury (Kaurna, Narrunga and Ngarrindjeri), Karul Projects is emerging as a key player in Australian contemporary dance theatre. Weredingo, their most recent work, is a Brisbane Festival highlight; thoughtful, provocative, playful and totally engaging. Weredingo is about shape shifting – a form of metamorphism in First Nations dreamtime histories. At a personal level, it is also about dual identities and transformation.
The work's premise implicates the audience on arrival, where attendance and animal affiliation are noted by the bare-footed reassuring Frank who ushers us into a 'shapeshifting support meeting'.
As the auditorium darkens, we sense the silent imposing presence of a giant wedge-tailed eagle intently watching from above. The eagle slips in and out of Weredingo as a live and on-screen presence: timeless and prescient, observer and protector. On the dimly-lit stage, a mysterious hooded robed creature crouches, rolls, growls and pounces before disappearing.
The threatening ambience created by this animal/human is broken by the bright lights of the meeting hall and the up-beat re-appearance of Frank, self-appointed meeting facilitator. Directly addressing the meeting, he reassures participants we are in a safe space, as we repeat after him the support group mantra of commitment to respect all animals. Frank pronounces everyone in attendance shapeshifters, and the meeting formally begins following the arrival of Colton (Thomas E. S. Kelly) and Virgil (Benjin Maza).
What follows is an extraordinary theatrical experience of shapeshifting. Weredingo invites the support group to share the unfolding journey of Virgil, Colton and the angry latecomer Denise (Taree Sansbury). One by one, these shifters reveal their duality, transmuting between human and animal through three mesmerising and unique solos.
Virgil, describing himself as a 'late' shifter, begins in a humorous play of misunderstood communication around naming that continues with delightful story-telling of his place and family while he physically morphs through a quirky yet organic dance of boneless fluidity to slip into his green ant persona. His irrepressible spirit throughout the work provides a humorous antidote to the dark struggles that confront other shifters.
Read: Theatre review: Ishmael, Brisbane Festival
It quickly becomes apparent that Colton is the meeting's real host and an experienced shifter – his wedge tailed eagle metamorphosis is commanding and charismatic, and he inhabits other creatures with ease and familiarity. Colton proceeds to take us on a beguiling cultural lesson of creationist stories through dance and poetry, accompanied by enchanting animated illustrations of various animals and their metamorphosis into the landscape. The apparent simplicity of this section nonetheless reveals a multi-faceted layering of contemporary relevance, a hallmark of Karul's work. Weredingo is a highly successful example of the company's vision to 'strengthen and empower the cultural knowledge of this land so future generations of any background can continue to learn and enjoy from Aboriginal Australia's rich heritage'.
Despite adroit use of humour, Weredingo does not shy away from depicting hard truths, exemplified in the gut-wrenching shapeshifting solo of Denise. A guttural and visceral metamorphosis draws one into her world of pain, relatable yet simultaneously alienating. Danced with fury and abandon, from menacing crouching to full bodied tortured howling, this human animal is trapped in the trauma and violence of her transition. It is a fearsome hypnotic dance, her struggle augmented through multiple changing images from the three screens.
Denise's shapeshifting is the turning point of the work, after which premises and promises of earlier scenes are stripped away. Inclusion begets exclusion and exclusion engenders inclusion while the final stages of the group meeting are played out. Frank (portrayed with nuance and skill by Grayson Millwood) is no longer tolerated as the well-meaning empathetic 'facilitator' with his naively patronising patter and self-effacing manner. Increasingly side-lined, Frank is forced to confront his own painful truth, which comes to a head in a dramatic altercation. As outsider, he experiences the harsh and terrifying reality of being treated as a hunted wild animal. This confronting incident awakens a realisation that is profound and unequivocal – not everybody is or can be a shapeshifter. Weredingo is undeniably potent truth-telling.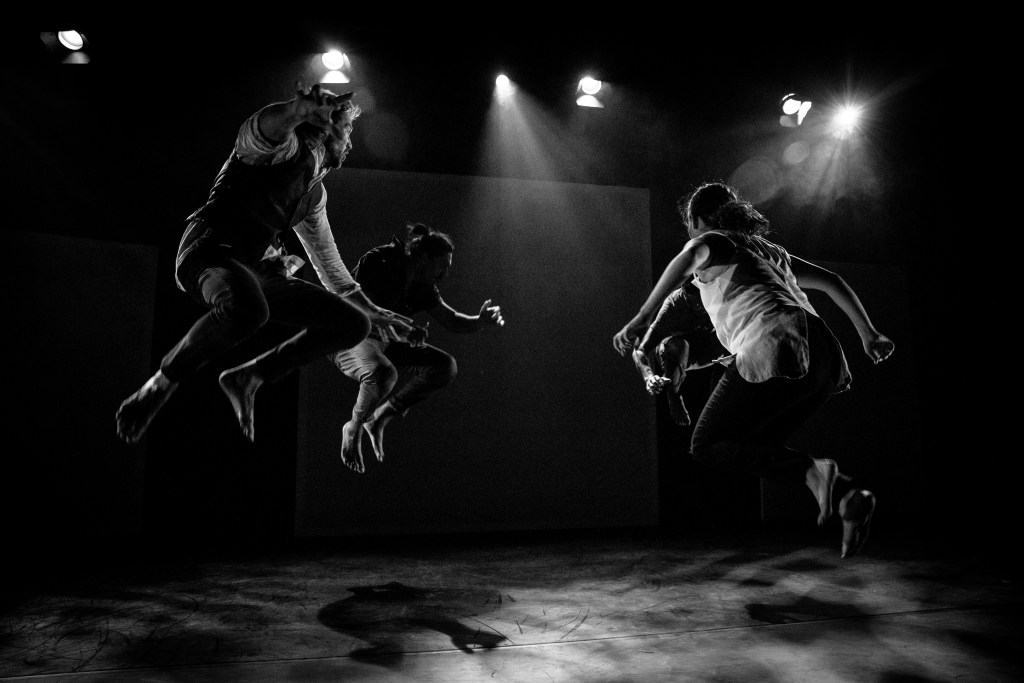 Despite the work's changing moods and scenes, it has a cohesive internal structure. The staging is simple, with tea and biccies on a table in one corner and three screens spaced evenly across the black backdrop. Crucial to the story-telling are enveloping clouds, starry skies, and expressive line-drawn animations by Jake Duczynski of Studio Hackett with projections by Wirrim Studios. This is enhanced by Chloe Ogilvie's lighting design, transporting the viewer, literally and figuratively, from the dark worlds of shapeshifting to the bright surrounds of the group support meeting. Similarly, the soundscape by Sam Pankhurst reflects and augments the fluctuating moods permeating the work. Importantly, sensitive integration of these elements never overwhelms the performers whose stories remain central.
Kelly has developed a concise choreographic language of symbolic hand gestures and expansive arm movements, combined with strong rhythmic unison movement through varied patterns of stepping, and an undulating fluidity of the upper body punctuated by sudden stillness; which build a powerful energy palpably grounded in Indigenous culture, especially when accompanied by singing in language. In Weredingo, the idiosyncratic individual styles of the three shapeshifters expands this language in surprising and mesmeric ways. The group dances, intermittent through the work would, however, benefit from further exploration.
The accompanying text moves from the banal in Frank to the clear, poetic delivery in Colton, the endearingly humorous in Virgil and raw provocative anger in Denise. These differing verbal styles are at times direct and confronting, at others subtle and poignant. As a critical through line, the text could be strengthened with refinement and editing. In the final confrontation, for example, physical portrayal tells the story more forcefully than the ensuing monologue.
Throughout the work, cohesion and trust between the performers are palpable as is their ability to communicate complex concepts and feelings. Their generosity, as well as the inclusive audience structure of the work, engender a shared experience even as the deeper layers invite a personal and individual understanding of shapeshifting.
Karul has come to represent a sophisticated new generation of Indigenous dance-based storytellers, whose bold presence and playful, but highly relevant, productions are adding immeasurably to shapeshifting the Australian performing arts landscape. Weredingo is an enthralling and powerful work that warrants, when feasible, national and international exposure.

Weredingo, Karul Projects
New Benner Theatre, Metro Arts, Brisbane
Director/Choreographer/performer: Thomas E.S. Kelly
Rehearsal Director/Performer: Taree Sansbury
Performers: Benjin Maza and Grayson Millwood
Costume Designer: Selene Cochrane
Sound Designer: Sam Pankhurst
Lighting Designer: Chloe Ogilvie
Dramaturg: Isaac Drandic
Animation: Studio Hackett
Videography: Wirrim Studio
Producer: BlakDance
Weredingo was performed on 3-11 September 2021 as part of the Brisbane Festival.