West Australian Ballet's world premiere, echoes of VAN GOGH is an exquisite semi-biographical expression of Vincent van Gogh's tumultuous existence. Act I delves into Vincent's personal relationships, particularly those with his supportive brother, destitute lover and the sister-in-law who would one day bring his art to the world's attention.
Immediately mesmerising, the blue-clad character of Vincent van Gogh (Ludovico Di Ubaldo) appears centre stage, surrounded by a curved projector screen displaying a close-up of his well-known artwork, The Starry Night.
The segmented screen shifts as more dancers materialise from within it, moving as a connected collective. Vincent disappears into his art, quite literally, before returning to the stage with his brother Theo (Juan Carlos Osma). This male duet embodies the push/pull of entwined souls moving in symbiosis, each brother both a mirror and a catalyst. Vincent and Theo embrace and uplift one another, as the music rises with powerful emotion.
Next, Vincent sits at his writing desk, sketches projected behind him, beyond which glows a letter penned to Theo. Eight dancers are veiled by a sketch-marked screen. Vincent eventually joins them, but he faces opposing directions, and is painted in different hues. Although Vincent performs the same motions as the others, he is set apart from them, with subtle dissonance conveying his otherness.
Later, a woman appears, seemingly naked under a gauzy white dress. The curved backdrop behind her displays a close-up video of Sorrow, the artist's 1882 drawing of Clasina Maria Hoornik, better known as Sien. Sien Hoornik was Vincent's tragic muse and mistress, who lived with him for 18 months and posed for many of his artworks. The ensuing duet performed by Vincent and Sien (Polly Hilton) is intimately beautiful, embodying connection rather than the symbiosis or otherness of the previous dances.
This bond is disrupted by the appearance of Kee (Kiki Saito), Vincent's widowed cousin, to whom he once unsuccessfully proposed. Kee's opaque black dress fits with far more structure than the flowing garb of Sien, creating a yin/yang of affection as Vincent dances between their striking contrast.
The shifting backdrops feature close-up details of the artworks, panning out to reveal more of the pieces. The Potato Eaters is accompanied by a table and bench seats, placing an oil lamp on the foreground screen as aptly-bonneted dancers recreate the scene. They take up more and more of the stage as the painting behind them is gradually revealed, their movements alternating between slow and sudden, jerkily punctuated by comically gaping faces. Tatyana Van Walsum's costumes brilliantly capture the visual and tonal qualities of this particular painting.
Montmartre: Windmills and Allotments feels bleak in colouring as a later backdrop, until literal gold frames fall one by one from the rigging to the stage. Theo dances solo beneath a letter from Vincent, who wants to visit the former in Paris. Another brotherly duet ensues. The peaceful blues and grey of their costumes blend with the background to provide a suitable canvas for the quickening music.
More gold frames appear, followed by an artist, and another, and another. Central among these is Paul Gauguin (Oscar Valdés) whose importance is signified by the swell of the orchestra as much as his physical centrality. Vincent, enamoured, mirrors the movements of his friend and mentor, in a dance that implies reciprocal impact. Eventually, however, Vincent paints alone.
Theo reappears beside Vincent with his new wife, Jo (Alexa Tuzil) and the ensuing pas de trois is elegant and pure, expressing an intimate closeness and trust between the trio. And yet, Vincent remains ever-so-slightly out of step – alone in the dark, despite this connection.
A letter from to Gauguin about the orchids in blossom precedes the setting of a Parisian café, where night stars twinkle and sunflowers sit on tables beside dancers in bold colours. Vincent appears at the periphery of the Parisian art scene, a stranger in a muted palette, alongside his complementary companion, Gauguin. The chaotic composition accompanying Vincent and Gauguin's high-tension bed dance really places the audience in Vincent's conflicted mind.
Act II begins on a note of implied instability, with straitjackets denoting restriction and emotional insanity. A letter speaks of how Vincent has lost his mind in pursuing his heart.
A visibly pregnant Jo is elevated by the two brothers, an act which is symbolically appropriate, as it is she who will one day elevate them. A physical veil is lifted, giving Vincent new clarity about the consolation of art, and his own deeply felt tenderness. The ongoing dance between the three continues, leaving Vincent more and more on the outside of the relationship. Jo is the flower between two branches, with Vincent as one growing further away over time, losing himself in art with a frenzied urgency.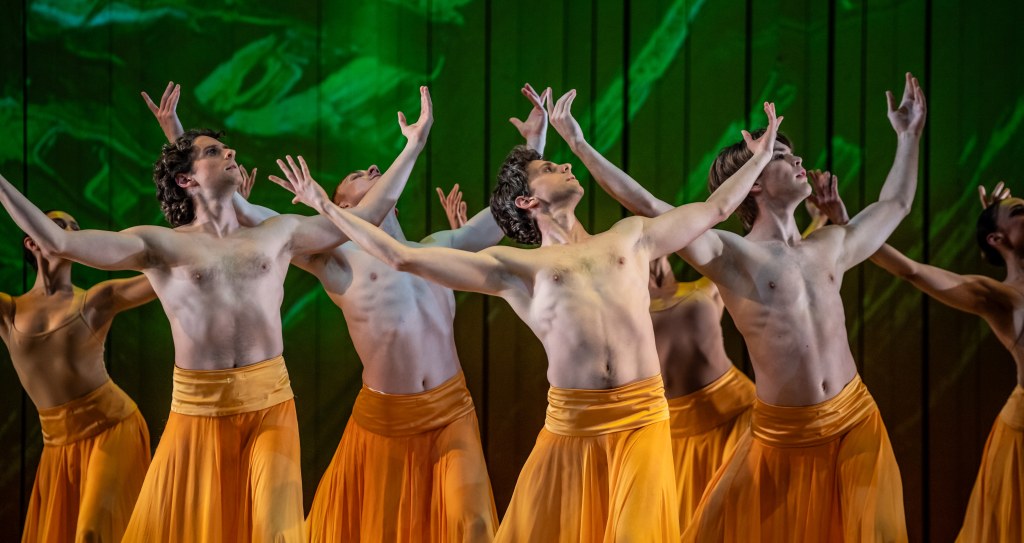 Androgynous sunflowers dance like frantic petals flying through a post-impressionistic world. Crows appear as dark splodges marring the otherwise vibrant landscape of Vincent's symbolic life. The audience titters at the bird-like movements, emphasised by the sharp-beaked headpieces. Jolting and circling, swooping and swirling, this murder of crows blurs with the beauteous sunflowers. Here, choreography and costume succeed in transcending the concepts of gender and place to dramatic aesthetic effect.
Vincent reappears, supported by Theo under a starlit sky and its vibrant reflections. The final dance has the gentle tonal quality of a lullaby, as Vincent enters the deepest sleep. He is, as always, in sync with Theo, as it is not the one following the other, but one-and-the-other creating a whole. Nature returns to itself as Vincent and Theo look their last together upon the stars, lit by the light of their brotherly love. Dancers swirl around Vincent like brushstrokes, elevating him to where he belongs: a light in the night sky, reaching for himself.
The relationship between the two brothers is the constant underlying note of this emotional production. Women comprise the unspoken parts of this story, despite being the glue binding the brothers to each other, and their artwork to history.
Wubkje Kuindersma's choreography is fluid and organic, creatively conveying the love and support that exists between siblings, lovers and fellow artists. The synergy between the music and choreography is satisfying, impressive, heartbreaking and, at times, even comical.
Anthony Fiumara's custom compositions give distinctive voice to the atmospheres and impressions of Vincent's mind and artworks. Once again, Principal Conductor Jessica Gethin and the West Australian Symphony Orchestra stun with their skilful aural brilliance.
Tatyana van Walsum's innovative set, video and costume designs combine to create something undeniably magical. Inspired by the texture of the artist's brushstrokes, van Walsum infuses the entirety of the first act with shapes, colours and scenes from his paintings. The second act feels particularly post-impressionistic, as the audience is drawn into the tumultuous finality of Vincent's tragic undoing.
Read: Book review: Me, Her, Us, Yen-Rong Wong
Jon Buswell's lighting design is subtle but integral to the spell cast by the combined elements of this production. It is understated, not by virtue of non-existence, but by being so exactly suited to each moment and motion, so as to appear indistinguishable from the artful movements of the paintings, music and dancers.
West Australian Ballet's world premiere, echoes of VAN GOGH, is outstanding in every aspect.
echoes of VAN GOGH
His Majesty's Theatre, WA
Choreographer: Wubkje Kuindersma
Set, Video and Costume Designer: Tatyana van Walsum
Lighting Designer: Jon Buswell
Dramaturg: Janine Brogt
Librettists: Janine Brogt and Wubkje Kuindersma
Composer: Anthony Fiumara
Principal Conductor: Jessica Gethin
Opening Night cast (subject to change): Ludovico Di Ubaldo, Juan Carlos Osma, Alexa Tuzil, Polly Hilton, Kiki Saito, Oscar Valdés
Tickets $28 – $130
echoes of VAN GOGH will be performed until 23 Sep 2023