This week (8 February), the Australia Council for the Arts announced that it would be sending First Nations artist Archie Moore, and Curator Ellie Buttrose, to Venice for Australia's 25th edition, participating in the world's most talked about international contemporary visual art event.
Describing himself as a multidisciplinary artist, Moore (Kamilaroi/Bigambul) is only the second solo First Nations presentation in that 25-year history.
The choice of a First Nations artist is timely with the Voice to Parliament a priority, and the National Cultural Policy positing First Nations culture as one of its pillars.
Responding to the announcement, Federal Minister for the Arts, the Hon Tony Burke MP, said: 'You only have to look at the installation work of Archie Moore to imagine what a perfect choice this is for Australia's exhibition at the Venice Biennale.'
He continued: 'The Australian Government committed in our National Cultural Policy, Revive, to put First Nations at the centre of Australia's cultural heart. Opportunities like these help us to understand more about ourselves as Australians, more about each other, and help the world get to know us.'
Australia Council Executive Director First Nations Arts and Culture, Franchesca Cubillo added, 'This exhibition comes during a significant milestone as the Australia Council marks 50 years of dedicated investment to First Nations arts and culture.'
Speaking at the formal announcement event this week, Moore reflected on being chosen as Australia's representative at Venice. 'To be able to show my work to an international audience is a big honour, and to show them what contemporary Aboriginal art is, and the history of this place – my place – is,' he said.
Moore added that he was 'gobsmacked' when he learned the news, saying, 'I won't let us down.'
When pushed on the implications of 'representing' Australia, Buttrose jumped in: 'We are being presented, rather than representing. That is what's nice about Archie's practice, he never assumes to represent other people. His work is a representation of the self and how that can be extrapolated upon to talk about larger issues.'
Moore added that his artworks 'explore ideas of my own identity and Aboriginal politics and personal histories, and try to put people into my shoes and experience is a motif in the work'.
His research will be one component of the project for Venice, but there is also a suggestion that it will incorporate the role that the Voice to Parliament is likely to play. 'I don't want to give anything away,' he said. Buttrose, however, confirmed: 'It will not be part of the project.
'Artistically adroit and politically incisive, Archie is uniquely placed to confront Australia's past and assert Indigenous sovereignty on a worldwide scale.'
Moore said that through his Venice presentation he wants people to 'gain a better understanding of the Aboriginal experience'.
'I'm not sure what people in Europe know about Aboriginal art, other than desert paintings. I want to show something that is a more contemporary art style, and tell them about how I navigate this place called Australia.'
Regarding his plans for Venice, he said: 'A lot of my practice has to do with memory. I will often do research of the site where the exhibition is to be held, and whether it is a sorry place. It is important for me to look at the memory of a place,' adding that he also takes into account 'false memory'.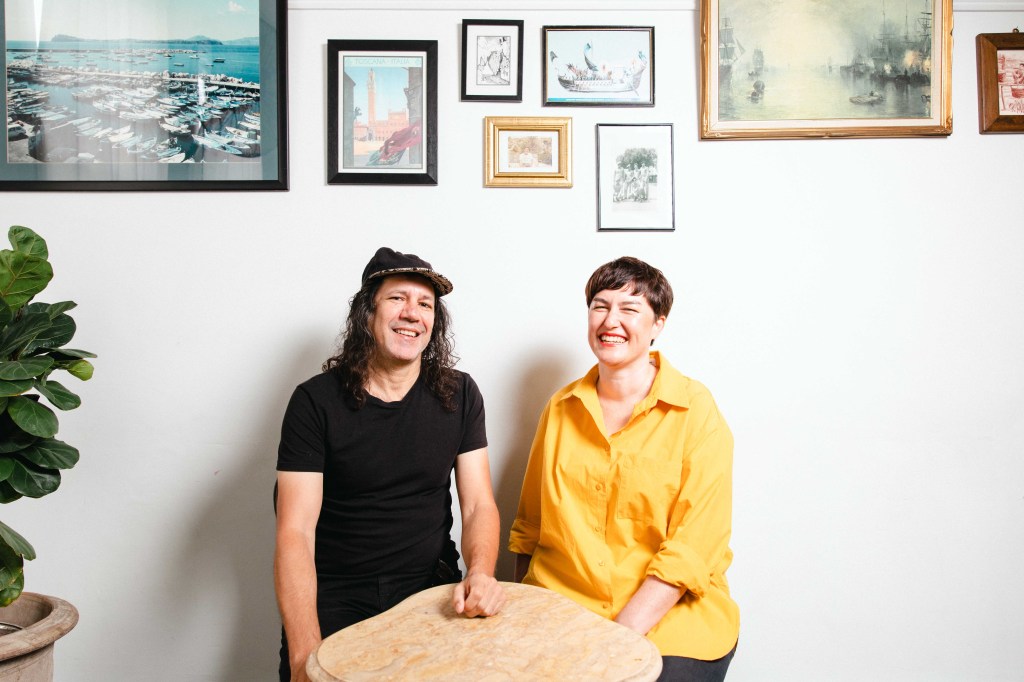 Buttrose and Moore have known each other for around 15 years, having most recently worked together on the exhibition, Embodied Knowledge: Queensland Contemporary Art (2022) at Queensland Art Gallery | Gallery of Modern Art (QAGOMA), where she is Curator of Contemporary Australian Art.
The exhibition – co-curated with Katina Davidson, QAGOMA Curator, Indigenous Australian Art – featured Moore's Inert State 2022 as its centrepiece commission. International visitors to Australia, whether they realise it or not, have already had an introduction to Moore's work. His 28-flag United Neytions (2018) installation sits above the Marketplace at Sydney Airport's T1 International Terminal.
Moore has a history of working with collaborators (such as professional flag makers) to deliver his work. Additional to Buttrose, he will pull in the architectural expertise of Kevin O'Brien and the writings of Djon Mundine and Larissa Barrett to deepen aspects of his project for Venice.
Buttrose said she felt honoured that Moore had 'entrusted me to curate such a significant exhibition' as his Venice presentation. 'One of the reasons I wanted to work with Archie is that his projects sit with you, and don't leave you, and they come up in conversation year-after-year, long after having seen them, and I hope international audiences can have that also.
'One of the great successes of his practice is that there are not moral lectures, but there is an ethical imperative that can't be ignored,' continued Buttrose.
Moore had been uncertain whether he would apply for the Venice gig, thinking he wouldn't have enough time. 'Then someone said, you should go now, now is the time,' he explained.
While Moore has not seen the Denton Corker Marshall designed pavilion (opened in 2015) that will display his work, he had visited the Venice Biennale before, catching the exhibition in 2001 and 2009.
Moore concluded that he is 'interested in artists that say interesting things in interesting ways,' mentioning the German artist Gregor Schneider, who showed at the Venice Biennale in 2001, for the way he explored the idea of home, dismantling constructs and structures, and then reconfiguring in other places. Perhaps this is a hint of what may come … along with a hint of corrugated iron fabrication.
What is sure, is that Moore's installation will make an impact.
Mikala Tai, Head of Visual Arts with the Australia Council, said that rather than calling upon an independent commissioner for the 2024 edition, the Australia Council has continued in this role. 'This year there was a slight change in the selection process. There was a final recommendation from industry advisers, then we took that and made the decision ourselves.'
She added: 'It is really critical that it sits within the whole compendium of what the Australia Council does.' Robert Morgan, Chair of the Australia Council, continued: 'It is essential that Australia be seen as a cultural leader.'
The teams shortlisted for this edition of the prestigious exhibition are:
• Tony Albert, Liz Nowell and Hetti Perkins
• Brook Andrew, Atong Atem, Lucienne Rickard, Justin Shoulder, Latai Taumoepeau and Rebecca Coates
• Khaled Sabsabi and Michael Dagostino
• Yasmin Smith and Kathryn Weir
The Venice Biennale will be presented 20 April – 24 November 2024.