Australians love a festival – especially an arts festival – and there is no shortage of them in 2020. We list over 100 here!
With over 430 creative festivals in Victoria alone (according to 2018's Victorian Creative Industries Festivals Review) we can't possibly list them all, but here are some of the major cultural events coming up this year around the country, so that you can add them to your diary in advance.
Please note that we haven't included film festivals in this list, as such events are covered by our sister site Screenhub, while literary festivals and events are covered in a separate guide compiled by ArtsHub's Jinghua Qian.
JANUARY
Fringe at the Edge of the World (TAS) runs from 9-12 January in Hobart, and features four nights of uncensored, unjuried, performing arts including comedy, cabaret and more. Catch local acts such as comedian Chloe Black alongside  mainland comedians Lisa-Skye and Annie Louey at venues including The Polish Corner and The Brisbane Hotel.
Sydney Festival (NSW) returns to transform the city from 8-26 January, featuring the best of homegrown and international acts such as Reg Livermore's iconic cabaret Betty Blokk-Buster Reimagined, Dead Puppet Society's 'moving, irresistible and celebratory' Laser Beak Man, and a range of new First Nations works.
Presented by Melbourne Recital Centre, Music Play Family Festival (VIC) runs from 16-18 January and features three days of concerts, workshops and family fun. Highlights include Justine Clarke's Mimi's Symphony (where a full orchestra explores the story of the little magpie who falls out of her nest and tries to find her way home), Simon Tedeschi's Meeting Mozart, and free foyer activities such as The Wonderlands featuring the Federation Handbells.
Running throughout January, as well as all of February and March, the second edition of Melbourne's Asia-Pacific Triennial of Performing Arts (Asia TOPA) celebrates the creative imagination of artists and cultures in the Asia-Pacific region – often in collaboration with Melbourne artists and companies. From Vietnamese circus and contemporary performance to traditional practitioners like Abida Parveen (described by The Guardian as 'the greatest female Sufi singer in history') Asia TOPA is a cultural diverse feast for all your senses.
The Midsumma Festival (VIC) presents a kaleidoscope of queer arts and cultural festivities across Melbourne from 19 January to 9 February. The festival has been celebrating LGBTQIA+ culture since 1988. This year's festival celebrates stories from Pacific womxn of colour, Indigenous perspectives, Drag Race darlings from Thailand, dance stars from Taiwan, asylum seekers from Iran, and much, much more.
With over 400 artists across 25 venues, Mona Foma (TAS) has announced its 12th festival program, the second to be presented in Launceston, Tasmania. Brian Ritchie, Mona Foma Curator said, 'Mona Foma 2020 finds us using one of the most beautiful urban nature sites in Australia – Cataract Gorge – as the backdrop for a radical reinvention of the absurdist play King Ubu by Alfred Jarry, which has been adapted to a modern day Launceston. We'll be visited by musicians and artists from Slovenia, Japan, Arnhem Land, United States, Hobart and many other places.' Mona Foma 2020 runs from 11–20 January.
The third largest Fringe in the world, Perth's FRINGE WORLD (WA) runs from 17 January to 16 February, transforming the city's Northbridge precinct, and expanding out across established venues and transformed spaces throughout Perth. If you find the full program overwhelming, we recommend starting with a specific venue, such as the annual Hot Summer Nights program at The Blue Room Theatre; a curated slice of cultural delights among the joyful chaos of the Fringe.
And running from 17-19 January, Karnidale: The Western Australian Circus Festival (WA) is a celebration of live music, circus shows, street shows and cabaret by international performers, national and local musicians and artists held in Karridale WA, three hours south of Perth.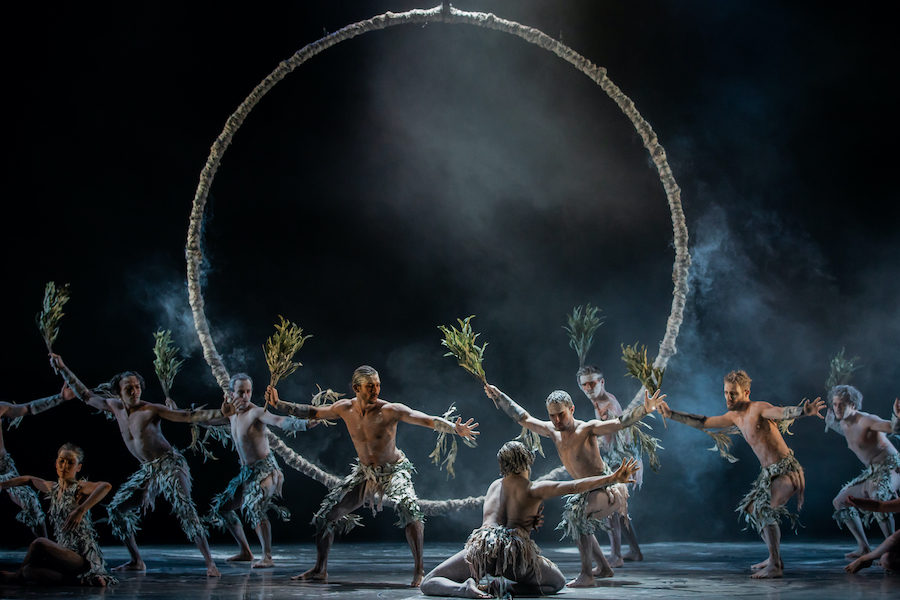 Bangarra's Bennelong – Act 1, to be presented at Perth Festival 2020. Photo: Daniel Boud.
FEBRUARY
Perth Festival (WA) returns 7 February – 1 March, celebrating film, literature, performance and the visual arts, and dedicating its first week exclusively to First Nations. The program this year is driven by a new Artistic Director, Iain Grandage – the first West Australian appointed to the role.
A new festival for the regional city of Bendigo, Bendigo Chamber Music Festival (VIC) will feature members of the Chamber Orchestra of Europe as artists in residence, alongside guests including Melbourne Symphony Orchestra's Concertmaster Sophie Rowell; Principal Viola of Sydney Symphony, Tobias Breider; and one of Australia's leading pianists, Daniel de Borah. Running from 5-9 February.
Sydney Gay and Lesbian Mardi Gras (NSW) returns from 14 February – 1 March with a program that marches fearlessly into the future, under new CEO Albert Kruger. The Festival includes the iconic Sydney Gay and Lesbian Mardi Gras Parade on Saturday 29 February and a dedicated performance program at the Festival Hub (the Seymour Centre in Chippendale).  
Adelaide Fringe (SA) runs from 14 February – 15 March. Venues big and small, pop-up and permanent house thousands of artists from all over Adelaide, Australia and the world.This year marks the Fringe's 60th anniversary and to celebrate the Fringe have produced a limited-edition coffee table book that looks at the event's history and highlights across the past six decades. 'We can't wait to flood the city with the joy and mayhem that comes with Adelaide Fringe. It's a time to be entertained and snuggle up under the cultural blanket we throw over Adelaide. The open and inclusive nature that goes to the very heart of Fringe really does mean that everyone can participate and there almost certainly will be something in the program for everyone,' said Adelaide Fringe Director and CEO Heather Croall.
CANCELLED: Brisbane Comedy Festival (QLD) runs from 21 February to 22 March, at venues including Brisbane Powerhouse and Brisbane City Hall. Catch the future of Queensland comedy in the state final of Class Clowns, the madcap delights of Tom Walker and Demi Lardner, and stand-up from Geraldine Hickey, Cal Wilson and Harley Breen, plus many more. UPDATE: Cancelled from 16-22 March.
A new festival of urban art, Can't Do Tomorrow (VIC) has announced its first line up of artists, major installations and programming. The festival takes over Melbourne's underground warehouse, The Facility, for ten days this summer from 20-29 February.
Presented a littler earlier in 2020, from 24 February – 1 March, Supercell Festival of Contemporary Dance (QLD) aims to make Brisbane a national and International hub for contemporary dance.The full program launches on Wednesday 22 January.
Adelaide Festival (SA) returns from 28 February – 15 March, steered by co-Artistic Directors Rachel Healy and Neil Armfield. Writers' Week will be held from 29 February – 5 March with the theme for 2020 Being Human. Hot tips at the Festival include Belgian production Dimanche (a blend of puppetry and clowning described as 'A masterclass in wit, ingenuity and sheer theatrical brilliance'), the breaking meets contemporary dance showcase Between Tiny Cities, Lloyd Newson's (DV8 Physical Theatre) ahead-of-its-time study of toxic masculinity Enter Achilles, and the Adelaide Biennale: Monster Theatres.
Canberra's annual showcase of culture and creativity, Enlighten Festival returns to the ACT from 28 February – 15 March. As part of the festival, the Canberra Balloon Spectacular runs from 7-15 March, where each day from 6:15am pilots will begin inflating their balloons on the lawns of Old Parliament House. Patricia Piccinini's newly commissioned Skywhale papa will be unveiled as part of the festivities.
MARCH
The 16th annual Sculpture by the Sea, Cottesloe (WA) will be staged at Perth's beloved beach from 6-23 March.
PARTIAL CANCELLATION: Art Month Sydney will not to proceed with the remaining events of it 2020 program for the month of March. Tickets purchased for our Ceramics Workshop on 21 March and Forage to Feast dinner on 26 March will be reimbursed. For now, our Collectors' Space exhibition will remain open until 28 March, with a limitation on visitor numbers.
WOMADelaide 2020 (SA) will be held at Adelaide's Botanic Park from 6–9 March with acts ranging from The Blind Boys of Alabama to Sleaford Mods.
The Sydney Opera House has announced the first line-up for its eighth annual All About Women Festival (NSW), taking place on International Women's Day. It will be held Sunday, 8 March 2020.
Canberra's largest contemporary arts festival Art, Not Apart (ACT) returns for its 10th anniversary festival from 13-15 March. With an expanded festival footprint that includes the iconic Albert Hall, this year's Art, Not Apart includes an improvised jazz and projections concert, a wild performance art party, and a boutique electronic music event, in addition to the main festival centred around NewActon.
POSTPONED: Parramasala 2020, the festival that has celebrated cultural diversity in Sydney's west for a decade was schedule over the weekend 13 – 15 March. It has been postponed to a later date, yet to be advised.
PARTIAL CANCELLATION: Canberra Comedy Festival (ACT) runs from 16-22 March at the Street Theatre, Canberra Theatre Centre and other venues.  UPDATE: The GALA will be rescheduled to a date in the latter half of 2020. Some performances are still going ahead for Canberra Comedy Festival, while more than half have been either postponed or cancelled. For details on performances.
CANCELLED: Geelong Design Week is scheduled for 19-29 March. UPDATE: Some Geelong Design Week events will be presented as webinars.
CANCELLED: Melbourne International Comedy Festival returns from 25 March – 19 April 2020 across multiple venues.Over 300 shows are already on sale with the full program going live on 11 February. It will return in 2021.
POSTPONED: O_C_E_A_N arts festival at Hotel Esplanade and St Kilda surrounds, scheduled for 22 – 29 March 2020, has been postponed. New date to be advised.
CANCELLED: Melbourne Queer Film Festival has suspended all remaining sessions on the program, starting from 16 March. Ticket holders should retain tickets and wait for further instructions. The event is scheduled to close 23 March.
CANCELLED: The City of Sydney and C40 Cities have postponed the Sydney Climate Action Summit, which was scheduled to take place from 31 March to 2 April. The summit included a series of large-scale public events, including the City Talks (Tuesday 31 March), the Mayors and Citizens Summit and the Sydney Climate Expo (Wednesday 1 April) scheduled to take place at Sydney Town Hall.
APRIL
POSTPONED: Parrtjima – A Festival in Light (NT) returns 3-12 April 2020 with the theme 'Lifting our spirits'. The festival is held in Alice Springs Desert Park and its surrounds, and is a celebration of Central Australian Aboriginal art and culture. Rhoda Roberts AO returns to curate the festival program. UPDATE: The Festival will be rescheduled to September 2020.
CANCELLED:  Wall to Wall Festival organisers regret to share that the event will not go ahead as planned from 3-5 April. Established in 2015, its' hosted by the regional township of Benalla in north-east Victoria.
CANCELLED: Wominjeka Festival welcomes you to its 10th anniversary, a three-day celebration of local Indigenous environment and culture-sharing in the West (VIC), including music, ceremony and workshop from 3-5 April. 
CANCELLED: Sculpture at Scenic World (NSW) returns to Katoomba in the Blue Mountains from 9 April –10 May. 33 artists have been selected to exhibit at the ninth annual Sculpture at Scenic World exhibition in 2020. NEW DATES: New dates have been set for 1 April – 2 May, 2021.
CANCELLED: Festival of Dangerous Ideas (NSW) returns in 2020 for its 10th festival. April 3 to 5 will feature leading thinkers from Australia and around the world in a weekend of provocation, contemplation, critical thinking and preparation for the battles of the next decade.
CANCELLED: Fremantle International Street Arts Festival is Australia's largest dedicated street theatre festival, and takes place in Fremantle WA ever Easter 10-13 April. The festival celebrates its 21st year in 2020.
CANCELLED: Four Winds Easter Festival (NSW) has grown into an iconic event for classical music, and an outstanding success story for regional arts in Australia. This year's festival runs from 8-12 April 2020. Attending the festival is a great way to support the community of the south coast after this year's horrific bushfires. UPDATE: Four Winds estimates loss to be in the region of $130,000, which equates to loss of box office income and costs incurred to date. The majority of artists booked for the 2020 Easter Festival have said they are willing perform at Easter 2021. Four Winds' free concert for the community will go ahead, but has been POSTPONED to 13 November for the opening of the Spring Young Festival.
CANCELLED: Bluesfest – the long-running festival set to return to Tyagarah Tea Tree Farm, just outside Byron Bay, for the Easter long weekend (9–14 April), headlined by Alanis Morissette, Dave Matthews Band, Patti Smith, Crowded House and Lenny Kravitz, among others.
CANCELLED: The National Folk Festival – the heart of folk for over 50 years and is traditional presented over the Easter weekend across Canberra (9-13 April).
CANCELLED: Gold Coast Film Festival to be presented 15-26 April.
The National Trust has opened registrations for the Australian Heritage Festival 2020 which runs from 18 April to 19 May. Councils, community groups, clubs, historical societies, libraries, museums, galleries, theatres, artists and businesses are invited to create and promote events.
CANCELLED: Sydney Comedy Festival returns from 20 April to 17 May 2020. The festival kicks off in grand style with the Sydney Comedy Festival Gala at the State Theatre. Other venues include the Enmore Theatre, The Concourse Chatswood and Riverside Theatres in Parramatta.
POSTPONED: The Inaugural biennale PHOTO 2020 will be presented across 40 cultural institutions, museums and galleries in Melbourne (VIC) from 23 April-10 May 2020, showcasing the work of over 120 artists. UPDATE: New dates have been set for 10 – 27 September 2020.
CANCELLED: Perth Comedy Festival runs from 20 April-17 May. UPDATE: Although the Festival will not be staged in April and May, a number of performers will look to reschedule their shows for later in the year.
CANCELLED: Sydney Writers Festival have suspended ticket sales for their 2020 festival, which is due to run from 27 April–3 May.
MAY
CANCELLED: Canberra International Music Festival (ACT) runs from 1-10 May, with a focus on Beethoven to mark his 250th anniversary. Over ten days the festival will also explore the beauty of voices; from Haydn's glorious Creation to the Appalachian mystery of Sam Amidon, to contemporary Indigenous creators in all their diversity. The festival's theme is the voice's power to reach out to us all and speak to who we are today. 
CANCELLED: On Friday 1 May, artists take over inner city Geelong for Geelong After Dark (VIC) with visitors and locals alike encouraged to embrace the unknown.
CANCELLED: Wide Open Space Festival (WOS2020), where musicians, performers and creatives nestle into the majestic MacDonnell Ranges (NT), for its 11th edition from 1-3 May. NEW DATES: Wide Open Space will return 30 April – 2 May, 2021.
CANCELLED: Melbourne Jewish Book Week has decided to cancel the 2020 festival scheduled for 2-7 May. This decision was made on the cusp of MJBW releasing its 2020 Festival program.
CANCELLED: Following a successful 2018 debut, Bright Cabaret Festival (VIC) returns to the regional Victorian town of Bright, at the foothills of Mount Buffalo, from 7-9 May.
CANCELLED: Regarded as one of the country's best chamber music festivals, Coriole Music Festival (SA) runs over 16-17 May at Coriole Vineyards in McLaren Vale, South Australia.
CANCELLED: Running from 7-24 May, the Anywhere Theatre Festival (QLD) returns in 2020 with a range of performances in the nooks and crannies of Noosa, Sunshine Coast and Brisbane – anywhere that's not a traditional theatre!
CANCELLED / MOVED ONLINE: Running from 15-30 May, the biennial festival Next Wave (VIC) returns this year under the capable hands of Director/CEO Roslyn Helper. The most comprehensive platform in Australia for a new generation of artists taking creative risks, the 2020 festival program has yet to be announced. UPDATE: Next Wave Festival 2020 will instead deliver an alternative, responsive program led by artists and distributed online and in an extended form.
CANCELLED: The Other Art Fair, Melbourne, will be presented at The Facility this year from 21 – 24 May.
CANCELLED: Melbourne International Jazz Festival (VIC) is scheduled to return from 31 May to 9 June. Festival visitors will enjoy more than 130 performances at 25 venues and, due to the success of 2020
A new initiative to champion diversity in emerging jazz leadership and performance in Australia, Tomorrow is My Turn will again be a focus in 2020.
CANCELLED: Vivid Sydney (NSW) will again hit Sydney's harbourfront and beyond from 22 May – 13 June. The iconic light festival is accompanied by a curated ideas and music festival.
CANCELLED: After a successful inaugural festival in 2019 the Australian Musical Theatre Festival (TAS) will return to Launceston, Tasmania from 21-24 May in 2020. UPDATE: The 2021 festival will be held from 19-23 May 2021 with the potential of offering something to instill hope and keep our musical theatre passion going, later in 2020
POSTPONED: Semi Permanent (NSW) returns Carriageworks, Sydney to 21-23 May with the theme of RESTLESS. UPDATE: Semi Permanent has decided to push its dates back to later in the year. Stay tuned for announcements.
MOVED ONLINE: The Head On Photo Festival takes place in Sydney during the month May across multiple venues, with the program including outstanding international and Australian artists both emerging and well known. UPDATE: Head On will go ahead as a predominantly online event from 1-17 May, accompanied by a diverse program of webinars and events.
Nefertiti LaNegra at Melbourne Cabaret Festival. Photo James Thomas.
JUNE
Melbourne International Singers Festival (VIC) runs from 3-8 June. A festival for all school and community choirs as well as individual singers, this year mark's the events 11th year. Early bird registrations open soon.
CANCELLED: Adelaide Cabaret Festival (SA) will be presented from 5-20 June across multiple venues in the South Australian capital. Julia Zemiro returns as Artistic Director for the second year.A handful of shows have already been announced including Six the Musical and Helpmann Award nominee Caroline Nin's Barbara: La Dame en Noir.
There's also the Adelaide Cabaret Fringe Festival (SA) from 29 May-28 June, an annual open access festival.
CANCELLED: The dates for Dark Mofo (TAS) have been set for 10-22 June, this year featuring special guests Bon Iver, with more to be announced. If you've not yet participated in what's become known as Tasmania's "must-do" winter pilgrimage, perhaps this will be your year? 
Held over the Queen's Birthday long weekend every year since 2005, Woodend Winter Arts Festival (VIC) is a showcase of fine music, art and literature in the heart of one of Victoria's best food and wine regions.
Held in Coonabarabran NSW over 19-20 June, Articulate Festival (NSW) celebrates art, inclusion, and culture and features a wide range of local arts on show, made live and in competition. Program details are yet to be announced.
CANCELLED: Melt: Festival of queer arts and culture (QLD) takes over Brisbane Powerhouse from 18-28 June. The MELT festival team have announced this year's Guest Festival Director Emily Gilhome will return to help develop the 2020 festival. Program details will be launched later this year.
CANCELLED: The Alice Springs Beanie Festival (NT) runs from 26-29 June, with the Festival Program released in late March.  
POSTPONED: Melbourne Cabaret Festival (VIC) returns from 17-28 June. Submissions are currently open. UPDATE: We will return when this crisis is past.
POSTPONED: The 2020 Melbourne Art Fair (VIC) will be staged at at the Melbourne Convention and Exhibition Centre from 18-21 June. Melbourne Art Foundation have announced the appointment of Emily Cormack as the Melbourne Art Fair 2020 Artistic Director, a new position that will oversee the artistic direction for the 16th edition of the fair. UPDATE: The fair has been scheduled to take place from 4-7 February 2021.
POSTPONED: DENFAIR (planned for June 2020) has been moved to 1-3 October 2020 in an effort to ensure a safe DENFAIR experience. Plan your trip to Melbourne then for all things craft and design.
JULY
CANCELLED: Festival of Voices (TAS), Tasmania's iconic winter festival and Australia's premier celebration of song, runs from 1-12 July. The full program will be available in April. NEW DATES: We will be remounting the festival from 30 June to 11 July 2021.
CANCELLED: Running from 3-12 July, Darwin Fringe Festival (NT) is a celebration of the Northern Territory's independent arts scene. Program details will be announced later this year and applications from independent artists interested in taking part in the festival open on 20 January.
The Cairns Indigenous Art Fair (QLD) is an annual showcase of Queensland's vibrant Aboriginal and Torres Strait Islander cultures, held at the Cruise Liner Terminal, Cairns from 10-12 July. As the organisers say: 'CIAF is more than an art fair, it is a festival celebrating Indigenous arts and culture.'
Queensland Music Festival (QLD) has traditionally been held across July. Dates and program details are yet to be announced. 
POSTPONED: Music SA, who for the fifth year running are the presenters of the Umbrella Festival. Umbrella Festival is a major, multi-week, open-access live music celebration of gigs across music venues in SA. UPDATE: The Umbrella Festival (previously set to open on 17th July) will be rescheduled to Friday 18 September – Sunday 4 October 2020, with the launch date and release of the Printed Program to be Wednesday 22 July.
CANCELLED:  The Adelaide Guitar Festival (SA) returns 1 July – 9 August led by Artistic Director Slava Grigoryan. The festival is made up of regional roadshows, free and low-cost workshops, master classes, artist's talks, panel discussions and programs for emerging musicians, all culminating in a final weekend celebration of curated ticketed performances showcasing the world's finest guitarists at Adelaide Festival Centre. UPDATE: In the interim, the Adelaide Guitar Festival team has moved the Adelaide International Classical Guitar Competition online and is rescheduling its regional, community and wellbeing program to early 2021 to be held in Clare, Fleurieu, Adelaide Hills, Kangaroo Island, Port Lincoln and Port Augusta.
CANCELLED: The Australian Festival of Chamber Music (QLD) will take place in Townsville, in tropical North Queensland from 31 July to 9 August, and celebrates its 30th anniversary in 2020. Artistic Director Kathryn Stott has released preliminary program details with more details to come later in the year. UPDATE: AFCM will therefore celebrate the 30th Anniversary Festival and Kathryn Stott's final festival as Artistic Director on the new dates of 23 July to 01 August 2021.
CANCELLED: Garma Festival of Traditional Cultures (NT) is Australia's leading cultural exchange event. It is held annually onsite at remote Gulkula, a traditional meeting ground in Arnhem land, and this year runs from 31 July – 3 August.
AUGUST
Darwin Festival (NT) is always a highlight in the annual calendar and returns in 2020 from 6-23 August. The 18-day celebration of music, theatre, visual art, dance, cabaret and more in the tropical city of Darwin includes the iconic Telstra National Aboriginal & Torres Strait Islander Art Awards presented by the Museum and Art Gallery of the Northern Territory – the defining moment in the Indigenous art calendar in Australia. UPDATE: Actively monitoring and responding, not yet cancelled or postponed.
MOVED ONLINE: South Australian Living Artists Festival or SALA (SA) is held across Adelaide and its regional surrounds across the month of August. The 2020 dates are 1 – 31 August. Expressions of interest are opening soon. UPDATE: SALA will run from August 1 – 31 with the SALA program in digital form only via the SALA website and app.   In 2020 SALA is offering FREE registrations across all event categories. CEO of SALA Kate Moskwa says, 'We know artists and venues have been doing it tough and we hope that the community will be able to utilise their time in isolation to get creative!'
CANCELLED: The organisers of Byron Writers Festival have announced the 2020 event scheduled to run 7-9 August will be cancelled. Byron Writers Festival will return 6-8 August, 2021. Tickets for the Byron Writers Festival 2020 had not yet gone on sale
The Gold Coast's signature arts and cultural festival Bleach* (QLD) will return from 12-23 August. This will be CEO/Artistic Director Rosie Dennis' first festival, with program details announced later in the year.
Born out of the uncertainty that followed the 2015 Christmas Day bushfires on Victoria's Great Ocean Road, WinterWild celebrates the tempestuous nature of winter in the Otways, the dramatic coastal landscape and Apollo Bay's local history. This year's festival runs from 14-16 and 28-30 August.
Established in 1962, Cairns Festival is traditionally held late August. The festival's mission is to support artists and their creative process, grow venue audiences, and engage and entertain the people of the Cairns Region. Dates for 2020 are yet to be announced.
One of the most tantalising festivals of the year will take place in August, with White Night Melbourne and Melbourne International Arts Festival merging and moving to late winter. Neither the new name of the festival nor its dates have been confirmed for 2020, but with choreographer and director Gideon Obarzanek and artist, curator and festival director Hannah Fox installed as co-Artistic Directors we can't wait to see what they have in store.
Now in its fifth year, Horizon Festival (QLD) runs from 28 August – 6 September and takes in the whole Sunshine Coast region, from Glasshouse Mountains in the south to Peregian Beach in the north. The curated festival program will feature local, national and international artists across 10 days of music, dance, theatre, circus, visual arts and creative workshops.
Sydney Contemporary. Image supplied.
SEPTEMBER
Sydney Fringe Festival (NSW) runs from 1-30 September every year. Registrations for 2020 will open on 1 April. Festival Director Kerri Glasscock says: 'First and foremost, we are here to highlight, amplify and promote the work of local Sydney based artists to the world. Sydney's is a brave, new, imaginative, challenging and experimental voice. Our artists push the boundaries of genre, art form and innovation.'
Junction Arts Festival (TAS) takes over Launceston over 2-6 September 2020 and this year celebrates its 10th anniversary by partnering with Artlands 2020, presented by Regional Arts Australia. An intimate festival of 'extraordinary experiences in unusual spaces', under Creative Director Greg Clarke and his team Junction focuses on celebrating the incredible talent of Tasmanian artists. The Festival was first presented as a one-off event as part of the 2010 Regional Arts Australia conference and has a focus on developing, commissioning and presenting participatory and community engaged contemporary artwork.
NEW DATE: The Inaugural biennale PHOTO 2020 will be presented across 40 cultural institutions, museums and galleries in Melbourne (VIC), with the revised dates set for 10 – 27 September 2020.
Desart is the peak arts body for Central Australian Aboriginal Arts and Crafts centres and every year brings together artists, arts workers and arts lovers in Alice Springs. Desert Mob 2020 (NT) is an exhibition, symposium, and market and runs over 10 September-18 October, with the Desert Mob MarketPlace held on Saturday 12 September.
Sydney Contemporary 2020 (NSW) will be held  at Carriageworks from 10-13 September. This is the sixth edition of Australia's largest and most internationally diverse art fair.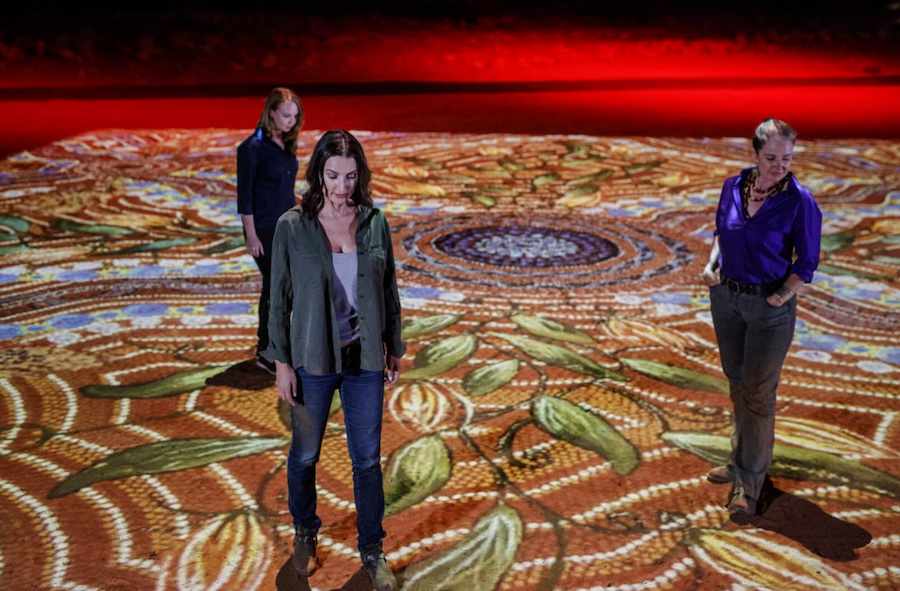 Parrtjima – A Festival in Light (NT), 2019 festival. Image supplied.

NEW DATES: Parrtjima – A Festival in Light (NT) has announced new dates for 11-20 September 2020. With theme 'Lifting our spirits', the festival is held in Alice Springs Desert Park and its surrounds, and is a celebration of Central Australian Aboriginal art and culture.
Continuing its footprint in Sydney, REMIX Sydney returns 14-15 September. The Asia-Pacific Summit that explores the intersection of culture and creative industries, mapping trends and scouting future winning formulas for collaboration and success. Present at UTS Great Hall, University of Technology, check out program details as they are published.
Adhocracy (SA) is an annual hothouse of creative developments presented by Port Adelaide's Vitalstatistix, featuring the best in new experimental and multidisciplinary arts projects. This year's dates and program have yet to be announced.
Taking place from 16- 22 September, Sydney Design Festival (NSW) will reshape the former Sydney Design Festival (previously held in March) into a dedicated program focusing on the local Australian design industry while also reflecting on internationally applicable design themes within the context of Australia's place in the Asia Pacific. The Powerhouse has appointed esteemed writer and editor Stephen Todd as the Creative Director of Sydney Design Week 2020.
Brisbane Festival (QLD) will be held 4-26 September. Brisbane Festival has only been annual since 2009, but in that time it's been embraced by the city and admired by the world. Artistic Director, Louise Bezzina presents her inaugural festival program this year and we're intrigued to see what she has in store. 
Queensland's largest sculpture event, SWELL Sculpture Festival (QLD) returns 11-20 September at Currumbin Beach and Helensvale Library, Gold Coast. The festival started in 2002 and attracts around 265,000 visitors annually. Applications to exhibit in the 2020 festival are currently open.
The 2020 Desert Festival (NT) runs over 24 September – 11 October. The annual showcase of local and interstate artists, celebrating artistic and cultural vibrancy throughout the Spring in Alice Springs/Mparntwe, is currently calling for expressions of Interest via Red Hot Arts Central Australia. Local and interstate artists of all artistic disciplines are invited to apply. 
OCTOBER
Running from 1-18 October, Melbourne Fringe (VIC) is an annual smorgasbord of cultural delights, featuring the best of the city's independent artists as well as performers from interstate and overseas. This year will mark the second year of the Fringe's hub activities at Carlton's Trades Hall, where Fringe now runs the annual Common Rooms program all year round.
Held in the culturally adventurous regional Victorian city of Bendigo, Bendigo International Festival of Exploratory Music (VIC) returns from 2-4 October. With an emphasis on premiere or rarely-performed long-form works, BIFEM platforms virtuosity in musicianship and innovation in composition.
Mullum Circus Festival (NSW), held in Mullumbimby NSW returns from 2-4 October, preceded by an industry-focused training week from 28 September – 1 October. Presented by Spaghetti Circus, the Festival is staged every every two years at the Mullumbimby Showground in the Byron Shire.
One of Australia's leading festivals focused on emerging art and artists, This is Not Art (NSW) runs over the New South Wales' Labour Day Holiday Weekend, which this year falls on Monday 5 October. Produced by Octapod in partnership with three co-presenters, National Young Writers' Festival (NYWF), Crack X and Critical Animals, the four day festival activates venues in the Newcastle CBD each year.
The Unconformity (TAS) is a unique contemporary arts festival exploring the paradoxes of Queenstown, a small mining community on Tasmania's wild and mountainous West Coast. This year's festival is scheduled for 16-18 October 2020.
The largest sculpture event in Australia, Sculpture by the Sea in Bondi (NSW) has yet to announce dates for 2020. In 2019 it was speculated the event may be relocated. Traditionally held for three weeks in October, 2020 would mark the 23rd edition of the event. Consult the website as news is released on the future of this event.  
A unique South Australian festival, ZestFest – A Festival for Modern Ageing (SA) will be held over 17-31 October. Run by COTA SA, the peak body representing the needs, interests and aspirations of older South Australians, ZestFest presents a three tier program of curated events, collaborations with community event partners, and an open access program, with events that connect, challenge and celebrate modern ageing.
Sydney Craft Week (NSW) returns from 9-18 October across various venues. This 10-day festival celebrates the beauty of the hand-made and the pleasure of making.  The call for entries opens in May 2020.
Since its inception in 2015, Tarnanthi (SA) has placed particular emphasis on the agency of First Nations artists and on foregrounding the artist's voice. In 2020, Tarnanthi will feature an exhibition at the Art Gallery of South Australia (16 Oct 2020-31 Jan 2021) highlighting the work of senior women artists involved in passing on vital cultural knowledge to young women as the future leaders of their communities, while the Tarnanthi Art Fair will be held from 16-18 October 2020.
Presented by Performance Space, Liveworks Festival of Experimental Art (NSW) is a 10-day program of performances, installations, parties, workshops and conversations, held in mid-October at Carriageworks. Dates for 2020 are yet to be announced.
OzAsia Festival (SA) continues to play a significant role in introducing new contemporary arts from Asia to audiences in Australia, and is staged across multiple venues in Adelaide. This year's festival runs from 22 October – 8 November.
Presented every October, the Yarra Valley Opera Festival is an initiative of Gertrude Opera and takes place among the rolling hills of Victoria's Dandenong Ranges.
NOVEMBER
While some of you might think Sydney Open (NSW) is a tennis event, rather it is a fantastic annual weekend when more than 60 of the city's iconic public buildings – usually closed to public access – throw open their doors. The event will be held over 7-8 November in 2020.
DESIGN Canberra (ACT) returns 9–29 November 2020 with the theme CARE. The 7th edition of DESIGN Canberra will become a collaborative forum for contemporary, experimental and authentic design to celebrate and explore the ways that care and caring is valuable and vital. Expressions of Interest for DESIGN Canberra 2020 are open until March. 
NEW DATES: Australia's largest independent arts festival, Melbourne Fringe, is moving its 2020 festival dates and offering support to artists who are facing challenges due to the COVID-19 crisis. Now taking place on 12 – 29 November 2020.  Artist registrations will open on 1 June 2020.
Adelaide's queer cultural festival Feast (SA) is held in November each year. Keep an eye out for program announcements and confirmation of dates for 2020.
Running from late November into early December, Wonderland Festival (QLD) is a carnival of burlesque, circus, music, theatre, comedy and more. While 2020 dates have yet to be announced, you can keep up to date with programming by visiting the Brisbane Powerhouse website.
While the Australian Circus Festival is usually held in late November, due to summer's bushfire season we have been advised that the festival is unlikely to be held again until 2021.
DECEMBER
The Borderville Circus Festival (NSW) is an annual circus festival presented each December in Wodonga by the Flying Fruit Fly Circus and featuring guest artists and original acts. This year's festival will run from 9-12 December.
Running over six days and nights in late December in semi-rural town of Woodford, the annual Woodford Folk Festival (QLD) is truly iconic; a gathering of the tribes that features live music, performance, conversation, public art and more. 2020-21 details are yet to be released.
What did we miss? Email updates to editor@artshub.com.au