Summer school holidays are creeping up and major arts institutions have big plans for a season of invigorating programs for kids and families.
New initiatives include the Sydney Opera House's brand new Centre for Creativity to open on 4 January 2022 and Children's Artspace at the Adelaide Festival Centre to launch in February.
Inclusivity sits at the core of the Opera House's new purpose-built venue, described by CEO Louis Herron AM as 'a place for everyone to set their creativity free.'
The opening program, House Warming, will deliver a free, hands-on installation by artist Rosie Deacon, inviting adults and children alike to explore, interact and channel their creativity into the space.
Read: How to create a great summer holiday program
Curator and Head of Children, Families and Creative Learning Tamara Harrison told ArtsHub: 'Coming out of the pandemic we've got this real need to connect with people again and have fun! … Being a performing arts centre, it's all about that active engagement rather than sitting still and cerebrally thinking about stuff.'
Getting people to 'stretch those creative muscles', the Centre of Creativity's lineup draws upon a myriad of art forms and cultural practices. The variety include an Afro House workshop introducing African dance moves, Architecture Club, public choir for all abilities Big Heart Sing, Hidden House Puppets and more.
To further the Opera Houses' commitment to education and fostering young creatives, the Creative Learning program is set to triple in size and settle into its new home at the Centre for Creativity with the 2022 program, which will feature 368 artists across performances, talks, digital experiences and an in-school residency.
'It's a big game changer for us because previously [the Sydney Opera House] didn't have a space on site that students could come and do workshops,' said Harrison.
The program would also create memorable opportunities for artists working with children, who Harrison said often find 'a spontaneity and an energy that you don't get with any other audience.'
In similar news, the Adelaide Festival Centre announced plans to join the international network of Children's museums with the launch of an interactive gallery, Children's Artspace in February 2022 alongside the Centre's Family Day celebration.
The premier venue wanted to 'reach out to the community and provide a hub for children's artistic creativity in the Adelaide city centre,' Curator Alice Dilger told ArtsHub.
Local schools will participate in the program with students mentored by the Adelaide Central School of Art graduates, and their work culminating to dedicated exhibitions showcasing artworks by children.
'During our research we found that when art was offered in schools, it was unlikely that the student's work would then be exhibited, especially exhibited at an external venue,' said Dilger.
'We wanted to make it a priority that children and students will have the opportunity to see their pieces professionally presented – they are the future of our arts industry.'
Ruby Chew is one of the local artists who has been working with students in years 3 – 7 at Hackham West School and Keller Road Primary School to create new works for the opening exhibition, titled Kaleidoscope: Playing With Colour.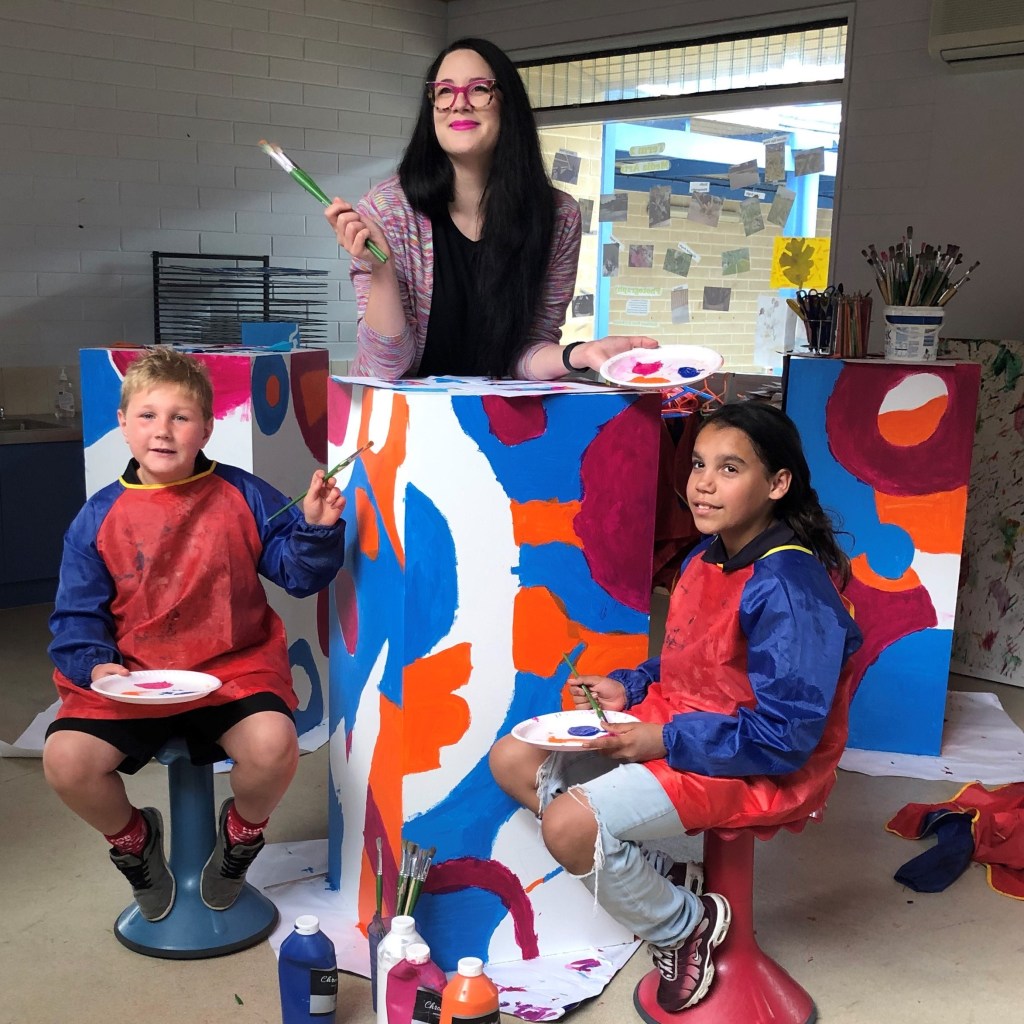 The gallery will also offer a breadth of international programs, including digital workshops with the Hamada Children's Museum of Art in Japan and the Children's Museum of Art in New York.
Dilger added: 'Giving our children and families the opportunity to connect with museums and students in different countries shows the vast reach that they can make themselves and the importance of art to everyone.
'It's a way for them to connect and share ideas, even if they don't speak the same language or have the same culture.'
ENCOURAGING INTERGENERATIONAL PLAY
Designed to channel children's creative impulse, these activities can also be hugely beneficial for adults – sometimes it's important to let our inner child come out to play.
The Centre for Creativity is designed so that 'people feel welcomed and can hang out through these free play sessions, as well as providing a harmonious experiences for families,' said Harrison. Intergenerational play sits at the centre of creating that experience.
Read: The power of play and how to bring it home
'We're welcoming young people as well as adults, hoping to create an experience of intergenerational cross play … You can be sitting in a room with a 15 year old learning about a First Nation wall hanging design technique alongside someone their 60s,' said Harrison, pointing to the First Nations Design Day and Ngumpie Weavers' Wall Hangings workshop scheduled take place at the new Centre.
Harrison highlighted that family activities can be equally enjoyable for the child and the parent. One example is Rain, an immersive meditation for babies where 'a parent can also have a really quality creative arts experience.'
Equally, Dilger highlighted how the kids-centred activities can make art seem more approachable for a wider audience, starting right from the first exhibition mentored by Chew.
'Ruby's idea, and one that we really encouraged, was to focus on playing, the process of making art, and expressing themselves rather than the final product to lett the students develop their artistic skills in a fun, accepting way.'
'Hopefully, seeing kids artwork will encourage everybody to become involved,' added Dilger, 'I really hope Children's Artspace encourages that type of community again which has been lacking during the COVID times.'
Sydney Opera House's brand new Centre for Creativity to open on 4 January 2022.
The Children's Artspace at the Adelaide Festival Centre launches on 19 February 2022.