While many parts of the Australian screen industry have been Covid-quiet in the last year, television drama production has been going on at a heady pace despite critical shortages of key crew. Looking through the list of what's coming to smaller screens in 2022, we see a number of writers, producers and companies popping up multiple times, meaning some of them have been very busy indeed.
The shows on offer are diverse (with pleasingly diverse writers and casts), though many of the storylines favour intrigue, mystery, crime, courtrooms and past traumas reemerging. Also evident is an eye to international audiences and broadcasters while also depicting contemporary Australian society.
We look forward to covering more of these dramas, as well as online series, comedies and light entertainment in future articles.
Heartbreak High (Netflix)
Don't expect any teacher-student romances in Netflix's 2022 eight-episode series inspired by the original 90s show. Reimagined for a new generation, and set at 'Hartley High' in Sydney, the new drama is produced by Fremantle Media and features a diverse young cast – as indeed all the incarnations of the story have famously done, though of course diversity in 2022 is a much expanded concept.
The synopsis promises a classic high school drama scenario: 'A discovery makes Amerie [Ayesha Madon, The Moth Effect] an instant pariah at Hartley High, and causes a mysterious and very public rift with ride-or-die Harper [Asher Yasbincek, The Heights, Rams]. With her new friends – outsiders Quinni [Chloe Hayden, Jeremy The Dud, Sister From The South] and Darren (James Majoos, Fangirls, Grand Horizons] – Amerie must repair her reputation, while navigating love, sex, and heartbreak.'
Nostalgic parents will enjoy Rachel House (Hunt for the Wilderpeople) playing the school principal who thinks she's a 'woke ally' but is 'really more of a Karen'.
Chris Oliver Taylor and Carly Heaton are executive producers, Sarah Freeman is producer, Ana Jimenez is development exec, and Anna Curtis is associate producer. Setup director is Gracie Otto along with Neil Sharma Jessie Oldfield and Adam Murfett. Heartbreak High is created by Hannah Carroll Chapman (The Heights), who wrote with Matthew Whittet, Marieke Hardy, Meyne Wyatt, Thomas Wilson White and Natesha Somasundaram with script producer Megan Palinkas.
Mystery Road: Origin (ABC)
In this third series about the enigmatic Indigenous detective, Mark Cole Smith, a proud Nyikina man, takes over the role of Detective Jay Swan from Aaron Pederson. This six by one-hour season, shot in WA, heads back in time to 1999 and the hometown mystery that made the man who he is.
Mystery Road: Origin is produced by Bunya Productions (Greer Simpkin, David Jowsey and Penny Smallacombe) for the ABC. It is directed by Dylan River and written by Blake Ayshford, Steven McGregor, Kodie Bedford and Timothy Lee, and executive produced by Sally Riley.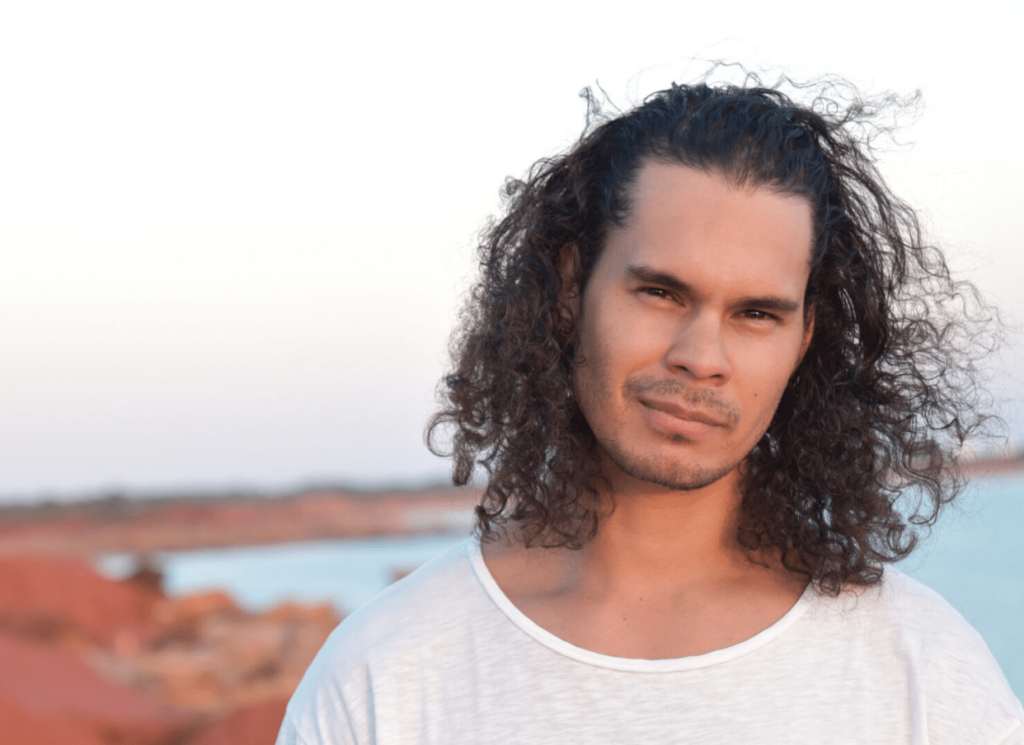 The Lost Flowers of Alice Hart (Amazon Prime)
The Lost Flowers of Alice Hart is the seven-part adaptation of Holly Ringland's 2018 international bestselling novel following a young girl whose violent childhood casts a violent shadow over her adult life.
'After a family tragedy in which she loses both her abusive father and beloved mother in a mysterious fire, nine-year-old Alice is taken to live with her grandmother June on a flower farm, where she learns there are secrets within secrets about her and her family's past.
Set against Australia's breathtaking natural landscape, and with native wildflowers and plants providing a way to express the inexpressible, this enthralling family drama spans decades, as Alice grows from a child into a woman. Her journey is epic and visceral, building to an emotional climax as Alice finds herself fighting for her life against a man she loves.'
Produced by Made Up Stories' Jodi Matterson, Bruna Papandrea and Steve Hutensky, together with Amazon Studios and Endeavor Content, the Amazon Original drama series will star Alycia Debnam-Carey as Alice Hart, as well as Sigourney Weaver (who is also executive producing), Asher Keddie, Leah Purcell and Tilda Cobham-Hervey.
Adapting the book for the screen is Australian writer Sarah Lambert (Lambs of God), who also serves as showrunner. All episodes are directed by Glendyn Ivin (Penguin Bloom), and the series will launch on Prime Video in more than 240 countries and territories worldwide.
Barons (ABC)
Heading back in time to the 1970s, is Micanical Media and Fremantle's Barons, a drama about surfers who turned their passion into big business, starring Sean Keenan (Glitch, Puberty Blues), Jillian Nguyen (Clickbait) and Ben O'Toole (Amazing Grace).
Barons was shot in NSW and created by Michael Lawrence (Bra Boys) and Liz Doran (Molly, Please Like Me).
Troppo (ABC and iview)
Based on Australian author Candice Fox's bestselling novel Crimson Lake, Troppo is an eight-part crime series shot in Queensland. It stars US actor Thomas Jane (The Punisher) who is also executive producer. He plays disgraced ex-cop Ted Conkaffey, confronting his traumatic past alongside Amanda Pharrell (Nicole Chamoun, Fighting Season), an eccentric PI with a disturbing criminal past. As they try to uncover the whereabouts of a missing Korean family man and tech pioneer, they discover a string of bizarre deaths and are thrust into a fight for survival and sanity in the wilds of Far North Queensland.
Read: What's coming to ABC in 2022?
Created by Yolande Ramke (Cargo, The Haunting of Bly Manor), Troppo is an EQ Media Group and Beyond Entertainment production in association Renegade. Jocelyn Moorhouse is setup director.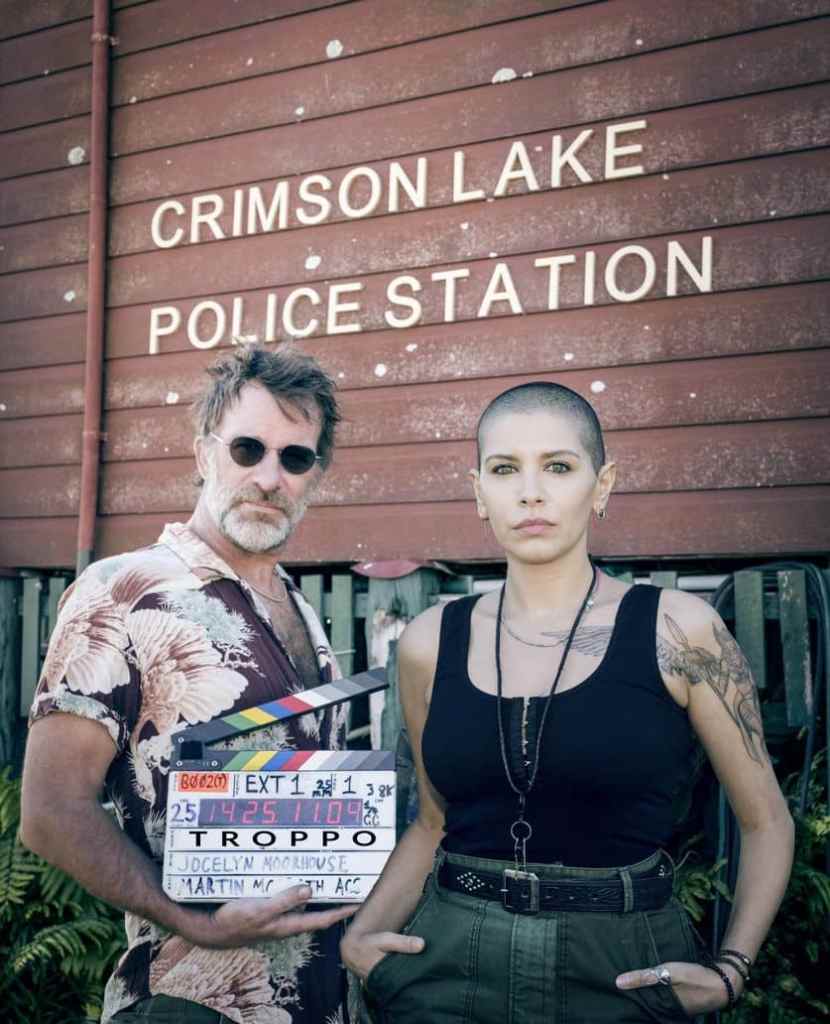 Significant Others (ABC and iview)
Award-winning writer and creator Tommy Murphy (Holding the Man, Devil's Playground), describes Significant Others as a six-part 'character-driven series with an undertow of intrigue. It follows a family tearing each other apart over a missing loved-one. It is equally about how they put themselves back together.'
Produced by Fremantle Australia, Significant Others tells the story of a single mother who fails to return from her morning swim, leaving behind two teenagers and a fractured family searching for clues in the rubble of the catastrophe.
The writing pedigree is strong, with Tommy Murphy writing alongside Sue Smith (Brides of Christ, Saving Mr Banks), Louise Fox (Glitch, Broadchurch), Niki Aken (The Hunting), Blake Ayshford (Mystery Road) and Vonne Patiag (The Unusual Suspects). The series will be executive produced by Chris Oliver-Taylor (Glitch) and Justin Davies (Beautiful People). ABC Executive producers are Louise Smith and Sally Riley. Matt Reeder (Hearts & Bones) is series producer.
Savage River (ABC and iview)
Savage River, produced by Aquarius Films, is 'an intriguing murder mystery set in regional Victoria, starring Katherine Langford (13 Reasons Why), with all six episodes directed by Jocelyn Moorhouse.
The TV series is co-created by Tasmanian writers Belinda Bradley, Franz Docherty working with lead writer Giula Sandler (Murders at White House Farm and Glitch), with Aquarius producers Angie Fielder and Polly Staniford also joining the writing team. Developed and commissioned by the ABC, worldwide rights for the six-part crime drama have been acquired by Dynamic Television.
After the Verdict (Nine)
After the Verdict follows four very different people who have just finished jury duty on a high-profile murder trial. As they return to normal life, they begin to question their verdict and take matters into their own hands, investigating the murder themselves.
Created, written and executive produced by Subtext Pictures' Ellie Beaumont and Drew Proffitt (House Husbands, Dead Lucky), the six-part series will premiere on the 9Network in Australia with Entertainment One (eOne) handling international sales. Set up director is Peter Salmon, and directors are Ben C Lucas and Fadia Abboud, with Jo Rooney as producer and executive producers Greg Sitch and 9Network Head of Drama, Andy Ryan.
Michelle Lim Davidson (The Newsreader) and Tess Haubrich (Wolf Creek) join the previously announced Sullivan Stapleton, Magda Szubanski and Lincoln Younes (Grand Hotel, Doctor Doctor) in After the Verdict's exceptional cast, with Virginia Gay (Judy and Punch), Emma Diaz (Diary of an Uber Driver), Richard Brancatisano (Harrow), Nicholas Brown (Wakefield), Hazem Shammas (Safe Harbour) and Vivienne Awosoga (Wentworth) also to appearing in the series.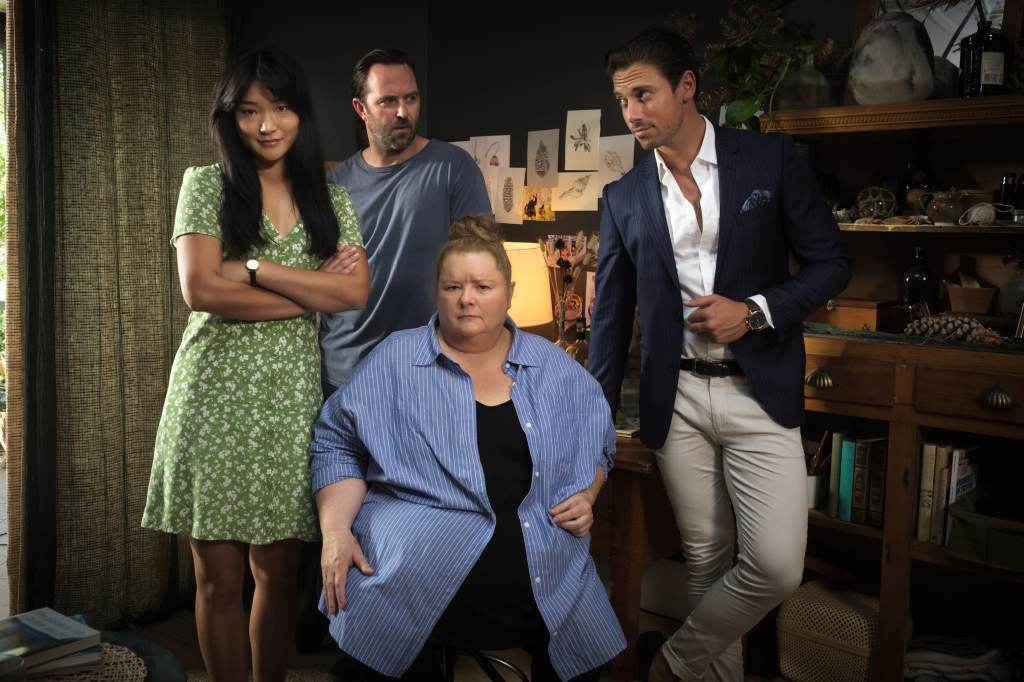 The Secrets She Keeps, S2 (Network Ten)
A second season of the compelling psychological thriller from 2020, The Secrets She Keeps, will be unveiled this year on Network Ten. Reprising their lead roles are Jessica De Gouw (Operation Buffalo, The Crown) as Instagram-perfect mother of three, Meghan, and Laura Carmichael (Downton Abbey, The Spanish Princess) as Agatha, an obsessed woman with an unimaginably dark past. In the first season – spoiler alert! – Agatha kidnapped Meghan's newborn baby, concluding with her arrest, but what about Meghan's own secrets? For a start, who is the baby's father?
Shot in Sydney, The Secrets She Keeps is written by Sarah Walker (Wonderland, Wentworth) and Jonathan Gavin, and based on the psychological thriller novel by Michael Robotham. It is produced by Lingo Pictures.
The Twelve (Foxtel)
In his first major Australian TV role in a while, Sam Neill headlines this Foxtels Originals series about 12 jurors, ordinary Australians, with struggles of their own, who must decide the case of a woman accused of killing a child. Joining Neill in the cast are Marta Dusseldorp, Kate Mulvany Brooke Satchwell, and Hazem Shammas.
Set and shot around Sydney with production beginning in November last year, The Twelve is a ten by one-hour crime drama. It's written by Sarah Walker, Brad Winters, Anchuli Felicia King, Leah Purcell and Tommy Murphy, with Greg Waters as script producer. Setup director is Daniel Nettheim. The series will be produced by Ian Collie, Rob Gibson and Ally Henville (Easy Tiger), and executive produced by Michael Brooks and Hamish Lewis (Warner Bros.) and Liz Watts (Spirit Pictures).
AUSTRALIAN TV DRAMA ALREADY UNVEILED
Here are some of the new Australian TV drama series we've already enjoyed on screens this January:
The Tourist (Stan, from 2 Jan 2022)
Filmed and produced in South Australia, the six by one-hour Stan Original Series The Tourist stars actor Jamie Dornan as an unnamed British man who finds himself in the red heart of the Australian outback, being pursued by a vast tank truck trying to drive him off the road. 'An epic cat and mouse chase unfolds and The Man later wakes in hospital, hurt, but somehow alive – except he has no idea who he is. With merciless figures from his past pursuing him, The Man's search for answers propels him through the vast and unforgiving outback.'
Created and written by UK writers Harry and Jack Williams with their company Two Brothers Pictures (Baptiste, The Missing, Fleabag), and produced by SA producer Lisa Scott of Highview Productions, the series also stars Danielle Macdonald, Shalom Brune-Franklin, Ólafur Darri Ólafsson, Alex Dimitriades, and Damon Herriman.
Wolf Like Me (Stan, from 13 January 2022)
Written and directed by Abe Forsythe (Little Monsters), Wolf Like Me is a six by 30-minute miniseries produced by Stan in association with NBCUniversal and Peacock. It stars Isla Fisher and Josh Gad as Mary and Gary, a couple in a new relationship who both have baggage.
'Gary is an emotional wreck and struggles to provide for his daughter since the death of his wife. Mary has a secret she can't bring herself to share with anyone. The universe brought these two together for a reason, they just need to keep following the signs.'
The accents and setting are American, but the series, produced by Jodi Matterson, Bruna Papandrea and Steve Hutensky of Made Up Stories (The Dry, Penguin Bloom), and it was filmed in the Inner West of Sydney and regional NSW.
Our reviewer, Guy Davis, enjoyed the series very much, and said: 'Both leads express their inner wounds with a feeling of individuality and authenticity, like they've been carrying their burdens for a long time and learned to shoulder them in their own ways.'
Read: TV Review: Wolf Like Me lets the light in through the cracks
Love Me (Binge, available now)
Binge's first Australian original drama commission has been acclaimed and widely enjoyed since it premiered on Boxing Day as a welcome escape to Covid-Christmas reality. All six episodes of the romantic drama set in pristine-looking Covid-unaffected Melbourne are directed by Emma Freeman (The Newsreader, Glitch).
The story follows three members of a family as they experience love at distinct times in their lives, from grief-stricken 60-something Glen (Hugo Weaving), to thirty-something Clara (Bojana Novakovic) worrying about her decreasing fertility, and Aaron (William Lodder) in his naïve lovestruck twenties. Bob Morley and Heather Mitchell are especially good as nuanced love interests, with the first season concluding on a satisfying but mysterious note, ready for a sequel.
Based on the Swedish drama Älsak Mig created by Josephine Bornebusch, Love Me is written by Alison Bell, Leon Ford, Blake Ayshford, Adele Vuko, produced by Aquarius Films' Angie Fielder and Polly Staniford, and executive produced by Michael Brooks, Hamish Lewis, Brian Walsh, Alison Hubert-Burns, Lana Greenhalgh and Josephine Bornebusch.
Read: TV Review: Love Me is lush, cosmopolitan escapism
Catch up on these Australian TV Dramas from 2021