In December 2015, Adelaide joined the likes of Bogotá, Glasgow and Seville as a UNESCO City of Music, enshrining the South Australian capital as a city which places creativity and the cultural industries at the heart of its development. But while events including WOMADelaide, the Adelaide Guitar Festival and Adelaide Cabaret Festival are thriving, Australia's only official City of Music is missing a critical piece of cultural infrastructure – a dedicated Concert Hall which could in turn become a centre of music for all of Adelaide.  
Read: Adelaide joins Creative Cities network
The lack of such a venue is keenly felt by the Adelaide Symphony Orchestra (ASO), said Managing Director Vincent Ciccarello.
'I think we have actually been operating for some decades from behind the eight-ball as a result of not having our own place that we can call home. Not only in terms of our artistic development and the economic impact that it's had on the Orchestra; it's also meant that the community has never had a building – iconic or otherwise – that it recognises as the home of the ASO,' he said.
To date, the bulk of the ASO's performances are held at the Adelaide Festival Centre and Adelaide Town Hall, neither of which are ideally suited for the Orchestra's specialist needs.
When the Adelaide Festival Centre opened its doors in 1973, it was the nation's first multi-purpose performing arts space.
'I think it was always envisaged as a multi-purpose venue that would incorporate a lyric theatre first and foremost that would double as a concert venue,' said Ciccarello.
Like most proscenium arch theatres, the Festival Theatre originally featured a sound shell that could be positioned on stage for concerts and project music out into the auditorium, instead of it being lost in the wings and fly tower.
'Over the subsequent decades, for many reasons – not least the arrival of blockbuster musicals – that sound shell was basically cut up into pieces and it was modified to be able to be brought in and out more quickly, but also to allow for greater lighting effects and the like. In doing so it basically compromised the integrity of the sound shell and that's what we have today,' Ciccarello explained.
'And this situation with the Festival Theatre hasn't improved, to the point where now the bulk of what happens in the Festival Theatre is in fact taken up with long-running musicals and/or opera or ballet. That's not to suggest that we don't have access – we do have access but it is limited access and it's not necessarily access on our terms.'
THE TOWN HALL
The pressures placed on the Festival Theatre made it necessary for the ASO to find an alternative venue. Adelaide Town Hall was the obvious choice.
'The Adelaide Town Hall had been a place where the orchestra played over many, many decades and increasingly we returned there, to the point where today in fact it's our primary performance venue,' said Ciccarello.
While the ASO enjoys playing in the Adelaide Town Hall, its size constrains the Orchestra's repertoire.
'The acoustics of the Town Hall are wonderful – they're in fact vastly superior to those of the Festival Theatre, and we by and large love performing there. But there are a number of other problems associated with it – bumping in and out is one. It also has very limited seating capacity of just under 900, which means that in order to accommodate our regular Master Series audience means we put on two performances, which of course for us incurs double the fees – so two lots of conductor fees, two lots of soloists, two lots of rental fees and front of house fees – but not necessarily double the box office.'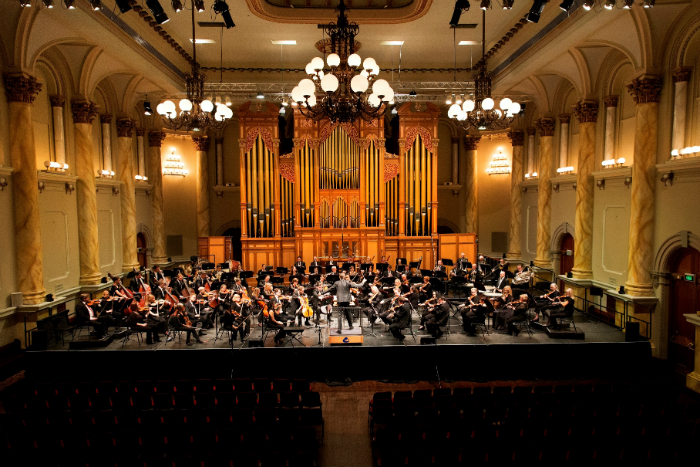 The Town Hall was never intended as a concert hall, which means the ASO have to work around civic functions, corporate events, and weddings and other bookings in the venue. It also lack the amenities expected by contemporary concert-goers.
'It's not well suited to the way modern-day performance venues are used – that is, it doesn't have ample foyer space, it doesn't have adequate seating for patrons before, during and after performances. The bar and hospitality options are severely limited,' Ciccarello said.
'We've very much moved into performance being part of the experience economy, and therefore people want to get a drink and to be able to relax and chat to people at interval, they want to be able to move freely. The act of going to the concert to the concert is much more than simply sitting in one seat and hearing the performers – it's all about nearby parking, nearby restaurants and what happens in the actual building as well.'
ARTISTIC COMPROMISE
The Town Hall is also too small for major orchestral events, which compromises the ASO's repertoire and in turn the artistic development of the Orchestra's musicians.
'Even with the stage extended we cannot fit extremely large orchestras on the stage, because they physically won't fit, and it actually, sonically, becomes unbearable because the volume is simply too great for the hall. A piece that comes to mind, one that we haven't played for a number of years, is Respighi's Pines of Rome, which has a tremendous finale – it essentially lifts the roof off … These pieces with very large, dynamic climaxes really start to become uncomfortable in that space,' said Ciccarello.
Being unable to expand its repertoire means the ASO also struggles to educate audiences.
'Because we're not often performing that repertoire or have the opportunity to perform that repertoire, thereby we're not making audiences familiar with it or acquainting them with it, and thereby not developing an interest. It's a kind of spiralling effect whereby people don't get to know it and your chances of ever doing it diminish, so it's kind of the law of diminishing returns.'
DESIGNING A NEW CONCERT HALL
Clearly, a purpose-built Adelaide Concert Hall – an acoustically engineered, centrally located building which could seat 1,500 in its main auditorium, while also offering smaller spaces for more intimate performances – would solve many of the challenges currently faced by the ASO. Such a building would also benefit the city's broader music sector – and could even attract international attention if adventurously designed, as evidenced by Hamburg's recently opened Elbphilharmonie.
As Douglas Gautier, CEO and Artistic Director, Adelaide Festival Centre puts it: 'A purpose built music venue for the Adelaide Symphony Orchestra and other music activity in Adelaide, Australia's UNESCO City of Music, is an important ambition for the community and our music making aspirations.'
The process of lobbying government to build such a concert hall, however, is a slow and arduous process, Ciccarello said.
'We've all had various conversations with various representatives of government over many, many years but truth be told we haven't for a long time done a serious business case or needs analysis. We've done some preliminary work in that regard but the very high level investigation and study that needs to be done we've not done, because of a lack of funds, frankly,' he told ArtsHub.
'The last time that was done was back in the mid-90s and of course Adelaide is a very different place now, the orchestra is a very different organisation, the arts and cultural scene here is very different as well. I think truth be told it's time for that work to be done again – but we've certainly been in the ear of government about it.
'And I think it's now widely recognised in the city that it is a critical piece of missing cultural infrastructure, and yet we also recognise that there are other buildings in the cultural sphere, namely the Art Gallery, Museum and Library, that are in urgent need of their own either new [buildings] or maintenance.'
THE ROLE OF GOVERNMENT
Developing Adelaide's cultural infrastructure, and balancing the sometimes-conflicting needs of the city's diverse creative sectors, is definitely on the agenda of the South Australian government.
Arts South Australia Executive Director, Peter Louca said: 'Arts South Australia has commenced work on a whole-of-sector Arts and Cultural Heritage Infrastructure survey to analyse existing capacity and inform future directions. Work is expected to be completed by early 2018.
'A purpose-built concert and recital hall is clearly desirable in the medium to long term. Many ideas have existed over time, but no matured developed plans have been presented.
'The Arts and Cultural heritage sector in South Australia has presented many proposals over time including the expansion of the Museum, a new contemporary-built Arts Museum, black box multi-purpose performing arts spaces, an expanded Library, or Migration Museum to name a few. The government has continued to invest in Arts infrastructure,' Louca said.
A $90 million upgrade of the Adelaide Festival Centre is underway and a $35.2 million upgrade of the aging Her Majesty's Theatre was also announced last year.
Read: SA arts sector celebrates 'new' funding and theatre redevelopment
'The ASO's aspiration is supported in general, but the most immediate infrastructure needs in the performing arts are being addressed with the investment into renewing the Adelaide Festival Centre and Her Majesty's Theatre,' said Louca.
'The Cultural Heritage institutions' most pressing needs are for storage and research facilities for the SA Museum, the Art Gallery of South Australia and History SA.
'The Premier has backed the proposal for developing the case for a new contemporary art gallery with $500k and appointing a high level steering committee chaired by Michael Lynch,' he concluded.
Read: A new plan to make Adelaide Contemporary
THE CONTEMPORARY MUSIC SECTOR RESPONDS
Classical music is only part of Adelaide's cultural ecology. The contemporary music sector, represented by Music SA, also supports the development of a new concert hall – within reason.
Lisa Bishop, General Manager, Music SA, said the development of a new concert hall would be an important step in building Adelaide's mantle as a City of Music, but added: 'It is important that investment of this kind also accommodates a variety of contemporary music genres by ensuring there are flexible spaces and retractable seating within the concert hall. These spaces must be affordable for use by contemporary music event promoters and curators, who are often locked out of these splendid facilities due to venue hire cost.
'There exists a gap in affordable larger capacity venues for contemporary music genres, particularly for more established touring artists and in particular electronic artists who rely so heavily on acoustically engineered spaces with crowds of up to 3000. Currently contemporary bands (if not playing an outdoor festival) have the choice of a 1200 capacity venue that then jumps to a 6000 capacity venue in the Adelaide Entertainment Centre,' she said.
'Music SA would like to see a concert hall of this size provide as many genre touch points as possible so that the significant investment isn't disproportionately skewed toward classical music only and helps celebrate the delivery of music collaborations in Adelaide. Music SA and the ASO have had countless discussions about staging classic contemporary mash-up performances and the lack of a suitable affordable venue is what prevents us from working collaboratively to bring these artists together,' Bishop concluded.
A CITY OF MUSIC
Sarah Bleby, Director, Office of Adelaide UNESCO City of Music said that enhancing Adelaide's key music infrastructure through the development of a new concert hall, would be an enormous asset to the city's entire music sector.
'There are elements of good music infrastructure and many outstanding music institutions here, even though there is a gap when it comes to purpose-built music venues. Adelaide has always found ways of excelling despite the gap, from nation-leading youth and community music programs, to exceptional performing ensembles, to innovative policy initiatives. That Adelaide manages to punch well above its weight musically is testament to its creative impetus as a City of Music, and its meeting the mission of the UNESCO Creative Cities Network,' she said.
'A concert hall would, of course, serve our outstanding classical and chamber music organisations, but would also benefit all facets of music in this city, including education, industry, technicians, tourism and of course contemporary music. As we see around Australia and the world, concert halls house a huge range of music performance and are central components around which music of all kinds gathers and we are excited and invigorated by the conversation around a new concert hall and keen for its momentum to build.'