'Getting your artwork into ARTEXPRESS is an extraordinary achievement,' Sydney Olympic Park Authority Manager Events and Activation, Tony Nesbitt told ArtsHub.
The ARTEXPRESS Exhibition is held every year at Sydney Olympic Park, an exhibition that honours the previous year's HSC Visual Art graduating students. The artworks chosen are considered the creme from the HSC Visual Art examinations, within the NSW education system.
'Over 9,000 students sit the HSC examination in Visual Art every year,' said Nesbitt. 'Our exhibition presents 58 bodies of work by students from across NSW featuring all mediums.'
Like everyone else, Nesbitt said that Sydney Olympic Park had to make changes to prevent the spread of Covid-19 and temporarily closed down its public spaces in March.  'ARTEXPRESS was at that time in the middle of its exhibition season, and we had thousands of bookings from school students and visual art teachers who were left very disappointed,' Nesbitt said.
Moving quickly, Sydney Olympic Park resolved to make the exhibition available online as a virtual experience. Nesbitt explained, 'To bring the exhibition to both education and general public audiences, we simply had to adapt and move into virtual mode.'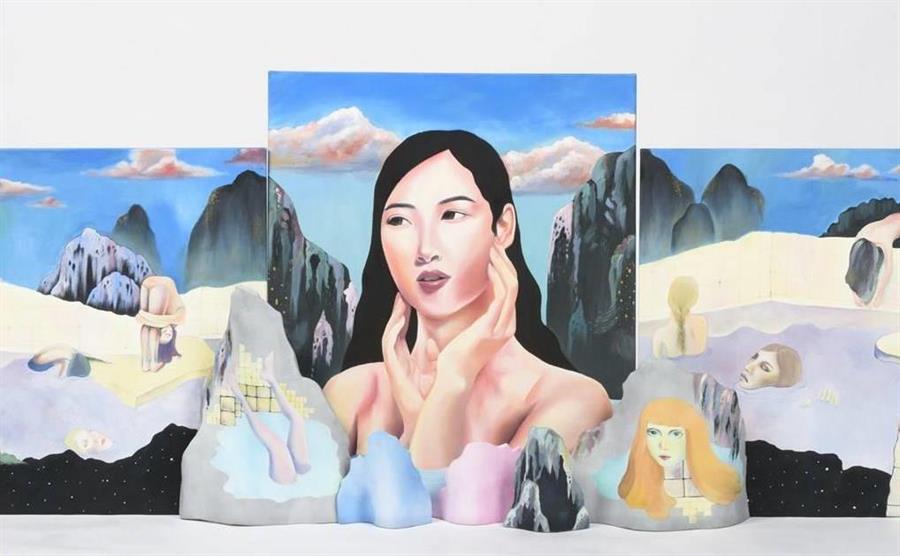 ARTEXPRESS Exhibition. Mountains of Self (Isolation's Enchantment), Jessica Bae, North Sydney Girls High School. Image courtesy of ARTEXPRESS, Sydney Olympic Park.
Visual art students were not alone. NAISDA Dance College's highly anticipated graduation event was equally affected by coronavirus closures. Determined to honour its Developing Artists' achievements while still being mindful of keeping the community safe, NAISDA staged and recorded a virtual graduation ceremony, and honoured its students in a unique way.
'Throughout this crisis, NAISDA's first priority has always been the wellbeing and safety of our Developing Artists (DA), staff and wider communities. With this in mind, as a performing arts training organisation with a national footprint, we took a decision very early on in March to suspend onsite training,' NAISDA's Chief Executive Officer, Kim Walker told ArtsHub.
'Although invitations to this year's graduation ceremony had already gone out, it became very clear that we weren't going to be able to celebrate in the usual way. However, we felt it was important that we continued to mark the milestone on the same day; we even wanted to launch our online version at the exact time of day that the graduation ceremony was originally due to start.'
Walker said NAISDA didn't want to diminish its graduates' achievements by postponing the occasion.
Distributed through NAISDA's social media channels, website and electronic direct mail, NAISDA created a moving tribute to its 2019 graduates with a Virtual Graduation Ceremony – a mix of media that captured highlights and shared memories.
'Graduation reflects the many voices and moments we have shared together and so we used a variety of media to capture highlights and share those memories,' Walker said.
Students supported through unprecedented times
Walker emphasised: 'Graduation, more than any other time of year, is focussed entirely on each DA's individual journey and success. To come together and recognise and honour this was vital. We might not have been able to do that together in person this year, but we wanted our DAs to know how extremely proud we, and their families, are of their dedication and commitment.
'It's such an honour to watch as our young Aboriginal and Torres Strait Islander Developing Artists develop over their time with us, not just in terms of technical skill and learning achievement but to witness their transformations as young adults as well as young artists,' he said.
Similarly, the disappointment the students may have felt at the cancellation of such celebratory events was swiftly turned around with Sydney Olympic Park committed to showcasing the talent of its HSC students. 'Each of these students has worked intensely to refine the conceptual thinking and technical virtuosity required to create works that often, frankly, expose them personally in a way that simply doesn't happen with other academic disciplines,' said Nesbitt.
He continued: 'Art has always been and remains central to human discourse and the exchange of ideas and emotions – it's the students' spirit of imaginative inquiry into what it means to be human that we're honouring here.'
It's vital to support our young people, Walker agreed. 'NAISDA's commitment to providing holistic wellbeing and learning support throughout training is more essential now than ever before. Our young people are navigating a very difficult world in isolation and we are here to ensure that structure, support, reassurance and a continued sense of connection, purpose and achievement is there for them throughout,' he said.
'In such uncertain times we are supporting our Developing Artists, and indeed each other, to find strength, confidence and resilience in our creative and cultural endeavours and practice for a future which will sustain our artistic and cultural communities, partners and landscape through this challenge and beyond,' concluded Walker.
With uncertain times still ahead, Nesbitt concluded: 'I think the key message is that art endures. All tumultuous periods of human history are testimony to that. This current crisis, like those that have preceded it, will see artists think through what it means to be human in ways that we can't yet anticipate.'