TeamLab's Digital Art Museum was one of the innovations discussed at REMIX Perth. Image supplied.
There's something special about Perth that inspires innovation and produces great artwork.
Peter Tullin, REMIX co-founder is enthusiastic about the city. 'In an area like Perth and Western Australia more broadly, I think the opportunity for decision-makers to make change happen is absolutely amazing. You can get key people in a room and make an impact,' Tullin said, following a sold-out 2019 summit supported by the Chamber of Arts and Culture WA, City of Perth and REMIX Academy.
Included in this year's line-up of the one-day summit were Google Lab's Creative Director Tea Uglow; Philosopher Jason Fox; Digital Strategist at Vice, Stephanie Winkler; Chief Executive, Knowledge Quarter London, Jodie Eastwood, among others, who touched on themes including cultural tourism, using data and trends for arts practice, the future of work and contemporary museums.
Success by breaking the rules
One of the key themes to come out of the summit held on August 29th was the importance of rule-breaking, especially in relation to the way trends evolve.
Creative entrepreneurs and brands who have radically altered the experience economy – such as Meow Wolf, teamLab in Japan and the Atelier des Lumières in Paris – are those who don't conform to rigidity in the way institutional models work, according to Tullin.
'Audiences are increasingly re-defining what they consider a creative experience, it's no longer just the top down institutional curatorial model. It's a spectrum,' said Tullin.
'Creative entrepreneurs are bringing something radically different into the mix and they're tapping into the growth of the overall experience market. There's a broad spectrum of creative experiences and experience providers and the challenge for artists and organisations is to work out where they fit within this spectrum and what tools and tactics they need to deploy, if they're looking to grow what they're doing in these spaces.'
One example cited by Tullin is the Atelier des Lumières, a digital art museum in Paris which last year achieved a visitation of over 1.2 million visitors. The museum is an immersive experience comprised of projections of oversized reproductions of work by iconic artists such as Van Gogh and Klimt accompanied by soundscape. As well as competing with the major French museums who hold the originals of works, it has been trending on social media.
Without needing to commission original content, pay artist royalties or acquire works of art, the museum has created a model that is both commercially successful and exposes a much broader audience to this art.
This thinking produces a serious challenge to more traditional institutions and their leadership – how do they transform their practice to exploit these new opportunities? Does this pose questions of what is an authentic experience and what isn't?
'One of the biggest things uniting these emerging creative brands is this idea of culture by stealth. We've got this huge consumer demand for interesting cultural experiences, but as soon as you mention a gallery, museum, or theatre, for some people the shutters come up.
'Creative Entrepreneurs are finding new ways of repackaging and remodelling cultural experiences that are very mainstream – they're able to inspire people to take a look and experience these things in new ways. They're rule breakers and they're using models from other sectors to grow very quickly. The broader cultural sector needs to recognise this disruption and work out how to turn this to their advantage.
The opening of the new Western Australian Museum in 2020 will test this in a local context. It is a major government infrastructure investment with leading international architects working on a project that fuses contemporary design with heritage Perth. It has the capacity to generate significant visitor numbers but as the project enters the final stages of exhibition design and installation, the challenge will be to present a dynamic and contemporary museum experience to cement it as a major attraction.
At REMIX, museum directors from Melbourne, Singapore and London shared their experiences of making their institutions more porous to their communities and more relevant to current issues.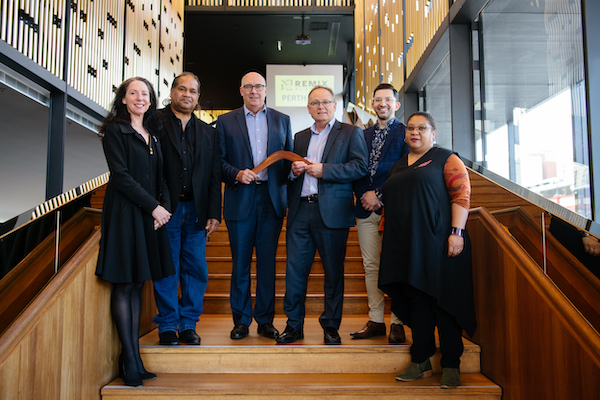 Left to Right: Helen Cooke, outgoing Chair Chamber of Arts and Culture WA; Joshua McGuire, Aboriginal Elder; Phil Thick, incoming Chair Chamber of Arts and Culture WA; The Hon David Templeman; Len Kosova, Commissioner, City of Perth; Shelagh Magadza, Executive Director, Chamber of Arts and Culture WA, who were at this year's REMIX summit. Photographer – Thom Davidson
When creativity, technology and humanity meet
The intersection between human experience, creativity, and technology was a talking point that resonated with audiences at Remix Perth.
Tullin said this intersection was explored by one of the keynote speakers Tea Uglow, the head of Google's Creative Lab in Sydney.
'Tea looked at the intersection of creativity, technology and humanity and she gave a very intimate personal talk about her own experiences both in terms of mental health and LGBTI rights by looking at the role of technology and creativity, the way it allows outsiders to have a platform and a voice and how cultural and creative sectors can imagine new models for people to unite,' he said.
'This was reinforced by latest findings of VICE research which revealed anxiety to be a major concern for young adults today. The need to create a digital environment that support all experiences as "normal" and to alleviate the social pressure felt by many were some of the take-away messages from Stephanie Winkler, Digital Strategist.
In summing up Chamber of Arts and Culture, Executive Director Shelagh Magadza considered how the day's discussion could inform the local cultural sector. "A robust discussion about what see see as our culture – what our shared values are, would be a good starting point. Beyond that there is a clear need to build networks and relationships not only across the sector but with other key knowledge institutions and technology innovators to inform where we go from here. On the one had we have an urgent need to ensure the continuity of the world's oldest living culture, and on the other we have the opportunity to connect globally as never before. But in all of this busy activity it's important not forget the role of arts and culture as a way in which to reflect, to see a bigger picture and to connect.'
As Tullin sees it, the cultural sector has a major role to play in coming up with the solutions if we are prepared to play an even more active role and apply our creativity to engaging citizens in these issues.'
REMIX Academy Perth was presented by the City of Perth and the Chamber of Arts and Culture WA, and supported by State Government through the Department of Local Government, Sport and Cultural Industries.