'Let Diversity Bloom' poster by Victoria Highet. Winner, Best Poster (Tertiary), SA Refugee Week 2018 Youth Poster Awards Exhibition.
TAFE SA offers a range of graphic design courses from a semester-long Certificate III or IV to a year-long Advanced Diploma that combines technical, creative, project management and marketing skills.
'The course is designed to cover a wide range of skills,' said Helen Alexandrou, lecturer for the Advanced Diploma in Graphic Design. 'It gives the student a basis to work wherever they want in the creative area of graphic design and associated industries.'
Students are encouraged to respond to real briefs, such as the SA Refugee Week poster competition advocating for human rights and cultural diversity. In 2018, TAFE SA student Victoria Highet won the tertiary award with her vibrant design (pictured above).
Students can study a full Diploma online, which often suits those based in regional South Australia or who have work or family commitments, or on-campus, where the facilities are part of the attraction. Either way, every student receives plenty of guided support from teaching staff.
'The special thing about studying at TAFE is the access to lecturer assistance, tutoring, and the facilities,' said Alexandrou.
The design hub at the Adelaide College of the Arts TAFE SA campus in central Adelaide boasts an open-plan, top-of-the-range studio space that is available to students after-hours as well as during the day. The area is equipped with drawing boards, paints, mixed media supplies, guillotines, cutting utensils, high-end printers and scanners, digital presentation boards and over 80 Mac computers and headphones. With access to outdoor patios and natural light, the design hub is situated within the comfortable and inspiring environment of the arts complex, surrounded by students from other creative disciplines.
'We hear music from the music students, tapping from the dance students, and fine arts and print media is also on the same level, so we have access to all the other creative industries that are taught on our campus. It's a very dynamic place to work for both students and staff,' said Alexandrou.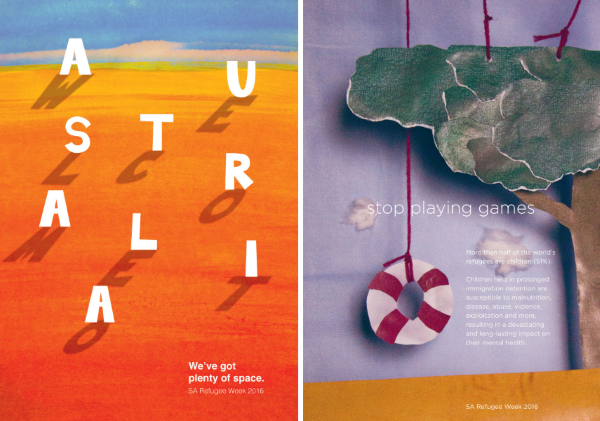 Posters by Chloe Miller and David Quintel for SA Refugee Week 2016.
Graduates from the program are now working in a wide variety of roles locally, interstate, and even internationally. Students have landed jobs at design agencies like Black Squid, Parallax, FULLER and Showpony, as well as in-house roles with AFL teams and wineries – some have even started their own businesses.
The TAFE SA courses have a strong industry component and students are invited to visit graphic design studios, marketing and advertising agencies, and even printers, to build their professional networks, so they are job-ready. There is also a close relationship with industry bodies like the Australian Graphic Design Association and the Adelaide Advertising and Design Club.
'The difference is that we're hands-on.'
The faculty work with students in a hands-on capacity from research and concept development right through to finalising a presentation and developing a portfolio. 'The difference is that we're hands-on. We're here with the students – it's not a lecture then "see you later",' said Alexandrou.
The diverse cohort comprises mature age students, high school graduates, and a sprinkling of international students, Alexandrou said, with many students choosing TAFE SA when they want a career change. Students of all ages find they build not only their skills and confidence through the courses, but also lifelong working relationships with other creative professionals.
'It's a great environment to work in,' Alexandrou said. 'Come to TAFE SA, everything you need to know you'll learn here and there'll be somebody there to help you at all times.'
Applications for the Semester 2 intake close on Friday 19 July. Find out more about courses at TAFE SA.