Art Bus was the first event to sell out at the 2019 Perth Festival, demonstrating the weighty role which visual arts programming can play. Image courtesy Perth Festival.
As arts festivals mushroom across the Australian landscape – a boon for cultural tourism and local economies – the role they can play in advocating for the visual arts needs to be re-examined.
The usual modus operandi seems to be that high profile, major and mid-scale venues are approached to see what they might already have programmed that would be an appropriate fit for the local festival.
While that might come across as inclusive and silo-busting from a festival perspective, in this process the visual arts are largely relegated to "listings", a tokenistic approach one could argue, when compared to the focus and care given to performing arts programming.
This, of course, does not account for the fact that partnering galleries plan around and curate for the annual return of their city's given festival, largely to use the opportunity to amplify their own programming initiatives.
But that does little to shift our major festivals' collective habit of sidelining the visual arts. One could argue that audiences want more than 'just exhibitions'.
The fact that the first event to sell out across the entire 2019 Perth Festival program was the Art Bus (pictured top), a full day tour that transported punters from gallery to gallery to engage with the festival's visual arts program, certainly gives weight to the suggestion that festival audiences are hungry for carefully curated visual arts experiences.
'And, last year, The Second Woman [at Perth Institute of Contemporary Art] was voted best event at the festival,' added co-curator of Perth Festival's Visual Arts program, Anne Loxley.
Nat Randall in The Second Woman. Photograph: Nat Randall and Collaborators.
The bus tour this year was led by Loxley and co-curator Felicity Fenner, who were appointed by Perth Festival's Artistic Director Wendy Martin on a three-year contract to oversee, develop and create an engaging and integrated visual arts program.
Speaking recently with ArtsHub, Martin spoke of her desire to bring greater cohesion to the festival's film, literature, performance and visual arts streams. 'One of the things I wanted to do was break down the silos between those different programs so that they all speak to each other, and I feel that we've really done that,' Martin said.
Read: Exit Interview: Perth Festival's Wendy Martin
Loxley said of Martin's vision: 'She is a Director who is very into works that engage an audience, that are participatory. And she sees the visual arts as also offering that experience for audiences.
'As an extension of that, Wendy was also very relaxed about working with a team in a curatorial capacity, and didn't flinch that Felicity and I were both located out of state. It was all about how, collaboratively, the best program could be delivered,' Loxley added.
By embracing diversity through a curatorial lens, the Perth Festival pits itself as an interesting future model – and the only festival to formally appoint a curator for its Visual Arts program. It even produces a separate visual arts brochure, with mini-catalogue essays for each project.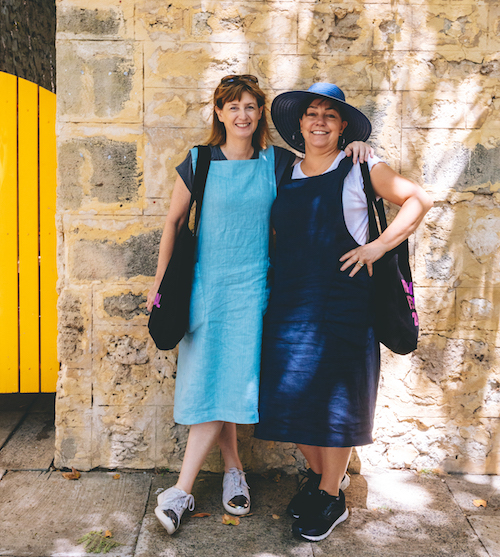 Curators of Perth Festival's visual arts program, Felicity Fenner and Anne Loxley; image supplied courtesy Perth Festival.
Vision takes long-track planning
This is the third and final year that the Fenner-Loxley partnership will deliver for Perth Festival.
They have been curating projects together since 1989, when they were fresh out of art school, and there is a depth and assurance that history brings to their program for Perth.
Loxley told ArtsHub: 'Most festivals work with venues to include only scheduled programing that is a fit. Here, for Perth Festival, we have been working in a long-track manner on these projects to realise them. For example the exhibition at Fremantle Art Centre, Idols with Ramesh [Nithiyendran] and Renee [So] started three years ago. At the time Ramesh was just starting out. We were interested in curating a show that just didn't tap into the popular buzz around ceramics but wanted to tap into the ideas that connected them.'
Review: Idols – Ramesh Nithiyendran and Renee So, Fremantle Arts Centre
Loxley continued: 'David Noonan came along later in planning, but worked very much in developing his exhibition for Perth Festival as a long track project … The other long track project was Cassils.'
An Australian artist now living in London, Noonan's exhibition is a kind of deep-dive into the past 10 years of his archive, accompanied by newly commissioned work for Perth Festival.
Commissioning was also key to the presentation of transgender artist Cassils at PICA, with a bespoke re-performing of their iconic work Becoming an Image for Perth, as well as new work by Marco Fusinato in an upstairs gallery at PICA.
Review Alchemic by Cassils, PICA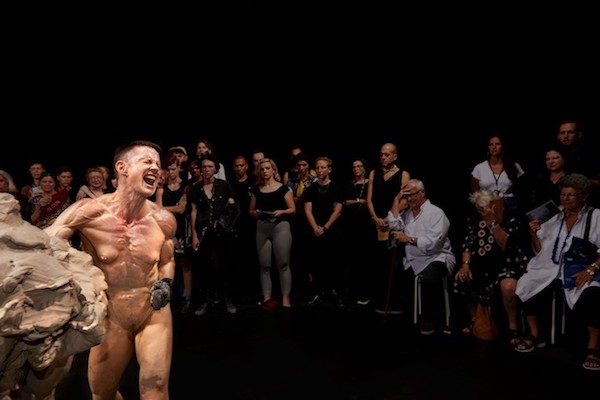 Cassils, Becoming an Image at the Perth Institute of Contemporary Arts, Perth Festival 2019. Photo: Cassils with Manuel Vason. Image courtesy of Cassils and Ronald Feldman Gallery.
Similarly, the live performances by both Cassils and Fusinato had great synergy with the festival environment, and demonstrated how the visual arts carries weight in contemporary conversations about the blur of mediums and disciplines across the arts today.
If only for that reason alone, the visual arts is perhaps one of the more ground-breaking platforms to explore in the fast-paced, hungry-for-the-new environment of arts festivals.
Fenner and Loxley also used the momentum of the festival environment to shed light on the currency that Australian visual arts practice plays within an international arena.
Fenner spoke about the project Refuge, which she worked on for John Curtin Gallery and which brought together artists Angelica Mesiti (representing Australia at the Venice Biennale later this year) and Candice Breitz (whose video Love Story (2016) was shown at the 2017 Venice Biennale).
'They were very happy to show together. When Candice showed [Love Story] in Melbourne for the NGV Triennial, it bought about the protests against Wilson Security and sacking of the company's contact with the gallery. She really wanted it to be shown again, somewhere else in Australia,' explained Fenner.
Both video works present complex immigrant experiences, as understood by these artists.
Using the momentum of these two artists for the Refuge project cuts across old perceptions of 'the tyranny of distance' by centering the discussion here and now, right at the heart of this year's Perth Festival.
It demonstrates how, with curatorial consideration and long term planning, the visual arts can play a powerful role in art festivals today, well beyond the "listings" badge it has unfortunately been forced to wear in recent years.
Review: Love, Displaced, Lawrence Wilson Art Gallery, Perth
The Visual Arts Program for Perth Festival included:
Alchemic by Cassils, Perth Institute of Contemporary Art (PICA), 10 February – 14 April
Love, Displaced, Lawrence Wilson Art Gallery, The University of Western Australia, 9 February – 11 May 2019
Refuge: Angelica Mesiti & Candice Breitz, John Curtin Gallery, 11 February – 18 April
Idols: Ramesh Mario Nithiyendran & Renee So, Fremantle Art Centre, 7 February – 31 March
A Dark and Quiet Place by David Noonon, Fremantle Art Centre, 7 February – 31 March
Lower Power by Marco Fusinato, Perth Institute of Contemporary Art (PICA), 10 February – 21 April
Desert River Sea: Portraits of the Kimberley, Art Gallery of Western Australia, 9 February – 27 May
Art Bus Tour, 10 February.
Perth Festival: Visual Arts
7 February – 27 May 2019
Gina Fairley stayed in Western Australia with the assistance of Perth Festival.