The cast of Peter Pan Goes Wrong. Supplied.
The members of The Cornley Polytechnic Drama Society struggle against technical hitches, flying mishaps and cast disputes with disastrous, and hilarious results. And the ultimate question, will they make it to Neverland?
Peter Pan Goes Wrong is a play written by Henry Lewis, Jonathan Sayer and Harry Shields and is a Mischief Theatre Company production. In this play, the Cornley Polytechnic Drama, having received a generous donation from a cast member's father, are putting on another show, this time an interpretation of the J.M. Barrie classic, Peter Pan.
Before curtain up, the play's director, Christopher Bean and the co-director, Robert Grove, address the audience in a welcome that hints of the simmering tension between the duo. They can't seem to agree as to whether what we are about to see is a "play" or a "pantomime".
'Yes it is.'
'No it isn't.'
'Yes it is.'
(And yes, later into the play we have the audience calling: 'behind you!', and clapping and chanting to the most important 'I do believe in fairies, I do!').
This production is a mix of mishaps, physical theatre and slapstick combined with traditional British panto.
There are botched lines, set collapses and other technical mishaps. There are wardrobe malfunctions, backstage intrigues, one cast member who can never remember his lines, another paralysed by stage fright, stage crew being roped into the production, and injured actors struggling to make it through to the final curtain.
The set design is magnificent with assorted locale for the Darling children's bedroom, Neverland, the pirate ship, and everything else. There was wonderful UV lighting effects for an underwater scene and roller-skating mermaids and mermen among other things.
The multi-tasking frantic cast are sensational, and absolutely amazing with brilliant comic timing and most playing multiple roles.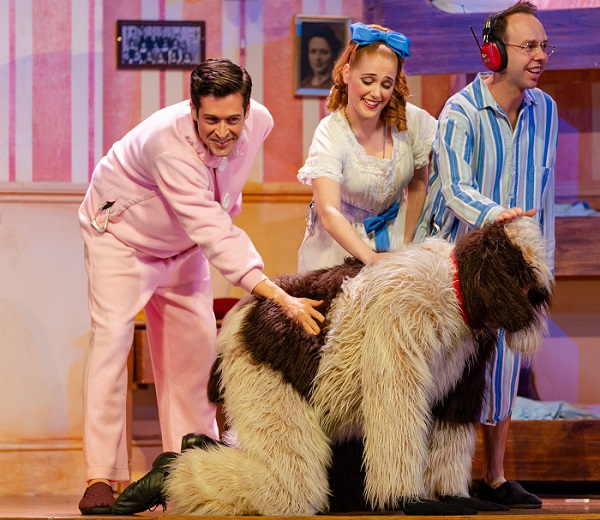 The cast of Peter Pan Goes Wrong. Supplied.
Tammy Weller as Annie Twilloil's various roles included a beautiful Mrs Mary Darling in a stunning purple outfit, the maid Lisa at the Darling home, as well as an exuberant electrically lit Tinkerbell and captive princess Tiger Lily.
Connor Crawford as Mr Darling and Captain Hook has great fun. As Mr Darling he is constantly falling and tripping over. Hook is played as a sneering panto-villain and has a spectacular red coat.
Jay Laga'aia as Francis Beaumont sprinkles fairy dust and constantly dodges a dangerous movable chair. He also has fun playing Cecco a pirate.
Darcy Brown is most impressive as Jonathan Harriswho plays a very accident prone Peter Pan with some terrific acrobatics and flying (also look out for his equally brave understudy – or two).
George Kemp was terrific as Dennis Tyde who plays John Darling and Mr Smee the pirate, most of the time wearing a head set so someone could feed him his lines. His consternation when working without his headset was a joy.
Jordan Prosser as Max Bennett was splendid in his dual roles of Michael Darling (in pink pyjamas) and as the sliding Crocodile.
Luke Joslin had great fun as Robert Grove who plays Nana the dog (who gets stuck in the pet flap) and ventriloquist Starkey the pirate with a parrot.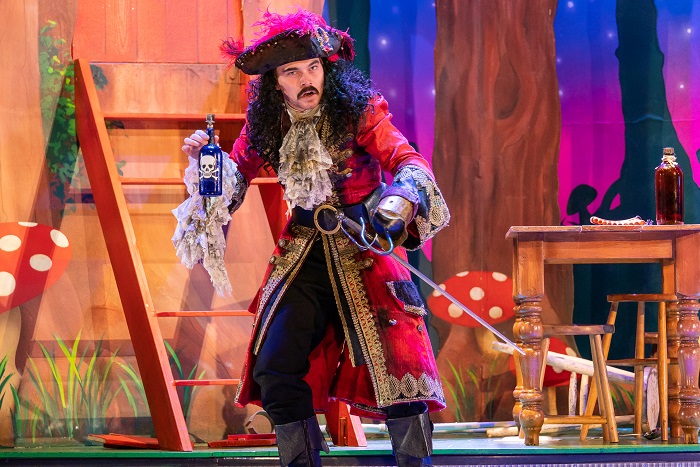 The cast of Peter Pan Goes Wrong. Supplied.
Francine Cain as Sandra Wilkinson delightfully overacts and hams it up as the worldly wise Wendy Darling.
Teagan Wouters asLucy Grove was entertaining. Her role of representative lost boy Tootles suffers a series of mishaps and for most of the show is in a wheel chair with a damaged leg after a set "malfunction".
While the production and cast are excellent, I was perhaps a little disappointed as the constant disasters and slapstick comedy became a trifle repetitive, and in Act 2 I felt it disintegrated into disorganised chaos at a couple of points.
Hilariously fun, and at times chaotic, Peter Pan Goes Wrong is a play for all ages.
Rating: 3 ½ stars ★★★☆
Peter Pan Goes Wrong
Mischief Theatre
13 February – 3 March 2019
Sydney Lyric Theatre, Sydney