David Zampatti and Ian Michael in Thornton Wilder's Our Town. Photo by Daniel J Grant.
In an age when we sometimes fear for the future of the written word and the reading of plays and poetry, Perth's Black Swan State Theatre Company has achieved a major coup.
It has brought one of the most significant plays ever written, Our Town by Thornton Wilder, to the State Theatre's Courtyard venue where performers are surrounded on three sides by an audience that soon becomes so involved with the inhabitants of the town and their daily lives that when Emily Webb, the young protagonist, played by Abbie-lee Lewis, asks her boyfriend, George Gibbs, played by Ian Michael, to look up at the amazing moon, all eyes looked up to WA's ink-blue sky.
Wilder, born just three years shy of the 20th Century, became one of the major writers of his era, winning three Pulitzer Prizes including one for this play in 1938. Although about an American fictional town, it is still performed regularly throughout the world. The theme seems so simple, uncomplicated, 'normal' in the sense of predictable. As the narrator, played again, brilliantly, by Ian Michael says, 'It's a nice town but nobody remarkable ever came out of it'. Yet Wilder, as a highly educated, intellectual man, managed to show, through their words, how simplicity is often the elixir of life people strive for but do not appreciate, as they move about in a 'cloud of ignorance,' spending and wasting time as though they had a million years to live.
His enigmatic comment, you have to ' live life to love life and love life to have life!' is still food for thought that has carried people through two World Wars like the great national anthems that urge people to stand up for what they believe in and be steadfast in the face of adversity and change.
Artistic Director, Clare Watson, has been clinically true to the basic tenet of the play with her use of a minimalist setting, which encourages the audience to use its imagination and her skilful casting has been a stroke of genius.
As the play is about belonging it is significant that the only professional roles were played by people of Aboriginal descent and, to its great credit, they are all graduates of the Western Australian Academy of Performing Arts.
But Watson also invited 100 members of the Perth community to take part, many of them in the roles they play in their own day-to-day lives, often, with no previous acting experience and it works a treat.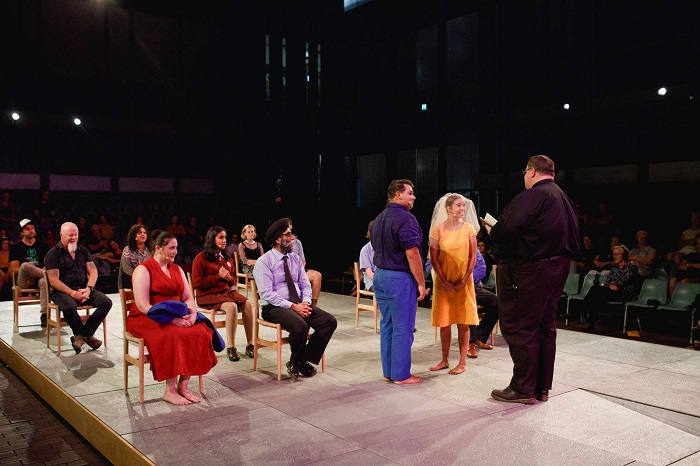 The cast of Thornton Wilder's Our Town. Photo by Daniel J Grant.
While professional actor, Shari Sebbens, as George's mother, Mrs Gibbs, bemoans the fact that young people get married the first day after they finish school, her husband, Dr. Gibbs (Dr Jonathon Carapetis, a leading paediatrician in his day job) gives some worldly advice to his son George, who has been neglecting to help his mother with woodchopping.
As the future father-in-law, journalist Mr Webb (real-life journalist, David Zampatti) also gives George advice about marriage which, thankfully, is no longer relevant today, 'Never let her know how much money you have and never ask for advice!'
The words of a cynical Priest, played by real-life Priest, John Clapton of Hamersley, as he conducts the wedding ceremony between Emily and George probably reflects Wilder's attitude as a homosexual … 'nearly everyone climbs into their grave married! One time in a thousand it's interesting'.
Equally cynical is Simon Stimson (Jonathon Paxman), the town alcoholic who conducts the church choir of some 20 people, something he does regularly for Curtin University where he is also a lecturer in Electronic Engineering. As the Town misfit, even in death, Stimson complains that there are 'layers and layers of nonsense every time you come close to the human race' and some people aren't meant to live in a small town.
There are gems of wisdom for any age group in this play but 'pick up your feet' from Mrs Gibbs to her shuffling son, George is certainly still doing the rounds after 80 years on the page.
It is interesting to note that Wilder's homosexuality in those days did not prevent him serving in the U.S. Army as a lieutenant colonel, as an Air Force intelligence officer. He earned the Legion of Merit and Bronze Star.
Black Swan hopes to take the play to country towns where it should be even more well received.
Rating: 4 ½ stars ★★★★☆

Our Town
By Thornton Wilder
A Black Swan State Theatre Company production
Directed by Clare Watson
Set & Costume Designer – Tyler Hill
Lighting Designer – Chloe Ogilvie
Composer & Sound Designer – Russell Goldsmith
State Theatre Centre of WA
8-23 February 2019
As part of Perth Festival 2019