Alex Mizzen's Invisible Things. Image via nothingeverhappensinbrisbane.com.

Your definition of a great show may differ from the parameters used by your friends and colleagues. Some of us look for technical perfection; others seek out work that interrogates and breaks down traditional forms; others still most value performances that pack an indelible emotional punch.
As 2018 draws to a close, and with 575 reviews published on ArtsHub this year across a range of art forms, we turn our collective attentions towards 2018's most outstanding works from around the nation.
Here are the outstanding performances and arts events that caught our collective eye this year.
ADELAIDE
Writer Diana Carroll relocated to Adelaide earlier this year but has quickly begun seeing and critiquing local works. Her highlights this year were Sutra at the OzAsia Festival ('a delightful work and an exceptional example of the power and possibility of dance') with State Opera South Australia's The Merry Widow ahead by just a whisker. She wrote: 'Accuse me of home-town bias if you wish, but I found this State Opera of SA production more engaging than the Opera Australia iteration at the Sydney Opera House earlier this year. There seemed to be an extra sparkle in the cast with the bigger stage giving them room to move and an added touch of luxury to the sets.'
Read Diana's review: The Merry Widow, Adelaide Festival Centre
BRISBANE
Regular reviewer Sally Peters happily nominated Invisible Things by Alex Mizzen and Vulcana Women's Circus as her highlight of the year. Presented at Brisbane Powerhouse as part of the end-of-year Wonderland Festival (following a World Premiere performance at Anywhere Festival in May), Invisible Things was 'a masterpiece, world class and unmissable,' Peters said.
Read our review: Invisible Things, Brisbane Powerhouse
CAIRNS
Despite seeing two 4 ½ star shows courtesy of JUTE Theatre Company this year in Bukal and The Longest Minute (a Brisbane Theatre co-production), when pressed for his performance highlight of the year, Cairns reviewer Douglas Robins named: 'Twelfth Night, a production from Tropical Arts Inc. Classical Shakespeare with a modern twist. Tropical Arts prides itself on being a diversely inclusive community theatre company which annually has been performing Shakespearean plays for the past 11 years. This production was innovatively set on a luxury cruise liner, the Illyria. Like many of the bard's comedies, hijinks of love and cross-dressing ensue, but in two languages – Auslan (Australian sign language) and English. A cast of 50, ranging from 9-72 years old, populated a lively shipboard world further shaped by an immersive soundscape and live music and song interpreted into Auslan by a team of synchronised swimmers – creating a truly unique, ground-breaking experience.'
DARWIN
Writer and reviewer Kate Rendell, who participated in the industry development initiative Front Row presented by Darwin Festival and Brown's Mart Theatre earlier this year, nominated Tracks Dance Company's In Your Blood as her 2018 performance highlight.
'In Your Blood was a joyous and exceptionally realised dance work that used Darwin's tropical climate to full advantage. With an outdoor performance in the Botanic Gardens, staged as a sporting field, this work was an exquisite celebration of tradition, family and the collective. Superb choreography, lighting and a phenomenal live soundtrack – this production proved you should never underestimate the power of the local or the quality of community dance,' she said.
In Your Blood was reviewed by Richard Watts: read his review
HOBART
When asked to nominate her outstanding production of the year, Hobart-based arts executive and reviewer Kath Melbourne said, 'That's easy: Twelve Times He Spoke.' Presented by Blue Cow Theatre, this one-man show is 'a journey of an at once ordinary and extraordinary every-man from the ages of seven to 55,' and a production that 'gets to the heart of the way men navigate their place in the world, the pressure cooker of male violence and the toxicity of repressed emotions.'
Read Kath's review: Blue Cow Theatre's Twelve Times He Spoke
MELBOURNE
Reviewer Thuy On nominated Melbourne International Arts Festival's sold-out event Fire Gardens by Campagnie Carabosse as her highlight of the year. Featuring installations and live performances, the collective effect of Fire Gardens was to turn Melbourne's Botanic Gardens into a fire-lit wonderland. 'Fire Gardens delivers a primal experience, a respectful celebration of the beauty and power of the elements: there is fire of course, but also air and water. It's a truly beautiful sight to behold this holy trinity,' she wrote.
Read Thuy's review: Fire Gardens, Melbourne International Arts Festival
Raphael Solarsh noted that while Tan Dun's Buddha Passion was phenomenal, and the performances in MTC's The Children were unmatched, for him the most outstanding work of the year was composer/performer Adam Simmons' The Usefulness of Art series, with May's performance of The Calling his stand-out performance of the year.
'In The Calling, Simmons, with the aid of Sally Blackwood, shows a far more developed sense of narrative. He tells a story with sound, movement and image with a complexity and drive that Travelling Tales did not have. And it's a deeply personal story brought to a climax with the exquisite final solo in collaboration with Vikram Ayengar. In those moments when dancer and player fully fused there was longing, joy, pain, confusion and liberation,' he said.
Read Raphael's review: The Calling – Adam Simmons
SYDNEY
Dedicated critic Lynne Lancaster has been reviewing for ArtsHub since 2009. Her pick of the year was Opera Australia's Evita. 'A powerhouse production that exploded with a bang into the Joan Sutherland auditorium – a magnificent production, marvellous costumes and staging and Tina Arena as Eva was superb. Thrilling and moving. A total knockout,' Lynne enthused.
Evita is now playing at Arts Centre Melbourne: read Reuben Liversidge's review
Fine music reviewer David Barmby pointed to a number of fine performances and concerts this year, including the Australian World Orchestra directed by Riccardo Muti, and Canadian violinist James Ehnes at Melbourne Recital Centre, but said: 'If I had to choose [just one], it would be the recent Barenboim concerts in Sydney,' performed by the Staatskapelle Berlin. 'Over three nights, Sydney audiences were granted a grand experience of excellence in orchestral art as well as the mature understanding and controlling hand of an acknowledged maestro.'
Read David's review: Staatskapelle Berlin – Daniel Barenboim
TOWNSVILLE
Deeply impressed by Dancenorth's Dust (see below), Trevor Keeling nominated TheatreiNQ's The Comedy of Errors as his performance highlight of 2018. 'Once again, this was Shakespearean comedy at its best – performed outdoors, with a splendid cast, encompassed in a great concept and all wrapped up in a performance that exuded pace, energy and fun. And all delivered by one of the most exceptional – and unsung – theatre companies we have in Queensland. Would that they were seen by a broader audience, but we in Townsville appreciate that excellence on our own doorstep.'
Read Trevor's review of The Comedy of Errors
PERTH
Victoria Wyatt writes, 'There were only two theatre shows that really resonated with me this year, and even writing that disappoints me – as one fabulous reason to be alive is the arm hair raising beauty and excitement that good theatre has the power to be, but sadly in Perth the really good stuff was scarce.
'My favourite two shows of 2018 were The Curious Incident of the Dog in the Night-time at His Majesties Theatre in August, and New Owner staged by The Last Great Hunt at The Octagon in May.
'Just the other day I was describing the premise of New Owner to a colleague and she noticed my eyes starting to well up as I recounted the little dog's struggle to get back to its new found home. The Last Great Hunt currently outshine every other arts organisation in Perth, as they deliver top notch, intelligent and beautifully crafted shows on a regular basis.
'The Curious Incident of the Dog in the Night-time is Simon Stephens' hit stage adaptation of Mark Haddon's best selling novel from 2003, first produced and staged by the National Theatre in London and now constantly on tour. I hope every theatre maker in Perth saw this show as the sets, acting and every fine detail displayed theatre in its true form and magic.'
The Curious Incident of the Dog in the Night-time was reviewed in its Brisbane leg by Gillian Wills: read her review
Nerida Dickinson, who has been reviewing Perth performance for ArtsHub since 2011, was full of praise for a number of local artists and companies.
'On the independent theatre front, Joe Lui has been going great guns – developing all sorts of themes, motifs and styles in content and technical presentation. Unveiling: Gay Sex for End Times and Medusa (particularly his collaboration with Finn O'Branagáin – her narrative gifts gave particular punch to the potentially interactive pastiche of performance styles and strident/sad feminist concepts) are the works I loved from him,' Dickinson said.
'In independent dance, Anything is Valid Dance Theatre's site-specific work, Dust on the Shortbread, choreographed by Serena Chalker and Quindell Orton and performed by Elizabeth Cameron Dalman and George Shevtsov was a devastatingly beautiful and personal work about dementia. The number of people needing quiet time after the performance to decompress spoke volumes.'
She praised the work of local companies The Last Great Hunt, WA Youth Theatre Co (WAYTCo) and Black Swan, noting of the latter: 'In the Next Room, or The Vibrator Play (directed by Jeffrey Jay Fowler) demonstrated that the mainstage can have innovation … and You Know We Belong Together will be remounted in 2019, which is wonderful, as was the script, performance and audience reception.'
Dickinson added: 'And Yirra Yaakin hosted Huff, presenting the Canadian Indigenous experience, horrendously imbued by foetal alcohol syndrome, youth suicide, huffing petrol and community violence as the norm for isolated and hopeless youth, excluded from the opportunities of modern and progressive Canadian mainstream – a bit too close to home for many audience members, including me. It was a challenging but great choice of work to demonstrate parallels and call for solidarity between First Nations people internationally.'
Read Nerida's review: You Know We Belong Together, Perth Festival
Richard Watts' top 10 performances of 2018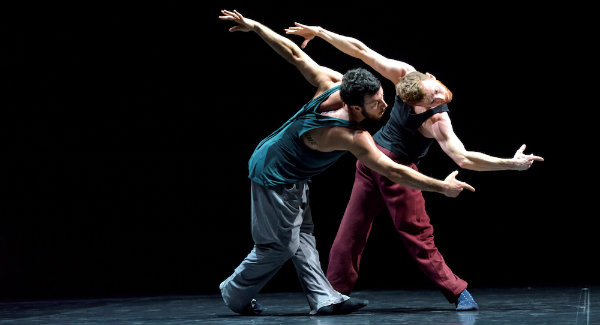 William Forsythe's A Quiet Evening of Dance. Photo credit: Bill Cooper.
Well, that was a busy year – I managed to see a total of 177 different performances across a wide range of art forms, including contemporary dance, contemporary music, orchestral music, ballet, theatre, circus, comedy, live art, and more. I visited regional companies such as NORPA and Merrigong in order to see the bold, risk-taking work they were making, and I also paid a visit to the new Red Earth Arts Precinct in Karratha. In addition, I attended major festivals in Darwin (for the first time), Brisbane, Melbourne, Hobart, Adelaide (twice in two weeks – for both the Festival and the Fringe) and Perth, witnessing a fascinating array of work from local, national and international artists in every city.
Sadly, despite a couple of visits to Canberra this year, I was unable to coordinate my visits in time see work at The Street Theatre, Canberra Theatre Centre or Gorman Arts Centre, for which I can only apologise – hopefully next year!
After much consideration, and having witnessed superb international circus work, the industrial sounds of Einstürzende Neubauten at Dark Mofo, compelling storytelling and performance on both mainstages and independent theatres, and much, much more, here – in the order in which they were seen – are the 10 works which most impressed me this year.
I can't wait to see what 2019 holds!
Compagnie XY's Il n'est pas encore minuit…
Presented as part of this year's Perth Festival, Il n'est pas encore minuet ('It's not yet midnight') was a striking example of circus stripped back to its basics which, in the process, found a thrilling collaborative vibrancy. 'The sense of connection and support between performers is palpable – a tender glance here, a close embrace there – and unlike some recent circus works there's a strong sense of agency among the female members,' I wrote back in February. A gorgeous work from this assured and exciting 22-strong French collective.
Back in March I described this One Eyed Man Productions, Neglected Musicals and Hayes Theatre Company co-production at Arts Centre Melbourne as 'truly the most fun I've had at the theatre so far this year'. Months later, it still stands head and shoulders above the majority of productions I've seen in 2018 – its sense of joy is contagious, and in the titular role, Virginia Gay is effervescent and magnificent. Rarely has musical theatre been so raucous and unrestrained, and the production is all the better for it. An encore season is currently underway in Melbourne.
Angus Cerini's potent play, The Bleeding Tree, was first produced by Griffin Theatre Company in 2015, and went on to win the Helpmann Award for Best Play the following year. It took another two years for it to reach the playwright's home town of Melbourne, but it was worth the wait. As I wrote in May: 'Cerini's brutally confronting yet blackly comic exploration of domestic abuse and its aftermath, is a compelling piece of theatre, while Lewis' exquisite direction ensures the play's tonal shifts, from horror to humour and back again, never jar. And as the woman whose fatal shot has freed her and her daughters from their monstrous patriarch, Paula Arundell burns white hot with rage and furious intensity.' Is to too much to ask that it be re-staged, please, so that we can all see it again?
I've had severe FOMO about Dark Mofo ever since the festival was founded; for one reason or another I never managed to get down to Hobart in mid-winter to experience its strange delights – until this year. While there was much I enjoyed, the standout was this magically morbid exploration of death and decay by UK duo French and Mottershead; an audio art work detailing the way a floating body breaks down into its component parts as it is slowly swept out to sea. 'Its evocation of bloating bodies and the circular bites of elvers will doubtless disquiet some participants, but there's also a quiet beauty in being reminded that the water contained in the cells of our drowned bodies will one day fall again as rain. Humans like to pretend we rule the world; Waterborne reminds us we are very much a part of it.'
Blackie Blackie Brown
Described by my colleague Andrea Simpson in her review as a theatrical 'tour de force that turns colonisation on its head,' Nakkiah Lui's latest play was by turns hilarious and harrowing, subversive and magnificent. With a script that made audience members complicit its events, skilled performances and direction, and a dazzling digital set design, this dynamic revenge comedy was a Blaxploitation comic book brought to vivid, memorable life. Its return season at the Malthouse in 2019 is highly recommended.
I Want To Know What Love Is
Created by Brisbane independent company The Good Room, and based on 800 anonymous love stories, I Want To Know What Love Is explores the full gamut of romance and passion – from the first burst of passion through to heartbreak and hard-to-forgive exes. The result is giddy and glorious, rich, resonant and compelling – a potent, physical and skilfully piece of contemporary performance. Intensely physical and richly designed – I doubt you'll ever see more rose petals on stage – the piece is a potent reminder that love is simultaneously a lottery, a rollercoaster and a hard slog, as well as transcendent and life-affirming. I Want To Know What Love Is will tour in 2019; visit Critical Stages for details.
Darwin's Tracks Dance Company are a national treasure whose large scale, site-specific and community driven work means they almost never perform outside the Northern Territory. Making the trek north to Darwin Festival for the first time this year, I extended my visit by a night specifically that I might see their latest production, In Your Blood. I'm so glad I did. Featuring a cast of 40 and the work of seven choreographers, the production blended love of sport and love of family into a colourful, compelling whole. As I noted in my review: 'There's a glorious diversity evident – people of different ages and body types perform side by side – and while the dancers may lack the physical precision of professionals, there's delight to be had in watching the careful concentration on their faces as they enact a particularly challenging routine, and the smiles that break out after they succeed.' Thinking back on In Your Blood months later, what lingers is the way the work embodied the sense of art as a cultural right – the quintessential expression of our shared humanity and an experience that can transform lives.
Dancenorth's Dust premiered at Brisbane Powerhouse as part of this year's Brisbane Festival. In my review, I described it as 'an exquisite work; a powerful piece of contemporary dance that flirts with potentially heavy-handed imagery but never succumbs to the obvious or the banal. Cohesive and fluid, it integrates movement and design beautifully.' I also noted that the production 'deserves to tour widely,' a suggestion which has borne fruit. Dust can be seen next month as part of Sydney Festival, and later in the year in Wollongong, as part of Merrigong's 2019 season.
This Queensland Theatre production made its Melbourne premiere as part of the Melbourne International Arts Festival, and was one of the most generous theatrical experiences of my life. Featuring actor and co-creator Jimi Bani and four generations of his family, the work explored the importance of family and tradition in Bani's home, the Torres Strait. As I wrote in my review in October, 'The great strength of this deeply generous production is that it doesn't just show us what the Bani family's culture is – it makes us feel their culture's richness and importance, emotionally and intellectually. We are all warmed by the flames which Jimi and his family tend so lovingly.' An exquisite production.
A Quiet Evening of Dance
A celebration of bodily mechanics and choreographic formalism fused with b-boy exuberance, featuring moments of challenging abstraction accompanied by silence or soft birdsong, and culminating in exuberant expression, this Melbourne International Arts Festival presentation of old and new works by dance maestro William Forsythe was demanding and exhilarating in equal measure. Black-clad dancers with coloured socks and long coloured gloves gave us greater opportunities to admire the careful extension of a foot or the flex and thrust of a bent arm. A hip hop dancer performing alongside classically trained dancers allowed us to see the connections and commonalities between movement vocabularies. Movements were precise and intricate, lines flowing and clean, while the progression of works built over two acts to culminate in an extended sequence of dance that was ecstatic while still perfectly controlled. Masterful, memorable and my performance highlight of the year.
Honourable mentions: Dancenorth's Attractor at Perth Festival; Natalie Palamides' Laid and Lano & Woodley's Fly at Melbourne International Comedy Festival; Time in Space Circus' The Displaced at Adelaide Fringe; Bangarra's Dark Emu; Elbow Room's Prehistoric; MTC's The House of Bernarda Alba; Olivia Satchell's My Sister Feather and Ben Grant's The Rug at La Mama; Einstürzende Neubauten's Lament at Dark Mofo; Joel Bray's Biladurang and the exceptional Baker Boy at Darwin Festival.