Michael Williams announces change to the VPLAs for Small Press Network. Photo: Connor Tomas O'Brien for the Wheeler Centre.
For small independent publishers it is a toss up whether literary prizes are worth entering. The possibility of the marketing impact associated with a win has been offset by the costs of entering – with many publishers feeling that few major prizes actually lead to book sales.
But the Wheeler Centre for Books, Writing and Ideas has moved to level the playing field.
At the recent Victorian Premier's Literary Awards (VPLAs) Director Michael Williams announced an initiative to remove costs for small publishers.
'From next year's award, the VPLAs and the Wheeler Centre will work with the Small Press Network to relieve some of that pressure. Small publishers will be able to submit up to three titles without incurring the traditional entry fee (with any submissions beyond those first three costing the standard $75). Those publishers will also be able to submit their titles in electronic form, thereby saving on administration, shipping and book costs,' said Williams.
Williams said the change was an acknowledgement of the importance of small publishers and the quality of the books they produce.
'Across the 21 shortlisted title's at this year's VPLAs, a staggering 15 of them came from small, independent houses. They're a crucial part of our cultural and literary landscape, and the comments in the press late last year about the resourcing challenges that literary awards pose for them provided an important reminder.'
'We're very proud to run these awards on behalf of the Victorian Premier and are committed to fine-tuning them to make sure they offer the best opportunities for great Australian writers, publishers and readers to discover one another.'
Read: Women writers scoop Literary Awards
The Wheeler Centre move follows the withdrawal from competition of one small publisher due to costs. Late last year Director of University of Western Australia Publishing (UWAP) Terri-ann White notified authors that the publishing house would not be entering books in literary awards from 2017 due to the costs involved. ​The Sydney Morning Herald reported that UWAP had spent $2,000 on entry fees and close to $10,000 ​including associated costs.
White told ArtsHub she was pleased to have prompted the change, although she remained sceptical of the value of prizes and the expectation from authors that they would be entered.
'I'm very pleased that our decision sparked a discussion and, now, action in Australia as well as in a few international news outlets. I hope it'll continue and alleviate the pressure that has built over the last decade for independent publishers. I encourage other awards bodies to follow suit.
'While I am still sceptical of the value of entering the contemporary literary prizes and awards, I applaud the decision by the VPLAs and the Wheeler Centre to make the potential to do so easier for small publishers.'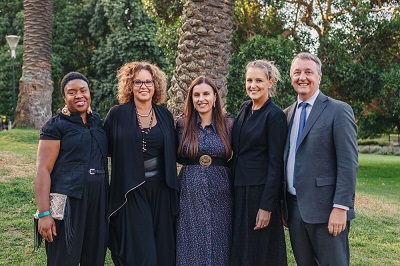 Winners of the VPLAs (left-right) Maxine Beneba Clarke, Leah Purcell, Randa Abdel-Fattah, and Madeline Gleeson, with Minister of Creative Industries Martin Foley. Photo: Connor Tomas O'Brien for the Wheeler Centre.
White said entering awards had become an expectation from authors with the majority desiring their books be entered.
'We'll have 17 new poetry titles in 2017—with most poets desiring their book be entered—there is an unrealistic expectation that this can be handled in a orderly fashion. Who do we enter, and who would we barrack for if we could afford to enter them all?'
UWAP's decision to not enter awards has been supported by other publishers who have also commented on the downside of awards where publishers front the costs with authors, bookshops and sponsors receiving the benefits. The assumption is shortlisted and winning books receive an increase in sales and improves the reputation of the publisher, which then trickles down to the publishers but the truth is only a few well marketed awards actually achieve a significant sales boost.
Affirm Press Publishing Director Martin Hughes said only the Miles Franklin and Stella Prize convert to book sales and benefit the publisher directly.
'We do submit works to prizes when we they are particularly important to our authors or when we think we're in with a reasonable shout of a short-listing. But we do have to be selective, and increasingly so. Overall, prize fees end up costing us a significant amount, not to mention the in-house work that goes into organising submissions. While we want to do everything in our power to support our authors, we don't stand to gain much out of them financially,' said Hughes.
Williams' announcement ​takes up ​some of the recommendations publishers have recently suggested, including allowing electronic submissions to cut costs on postage and waiving entry fees for small publishers. Other costs, such as internal administrative costs and the expectation placed on publishers to fly authors interstate to awards ceremonies, still remain but publishers are welcoming the announcement as a great outcome for small publishers.
'I love this gesture. I passionately believe that small publishers can compete with anyone book by book. In fact, we don't enter into awards that are specifically for small publisher books for that reason. While the books themselves can compete, as we've shown with several titles recently, the cost of entering the prizes can be prohibitive,' said Hughes. 'I hope other prize organisers will follow.'
Veronica Sullivan, Prize Manager of The Stella Prize, said access for small publishers to Stella is an important issue. In 2015 The Stella Prize introduced an early-bird fee system in the hope it would 'to some small degree allay the pressure placed on publishers by prize entry fees.'
But many Prizes rely on entry fees, as well as private donations and grants, to survive. This is particularly true in our current funding climate where monetary support for the arts has lessened. Publishers feel it, and so do the literary prizes.
'Entry fees are our sole earned income stream related to the prize, and make an essential contribution to the costs of administering, judging, promoting and awarding the annual $50,000 Stella Prize,' said Sullivan.
'We are constantly thinking about these issues and revisiting our entry procedures and submission processes each year. We want to reward the best books by Australian women, and so of course we want as many books as possible to be entered into the Stella Prize each year. We will certainly be reviewing our entry processes again this year. We would be very disappointed for our entry fees to be viewed as a deterrent or prohibitive – and the Stella Prize does have a noticeable impact on sales of not only the winning book, but also the shortlisted titles.'
At the same time, the reduced funding makes monetary prizes even more important to the writers whose books are awarded.