In April 2019, people around the world shared their grief when a fire ravaged the roof and steeple of the Notre-Dame cathedral in Paris. Many Aboriginal commentators offered condolences while also questioning why the cultural heritage of the Djab Wurrung people was not held in the same regard: a highway upgrade threatens to destroy Djab Wurrung birthing trees that are also sacred, significant, and over 800 years old, but there has been little attention to the issue from mainstream media.
'Whose losses do we grieve?' a New York Times article asked.
Cultural heritage is at the centre of some of the most heated and important public debates in Australia as this country reckons, falteringly, with its settler-colonial context.
In 2019, Deakin University's cultural heritage and museum studies program celebrated its 40th anniversary – the largest and longest running program of its kind in Australia. Debates around who we are and what we value have long fuelled this area of study.
'The museum world and heritage world is dramatically shifting in the context of settler-colonialism,' lecturer Dr Billy Griffiths tells ArtsHub. 'Whose heritage is it, who gets to decide the value of heritage, what is heritage? These are the questions we explore in every unit throughout the course.'

Alumni celebrate the 40th anniversary of cultural heritage and museum studies at Deakin.
Deakin's program offers various courses at the postgraduate level, suited to recent graduates interested in moving into this field, mid-career professionals keen to consolidate their hands-on experience, or those simply looking for a career change. Students can expect to gain a strong understanding of museums, heritage, and their place in society and to learn how to develop exhibitions and manage collections.
'The point of heritage is that it's as much about the present and the future as it is about the past.'
'A common misconception about heritage is that it's dull, old, and in the past. The point of heritage is that it's as much about the present and the future as it is about the past,' says Griffiths, who is also the author of Deep Time Dreaming: Uncovering Ancient Australia, a non-fiction title which won Book of the Year at the 2019 NSW Premier's Literary Awards.
The program aims to provide a balance of vocational skills and critical inquiry, equipping students with both a working knowledge of the various frameworks and protocols around heritage, as well as the skills to step outside those guidelines and think critically about how they could be better.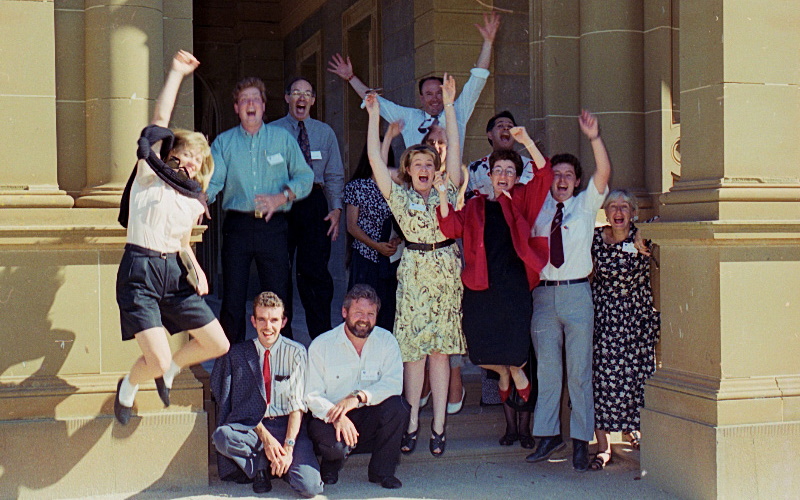 Deakin celebrating the 10th anniversary of its cultural heritage and museum studies program in 1989.
Over the last half century, Griffiths says, we've seen heritage emerge as a distinct idea in Australia, and one worth fighting for. 'It reflects what is valued in our society, what matters, and we've seen a transformation from protecting mainly built heritage or historic houses to recognition of myriad other forms of heritage, such as cultural landscapes and intangible heritage,' he says.
With each decade, there has been more legislation, protection and collaboration around heritage; greater recognition of Indigenous heritage including repatriation and the introduction of cultural protocols; and growing appreciation for intangible heritage such as traditional knowledge or cultural practices – from ways of singing to funeral rituals.
'I think we're seeing museums across the world transform the way they relate to their collections, and that includes repatriation considerations, that includes going into digital heritage, and opening access to these collections,' Griffiths says.
'There's a shift in the role of the museum from being a place of authority that protects what is worth knowing about to becoming a more open place, which is mindful of how it got the things in its collection, how these collections are compiled, and what its responsibilities and duties are.'
Explore Australia's longest running and largest cultural heritage and museum studies course at Deakin University, where you will learn with experts in the field and study with like-minded professionals.