Entering its 17th year, the Sunshine Coast Art Prize (SCAP) centres on the vision to build a significant collection for an engaged regional audience.
Inviting 2D works of all mediums and innovative approaches, entries are currently open (until 9 May) for the prize's major $25,000 acquisitive award.
'The Sunshine Coast Art Prize was developed through local philanthropists and galleries campaigning with Caloundra Regional Gallery for a national art prize for the region, (and) to help build a significant collection for the Sunshine Coast,' explained Nina Shadforth, Collections Curator of Sunshine Coast Council's Caloundra Regional Gallery.
'Collections are an anchor point for cultural tourism … it's about civic pride, and it enriches the community's cultural landscape,' Shadforth added.
SCAP is a major part of Sunshine Coast Council's collecting strategy, which now includes winning works by Raquel Ormella (2017), Michael Cook (2016) and Diena Georgetti (2019), among many other artists who continue to be at the forefront of contemporary Australian art.
A regional collection of national significance
Seeing the prize and the collection expand over time has been one of the most rewarding aspects of curator Nina Shadforth's 16-year career in Sunshine Coast, after moving from Melbourne.
'Sunshine Coast is a big region with a high concentration of creatives,' she said, 'and each year we receive well over 400 entries for the art prize across the country.'
The Sunshine Coast Art Collection now numbers over 800 works, including winning works of the inaugural Sunshine Coast Art Prize in 2006 by one of the foremost Nyoongar artists, Shane Pickett (1957 – 2010).
The Collection also houses the only complete set in Queensland of nine photographic works by contemporary Aboriginal artist Tony Albert, which have been loaned out for the IDEN-DEFY exhibition last year at Caboolture Regional Gallery and Pine Rivers Art Gallery, and featured in Contemporary Voices at Gladstone Regional Art Gallery and Museum.
'Having the focus [of the prize and collection] on contemporary Australian art gives us the opportunity to acquire a high calibre of currently practising artists, and we are working with some rigor at the moment to build the holdings of local First Nations artists, particularly by Kabi Kabi and Jinibara peoples,' said Shadforth.
She added: 'The prize's main impetus is to build the Collection, but it's also a great device for visibility of the vibrancy of the Sunshine Coast arts and culture.'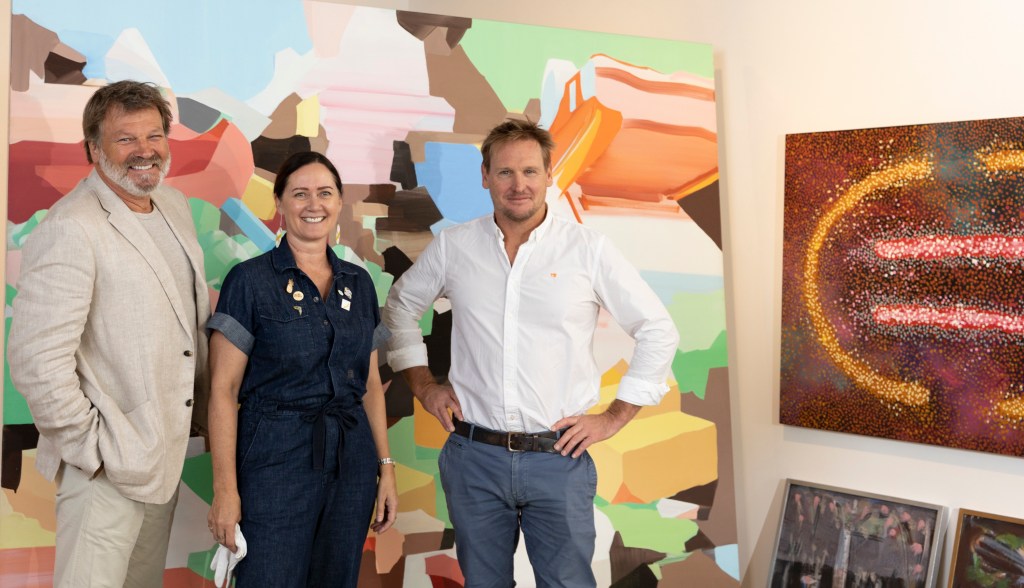 In addition to placing works from the Collection across the region in libraries and public spaces, Shadforth also curates the Latest and Greatest exhibition every two years, which provides a snapshot of new acquisitions and works that have recently entered the Collection.
Mostly importantly, she said it's about changing the perception and 'sending out a message that Sunshine Coast isn't a cultural wasteland, it is a really vibrant cultural hotspot.'
Art and business as an interconnected ecology
The major acquisitive prize of SCAP is supported by homegrown business Argon Law. The firm's Director, John Gallagher, told ArtsHub of the positive ecology that they hope to achieve through this sponsorship initiative that began in 2019.
'We have a passion for the arts and believe that any healthy society has to have a thriving arts sector,' said Gallagher. 'Sunshine Coast Art Prize ticks so many boxes – it's a cultural offering which brings art to the community but also creates this legacy for future generations. It's great to feel that we're contributing to that growing wealth of art in the Collection.'
Gallagher himself has strong ties with the arts; going to galleries was part of his childhood, he is a regular visitor of the Caloundra Regional Gallery and his life partner is a sculptor and printmaker.
'Visiting the gallery is one of the things that I try and excite people about,' he said, adding that he hopes one day it will become just as popular as visiting the cinemas.
In addition, the law firm and Gallagher are strong advocates for leaving a legacy to the arts through wills and bequests which help strengthen the future of Sunshine Coast's arts ecosystem.
The national focus is another significant part of the regional art prize, said Gallagher. 'It honours local artists but is also exposing locals to the latest artistic endeavours from all around the country. It's getting that cross pollination of ideas and trends which is absolutely essential.'
Speaking to the unwavering support from sponsors such as Argon Law and philanthropists, Shadforth said: 'A unique point about regional galleries is that the people who work in them have great passion – they want to see arts and cultural experiences really quite visible in the community. And then you've got the local businesses and philanthropists that really jump on board and support it like the De Deyne Family who sponsor the Highly Commended award. Without that mix of people, a cultural landscape wouldn't be possible.'
Pointers for entering the Sunshine Coast Art Prize
In addition to SCAP's major $25,000 acquisitive prize (sponsored by Argon Law and Sunshine Coast Council), 40 finalists will be in the running for the $5,000 Highly Commended prize (Sponsored by the De Deyne Family), $2,500 People's Choice prize (sponsored by Caloundra Chamber of Commerce), and the Artist Residency award (sponsored by Montville Country Cabins and the Gallery). There's also an opportunity for two of the finalists artworks to be chosen for the Coastline BMW Art Cars.
Shadforth is looking forward to seeing how this year's entrants will once again push the boundaries of two dimensional works. QAGOMA Curator Ellie Buttrose will also be joining as the guest judge.
'We're looking forward to Ellie joining us, and what we're relying on is her substantial knowledge and experience of contemporary Australian art. We are building a significant collection in Sunshine Coast for years to come,' Shadforth added.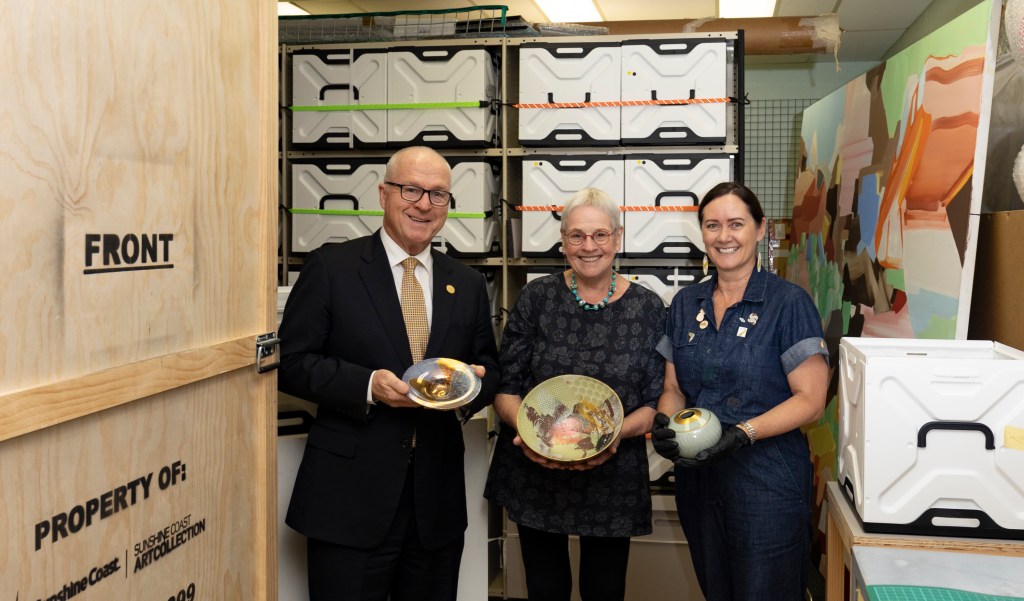 In relation to SCAP guidelines, Shadforth pointed out that 'works must fit the criteria – it can't be more than 155cm long on any edge, or deeper than 5cm, but it can be any media, such as textiles, photography, painting, or even a plaster relief.
'The other unique thing about this prize is that we are one of the few that cover the freight of the finalist artworks to and from the gallery, with the support of International Art Services,' she added.
Shadforth concluded with a pro tip for artists entering the prize: 'Have professional photographs taken of the work. If it's not high resolution, it could be to their detriment in the selection process.'
The Sunshine Coast Art Prize is open for entries until 9 May with the finalist exhibition running from 26 August – 16 October at Caloundra Regional Gallery. Visit the Sunshine Coast Art Prize website for more information.