Yamatji-Noongar storyteller and artist Aunty Rhonda Collard-Spratt wants to bring joy and hope to children with her new children's book, Grandfather Emu and How the Kangaroo got her Pouch.
To be published in June by Queensland's Boolarong Press, Grandfather Emu tells the story of Grandfather Emu, also known as old Weitj, who can hardly walk or see. The book asks, of all the bush animals, who will lead old Weitj to the creek for food and water?
'Cultural knowledge, language and the Dreaming are being acknowledged in the book.'
– Aunty Rhonda Collard-Spratt
A respected representative of the Stolen Generations, Aunty Rhonda works tirelessly with young people, helping them reconnect with their Aboriginal identity. Her lived experiences growing up on a Native Mission in remote Western Australia have informed her storytelling, and her new book teaches children important lessons about helping one another.
Taken from her family at the age of three, Aunty Rhonda learned Dreamtime stories from other Aboriginal children, her mission brothers and sisters.
'You know, I feel proud that actually I've got some knowledge of Dreamtime – I don't have it all, but I just learned from the kids I grew up with, and I've got a good memory. I'm 70 this year and [writing this book has] been a healing journey for me,' she said.
The art featured in Grandfather Emu is also Aunty Rhonda's work. Coming from a long line of storytellers, artists, and musicians, she said that, while painting, her hand was guided by her ancestors.
'I love doing the paintings. It just all comes out from my heart and from my spirit. Nothing is planned. It's like my ancestors are guiding me on my mother's side. I never knew my family, yet they were all musicians and storytellers,' she said.
'Cultural knowledge, language and the Dreaming are being acknowledged in the book.'
Grandfather Emu incorporates terms from the Noongar language of which Aunty Rhonda is very proud.
'All my life, I thought I was just a Yamatji woman. But then, I found out that my father was a Noongar man from the Perth area, and then I married a Noongar man and he speaks the language fluently. So I learned it off him.'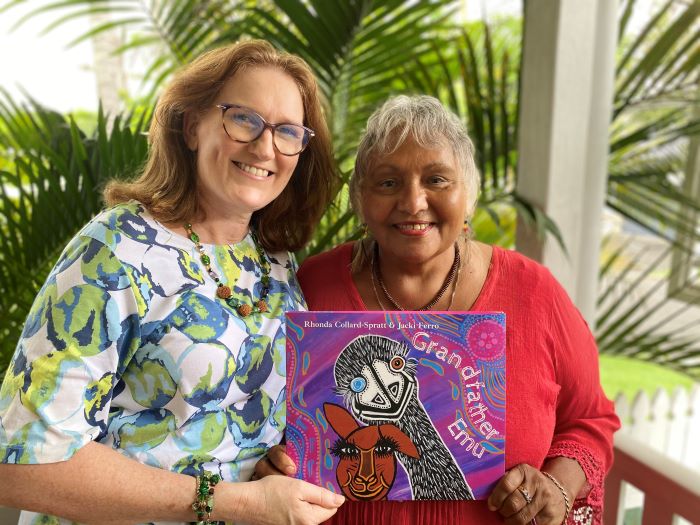 Co-Author Jacki Ferro, Co-Author and Illustrator Aunty Rhonda Collard-Spratt. Photo by Emily Kelly, and Boolarong Press.
A collaborative effort with close friend, Brisbane writer Jacki Ferro, Grandfather Emu was envisioned during the COVID-19 pandemic.
'We wanted the story to be positive, uplifting and fun. In 2020, everyone was so down, so we wanted to bring joy, especially to Aboriginal children, and also to families in the wider community,' Ferro said.
THE RICH HISTORY OF BOOLARONG PRESS
Championing Australian writers since 1976, Boolarong Press has published a number of significant books about Queensland history. With over 450 titles in print, Boolarong is committed to publishing the Aboriginal history that was missing from many Australians' education.
The classic Queensland title Tom Petrie's Reminiscences of Early Queensland – a first-hand account of Aboriginal life in and around South-East Queensland – was published 1904 by Boolarong's sister company, Watson Ferguson & Company.
Boolarong has republished Petrie's book, as well as Noel Loo's book Invasion and Resistance. Loo's earlier bestselling book was on the life of Edi Mabo and more recently, Dr Ray Kerkhove's books Aboriginal Campsites of Greater Brisbane and The Battle of One Tree Hill have been published, along with a revised edition of Brisbane: The Aboriginal Presence 1824-1860. In June, Boolarong will be publishing Queensland Frontier Wars, which will help more Australians understand our true history.
Children's books have been very successful for Boolarong Press with The Outback Series by Norah Kersh in print for over 15 years. More recently, Aboriginal children's authors such as Rhanee Tsetsakos, an Adnyamathanha woman (Walking to Corroboree), Rebbeca Chapman, a Wiradjuri woman (Bila's Big Dance) and Uncle John Long, an Ugarapul man (The Saga of King Waa-Gun) have been telling their stories, which have been passed down for generations.
Championing Australian writers since 1976, Boolarong Press has published a number of significant books about Queensland history.
General Manager of Boolarong Press Dan Kelly said, 'I was educated by the Christian Brothers in Queensland. I cannot recall any of my history books mentioning the Aboriginal massacres that took place throughout Queensland.'
Grandfather Emu's publication will add to the sum of knowledge of all children living and growing up in Australia, now and in the future. Always looking to give back to the community, Boolarong Press will make a donation to the Indigenous Literacy Foundation on the purchase of every book for Grandfather Emu.
Aunty Rhonda asks children to be kind to one other. 'We should care for people, we should be kind,' she said.
'Be thoughtful, and caring, and think of others. And also, it's about caring for the animals and all other living life, and to care for Mother Earth. Respect the waterways and respect yourself. Listen to your elders with respect and hear what they say. Respect everyone around you because we all have feelings. We all hurt. We all cry salty tears, we all bleed red blood,' she said.
'Treat each other as you would want to be treated. That's the real teachings, I guess, in every culture.'
Grandfather Emu (RRP $29.99) is available for pre-order and will be published on 1 June 2021 by Boolarong Press.