2023 is expected to see the arts sector in full swing, brimming with opportunities for young emerging creatives to step out into the world and embark on new adventures.
Administered by the Australia Council on behalf of Perpetual as trustee, the Dal Stivens Award and the Kathleen Mitchell Award both support authors aged 30 or under. Together they encourage writers who have recently published works to step up and accept the recognition they deserve, while also receiving $15,000 in financial support.
These are vital opportunities for early-career artists in boosting their confidence and extending the possibilities of their practice, says 2021 Dal Stivens Award recipient, Patrick Gunasekera.
Gunasekera is a queercrip Sinhala interdisciplinary artist whose practice centres on disrupting white and settler knowledge systems across writing, visual media and performance.
He tells ArtsHub: 'I was in the very early stages of my career when I submitted a 10,000-word personal essay – that was developed through the Midsumma Festival – to the award. It was very challenging for the first few years to have a presence in the industry, having this very underrepresented voice and being very open about the systemic problems in the industry that I was facing.'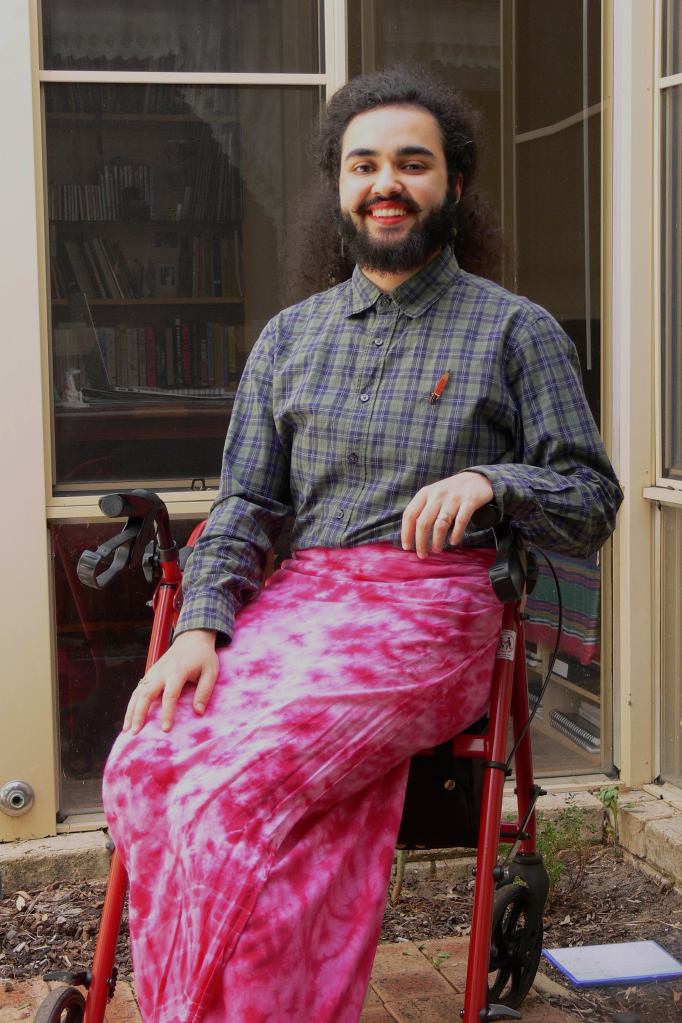 Gunasekera received the Dal Stivens Award at a time when he was on the verge of giving up his arts career, marking a pivotal point in his practice that otherwise may have meant the loss of a promising young leader in the industry. 'When I received the call from Australia Council to say that I had won the award, I was just taken over by this beautiful feeling of strength and appreciation, because having a very marginalised voice was something that people either love or hate,' says Gunasekera. 
'It was a turning point for me as an autistic writer as well, because I had never written so long and been so ambitiously authentic. One of the things the award really helped me with was actually discovering what I needed as a practising artist, a moment to step back and work out the kind of workflow, hours and structures that were sustainable.'
The legacy of Dal Stivens also gave Gunasekera more strength and confidence to pursue the work of advocacy. It was something that he was already passionate about, but he says he now has a more rigorous sense of engagement, which he hopes will also benefit others in marginalised communities.
To all the young artists trying to make their stand in the world today, Gunasekera's word of advice is, first, to remember that 'our worth as artists is not defined by the money that we get or the acknowledgement that we receive from the industry'.
'All the work that we make has an impact on someone in some way. If you've created something that you've never seen presented before, and that's what you believe in, then keep going because you never know how many doors that will open up for other people,' he says.
For those that are looking to apply to the awards, he adds: 'Don't be afraid to take yourself seriously and put yourself out there for these kinds of opportunities, because that's what people will see, that courage.'
Alongside these two awards for writers, Australia Council offers other opportunities, including the Travel Fund for Literature, with applications opening early 2023, and Arts Projects for Individuals and Groups with applications now open. 
Practitioners aged under 35 looking for travel opportunities can also consider applying for The Marten Bequest Scholarships, which offer $50,000 across two years to support artistic development interstate and/or overseas for young artists.
Art categories eligible for the scholarships include acting, ballet, instrumental music, painting, poetry, prose, sculpture, architecture and singing.
Ready to take the next step for your practice? All applications for the Dal Stivens Award, Kathleen Mitchell Award and The Marten Bequest Scholarships close on 7 February 2023. Find out more.
The Dal Stivens Award was established in the will of Juanita Cragen in 2007, a tribute towards the prolific Australian writer Dal Stivens (1911–1997) and founding President of the Australian Society of Authors in 1963. 
The Kathleen Mitchell Award was established in 1996 in her will and aims to foster young writers and the advancement of Australia literature. 
The Marten Bequest was established through a charitable trust in the name of theatrical artist John Chisholm Marten (1908–1966), who was well-known for being a strong advocate for the artistic capabilities of young Australians.