Andrew Brown, Professor of Digital Art at the Queensland College of Art (QCA), Griffith University, is always excited to welcome new students to campus each year. And 2021 is no exception.
'There's an amazing potential in each one of those students to really have a positive impact on the world, and for QCA to help them achieve that positive impact by giving them the skills, abilities and connections to realise that potential,' he said.
Innovation in design is one way the world is changing. Potentially for the better.
Think, for example, of products made from recycled materials or the push for better circular design that embraces reusability over single-use.
'Almost everything in the world is designed one way or another,' explained Professor Brown. 'The artifacts that we work with, the systems that we operate within, and the way in which our entire world operates, all of those things are designed. And so, by influencing those things, design can influence everybody's behaviour and the way in which they act in the world.'
This belief inspires students at QCA to embrace new design technologies and opportunities. There's even an elective designed to do just that – the Griffith Innovation Challenge, a multi-disciplinary, elective course available to all undergraduate students where they develop an idea for a new product, service or business model that has the potential to make a positive difference.
In the 2019 Griffith Innovation Challenge a team of students from across different disciplines came together to solve the growing issue of plastic pollution, they developed a recycled plastic filament that can be used in 3D printing called Envirofil. Currently, there are no Australian manufacturers of recyclable plastic filaments for 3D printing, and only a handful of companies who produce it worldwide. For seeing a gap in the local market and offering an innovative and sustainable solution, the students won.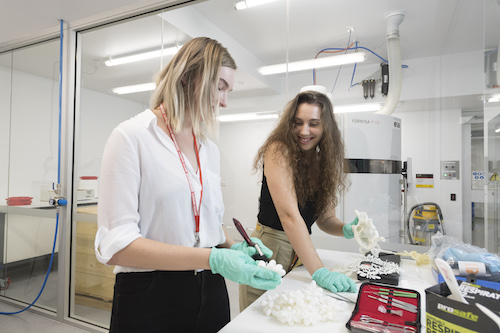 Students make the most of upgraded 3D printing facilities at Queensland College of Art, Griffith University. Image supplied.
'We've been focusing on making sure students have access to the most up-to-date manufacturing processes, like laser cutting and 3D printing and other workshop facilities,' said Professor Brown.  
Collaboration is key to the success of design students at QCA. The degree structure enables cross-discipline teamwork and students can choose electives outside of their chosen area of study to develop skills and knowledge in different areas. This includes subjects within both the creative arts and across the rest of the university engineering, entrepreneurship or business.
'We offer a double degree with business, so there's a Bachelor of Design and Bachelor of Business double degree. And there's a lot of good collaborations with businesses as a result of that. But also, in the creative arts sector, particularly on South Bank campus, we've got the Conservatorium of Music and the Griffith Film School nearby. And so, there are opportunities for Queensland College of Art students to work with other students in those disciplines on different projects as well,' said Professor Brown.
So how do you prepare emerging designers for their future careers? The ethos at Griffith University is to learn by doing. This practical focus helps students to test their ideas and have real workplace experiences before graduation.
'We have a really big focus on students learning by doing the design and then surrounding that experience with theoretical and social values and ideas as they go. We're really focused on making sure that we're producing practical designers who are ready for experiences out in the world and that they have lived experience of doing that, not just talking about it or reading about it,' concluded Professor Brown.
Visit the Queensland College of Arts website to find out more about studying design at Griffith University.