The Gallipoli Art Prize is 'absolutely not' about war and war-themed art, according to John Robertson, Director of the Gallipoli Memorial Club.
'The aspects that we're looking for – loyalty, love of country, courage, comradeship – can be expressed any number of ways,' Robertson told ArtsHub.
'In 2020, for instance, quite a few entrants reflected on the bushfires and the attributes displayed by the brave firefighters, including the winning entry.'
Nor do entries need to directly reference the Gallipoli Campaign, or indeed any military campaign in which Australian servicemen and women have fought.
Instead, the $20,000 acquisitive prize (which is open to artists who were born in Australia, New Zealand or Turkey or who hold Australian, New Zealand or Turkish citizenship) encourages entrants to respond imaginatively to the Gallipoli Memorial Club's creed, which states:
'We believe that within the community there exists an obligation for all to preserve the special qualities of loyalty, respect, love of country, courage and comradeship which were personified by the heroes of the Gallipoli Campaign and bequeathed to all humanity as a foundation for perpetual peace and universal freedom.'
Robertson encourages artists who are considering entering the prize to explore the emotional resonances of the creed and to invest their work with the spirit of Gallipoli rather than overtly and directly referencing the events of 1915.
'We're always looking for interesting and innovative interpretations [of the creed],' he explained.
By way of example, Robertson pointed to works entered into the Gallipoli Art Prize in previous years, which found inventive ways to reference the bravery of ANZAC without falling back on clichés.
'In 2019, War Pigeon Diaries won and that included reproduction of photos taken by pigeons with pigeon-mounted cameras behind enemy lines. So if you're depicting bravery, for example, it doesn't even have to be human orientated, there can be other ways of portraying it.'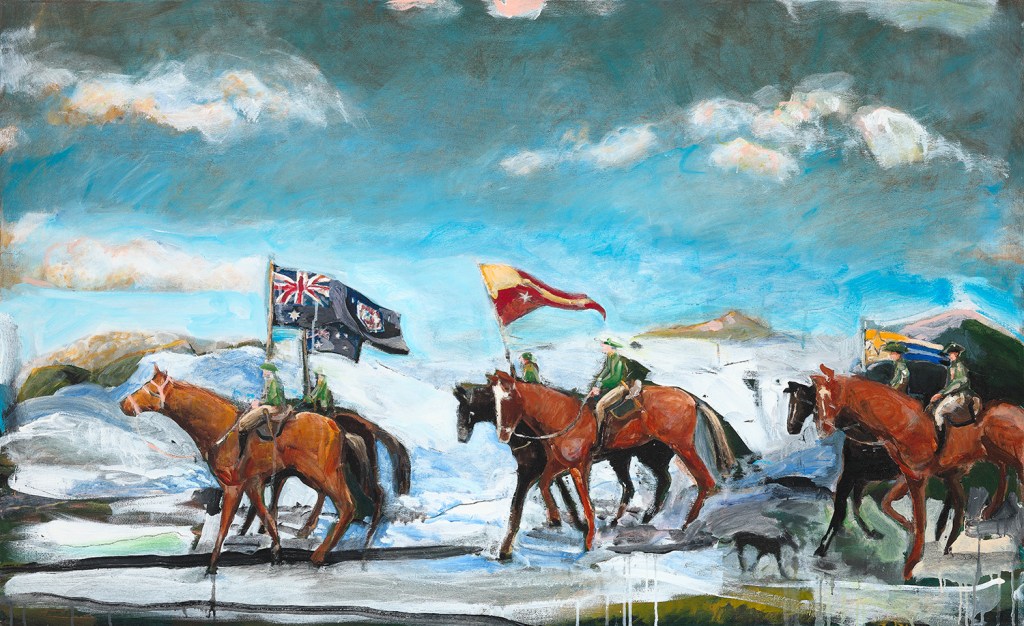 The sense of innovation encapsulated by some of the winning entries in recent years is also reflected in the presentation of the Gallipoli Art Prize online.
Due to the disruptions of COVID-19, recent finalists' exhibitions pivoted to a virtual exhibition, allowing viewers to explore the works digitally. In order to ensure accessibility for veterans and the elderly, as well as to ensure the 2022 exhibition can be viewed nationally, a virtual walk-through of the exhibition will again be staged.
'We're an Australia-wide competition – worldwide, even, because we accept entries from New Zealand and Turkey – so we want people from anywhere in Australia or the world to be able to see the exhibition virtually,' Robertson said.
'The technology's quite mind-boggling, the way you can get a 3D image of an art gallery and walk around inside it and look around online – it's very flash,' he chuckled.
Entries to the Gallipoli Art Prize must be executed in oils, watercolour, acrylics or mixed media in order to be eligible, though as past entries have shown, innovative responses are welcomed.
'One finalist's entry was gold leaf on cardboard, with a blowtorch used to burn and cut the cardboard. And we had an entry two years ago, which didn't make the finals, but certainly was a reasonable entry, featuring sand and charcoal from Afghanistan, from the war zone there, on canvas. So as you can see, we interpret mixed media fairly broadly,' Robertson said.
Entries to the 2022 Gallipoli Art Prize are now open.