Photo by Robert Catto.
Ben Duncan (Kelton Pell), head of the Duncan family, arrives on Big Dog Island with his beloved wife, Stella Duncan (Tammy Anderson). It's the beginning of muttonbird season and this year's family visit will unearth secrets long buried. Though The Season delves into heart-wrenching topics it moves at a rolling pace, filled with humour and warmth.
The Duncan family reunite on the Duncan's ancestral spot on the island. Ben is feeling the end of his reign drawing near as he teaches son Ritchie (fan-favourite Luke Carroll) and grandson Clay (played with immense vulnerability by newcomer James Slee) the Duncan ways of muttonbirding. The playful animosity between Ritchie and his cousin, Senior Ranger Richard Hadgeman (Trevor Jamieson) reveals the ever-present undercurrent of land rights and ownership.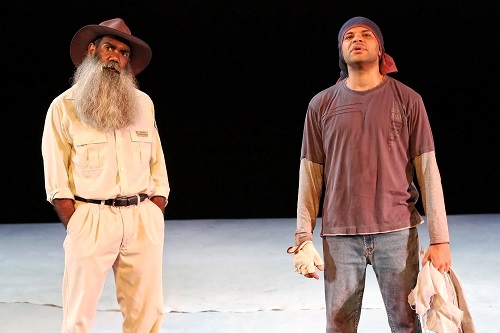 Image: Trevor Jamieson and Luke Carroll in The Season. Photograph by Prudence Upton.
Carroll is a discerning actor and his genuine warmth shines throughout; I anticipate a long and illustrious career as a cherished Australian artist in the years to come.
The family matriarch, Stella (played superbly by Anderson) is a strong woman who holds her family's respect in return for fierce love and loyalty. The endearing but fraught relationship between Stella and her sister, Auntie Marlene (played with incredible humour by Lisa Maza) is another thread in this family drama that the play also explores.
Lou Duncan (Nazaree Dickerson), Ben and Stella's daughter and the mother of Clay is harbouring a secret which she worries might change her family's perceptions of her. Dickerson is an engaging actress and played Lou with sincerity.
I will never forget the hush that fell over the theatre as Ben tells his grandson about the Maynard family's history. Pell silenced the room with his heart-wrenching line: 'The white fellas, they tried to take us – tried to mix our folks with theirs and breed the black out of us.' Ben's parents had the foresight to send their children to Tasmania – but this was not the fate of countless others.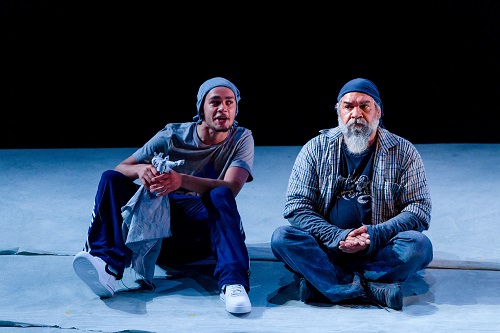 James Slee and Kelotn Pell in The Season. Photograph by Prudence Upton.
Much like the scene described, writer Nathan Maynard's script is an epic family yarn that reveals the everyday struggles of not just an Indigenous family but families everywhere. The Season is peppered with small moments that contain larger undercurrents. Such stories are universal and to see these stories told through the lens of important and marginalised voices really excites me about the future of Australian play-writing and writers in their different forms.
It's no surprise that Maynard is being encouraged and supported by Tasmanian elder, Uncle Jimmy Everett, to become one of the storytellers for his peoples, as he has written a brilliant narrative that needs to be told on screen with the exact same cast. The swelling crowd indicated on the night that audiences are thirsty for real Australian narratives. The Season shows us that Indigenous stories need to be part the permanent mainstream landscape.
Rating: 4 stars out of 5
The Season
Presented by Tasmania Performs as part of the 2017 Melbourne Festival
Written by Nathan Maynard
Directed by Isaac Drandic
Dramaturge: Peter Matheson
Set and Costume Designer: Richard Roberts
Lighting Designer: Rachel Burke
Sound Designer: Ben Grant
Producer Tasmania Performs
Actors: Kelton Pell, Tammy Anderson, Nazaree Dickerson, Luke Carroll, James Slee, Lisa Maza and Trevor Jamieson

The Coopers Malthouse, Southbank
12-15 October 2017
The reviewer acknowledges the traditional custodians of the land, the Wurundjeri people of the Kulin Nation, on which this review was written.