Keg de Souza, Things I learnt in a hot tub; supplied

What happens when you take five Nordic artists and offer them residencies in rural/remote West Australia? Likewise, what about placing six Australian artists in Finland, Iceland, Denmark or Sweden? Spaced 3: north by southeast does just that, as part of Art Gallery of Western Australia's (AGWA) Rebels, Radicals and Pathfinders series.
The series posits the questions: What would the outsiders' fresh eyes make of our local environments and communities? And what would we make of theirs?
As the gallery explained: 'Using sculpture, video, photography and installation, this show is an enlightening series of windows onto the world we know, and the world we have yet to understand … The decision to place artists in regional and remote locations is motivated by the fact that even small and seemingly isolated towns are affected by global economic, environmental and social forces.
'The interplay between the strong sense of local identity, which is typical of these communities, and the effects of globalisation provides a fertile ground for artists to explore.'
Spaced 3: north by southeast was organised by the WA-based International Art Space (IAS). This exhibition concluded the three year project (2016-18). For more on the project visit the bespoke website.
Alternative narratives of the future
Spaced 3 is shown alongside the jewellery exhibition Beyond Bling in adjacent galleries. Walking through it, it is easy for one's eyes to be drawn to a series of banners by artist Deborah Kelly in Spaced 3 – that sideways glance, that 'quick peek' turned out to be an hour long, plus a return to the gallery to spend more time with the exhibition in the days that followed.
Deborah Kelly went to the Kirsten Kjaers Museum in remote north-west Denmark and he alternative community of Thy-Lejren created in the 1970s as a site for experimental living. Here she ran several workshops asking participants "to imagine a future". It was interesting to hear Kelly say that many people found the task difficult. She surmised that people were having enough problems getting through each day without worrying about the future.
Those who did, produced some thought provoking images of menacing dinosaurs, ethereal mermaids and triple breasted apparitions, to name a few. Kelly turned these images into a dozen beautiful, eerie, eye-catching banners – emblematic and powerful in an any environment.
Installation view Art Gallery of WA, Deborah Kelly; Photo Glennys Marsdon

Robyn Backen visited a glassworks factory in Rejmyre, a small country town in Sweden facing a dwindling population. In her piece, Backen explored that magical moment of the day when the sunlight hits a barn wall and casts shadows on the ground. In Reimyre the barns are wooden, not like our corrugated iron, consequently the gaps between the slats make far more interesting shadows.
After replicating this image in her piece, Barn Wall – I Am Gla[(s)d, Bracken invited people to trace the hidden words in chalk as they appeared on the ground. In an interesting comment about the impermanence of life, the words remained on the ground until the weather or street life saw them disappear.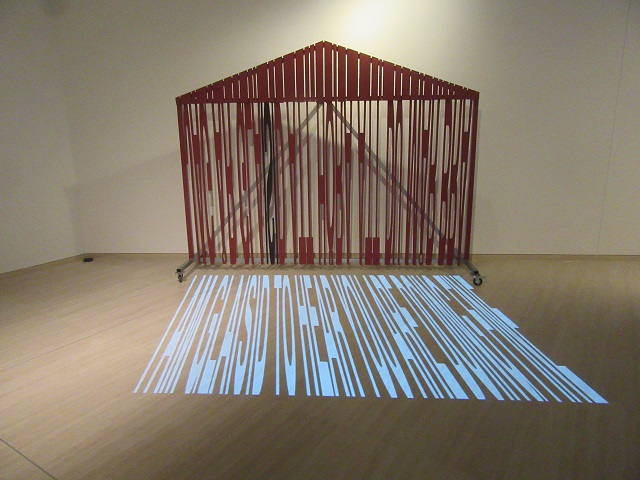 Installation view Art Gallery of WA, Robyn Bracken; Photo Glennys Marsdon

Relocated to AGWA, the installation commands attention as the words move across the gallery floor echoing the moving of the sun. As I tried to make out the words I witnessed something you don't often see in an art gallery, patrons young and old, lying on the floor trying to decipher the words.
Equally commanding was the second piece by Backen, I Am Jet Black Glass. This piece presents a single row of identical black glasses. At first you wonder about their relevance but then the projection kicks in and a series of sentences play out. One glass has started to speak. The result is a clever reminder of our own uniqueness, and that instead of blending, we need to stand up and present the world with our own voice.
Things I learnt in a hot tub
Keg De Souza ventured to Skagatrond, a small fishing village with less than 500 residents, and was taken in by the importance of the Icelandic hot pools. Finding it difficult to connect with strangers, she took herself off to a public hot pool. There she discovered they are not just for relaxing. She found they were places to share local knowledge about the fishing industry, to discuss social issues like the economy, displacement and to do business as well as to gossip.
Sitting in the makeshift spa in the gallery space and reading the comments outlined in front of me, I was transported to a time of shady deals being cemented in wood-lined saunas.
Installation view Art Gallery of WA, Keg de Souza, Things I learnt in a hot tub; Photo Glennys Marsdon

But what about the artists coming to Australia?

In the second gallery space I was drawn to another set of banners, this time by Linda Persson who travelled to Leonora. Using mixed media, Persson explored the blending of cultures, particularly the indigenous population and migrants who arrived with gold-lust in their eyes.
To me the wheels and cogs on display represented how the parts in any relationship are constantly shifting, being moulded into something new that everyone can live with, to make the whole work.
Architect Tor Lindstrand ventured to Balgo, six hours from Halls Creek, where he visited the Warlayirti Artists Aboriginal Corporation and researched the old mission, spending time in the East Wing of the Girls Dormitory.
Like many, Lindstrand was taken by the vastness and stillness of the environment, but also the busy 'hectic' lifestyle of the 400-strong community. This contrast shows up in his display, which is a combination of architectural drawing and aboriginal paintings.
Presented side-by-side in the gallery, Lindstrand's work made me consider the architectural plans in a different light. They looked like a marriage between usual architectural drawings and aboriginal dot paintings, the trees represented as dots. It was interesting to read that during his time in Balgo, Lindstrand began questioning the benefit of enforcing architecture on culture.
Heidi Lunabba took up residency at the Wangaree Art Centre in Lancelin where she immersed herself into the local community. There she explored cultural norms and how they limit us. Through casual conversations with local community members she produced a series of considered reflections about life in a small town. Some of the themes touched on included sexuality, depression, ageing, and disability.
Overall, Spaced 3: north by southeast is a fascinating look into the commonalities shared across borders. The importance of community shone through, particularly how much we rely on each other regardless of our position and circumstance in the world.
When visiting this exhibition, I strongly recommend you start by checking out the maps outlining where the artists came from and went to, and a space created at the end of the exhibition where you can listen to the artists' recollections about their experiences.
Rating: 4.5 stars ★★★★☆
Art Gallery of Western Australia, Perth
2018- 7 January 2019
Participating Artists: Robyn Backen (NSW), Michelle Eistrup (Denmark), Gustav Hellberg (Sweden), Deborah Kelly (NSW), Danius Kesminas (VIC), Tor Lindstrand (Sweden), Heidi Lunabba (Finland), Dan McCabe (WA), Linda Persson (Sweden), Keg de Souza (NSW), Sam Smith (NSW).
Free