The cast of the National Theatre production: Julie.
The problem with a story about a sexual relationship transgressing class or racial boundaries is that these days, in modern western society at least, few would give a rat's. So unfortunately, despite a fine performance from Vanessa Kirby (she who nailed the role of Princess Margaret so well in The Crown on Netflix), there simply aren't the stakes in National Theatre Live's Julie to make you care about her wanting to scarper with her father's black chauffeur.
Polly Stenham's adaptation of Strindberg's 19th century play, Miss Julie, directed by Crrie Cracknell, might have made some dramatic sense if Kirby was still the Princess Margaret wanting to run off with one of the royal family's black chauffeurs (as opposed to just shagging them.) Does The Firm even employ 'coloured people'? Probably not. Would we care? Probably not.
Julie is celebrating her 33rd birthday in her rich father's London townhouse. There's a lot of drinking and drug-snorting and stylised dancing, set in the background as upstairs with the kitchen downstage. Yeah, yeah. Them downstairs, Jean (Eric Kofi Abrefa) and his Brazilian fiancé, Kristina (Thalissa Teixeira) are holding the fort. Kristina and Jean care for Julie and are concerned that the spoilt heiress is being used by all her party-going pals.
Julie is emotionally fragile yet possesses a massive sense of entitlement. She commands much loyalty from Kristina, so willing to bustle about attending to her every need while Julie drapes herself over the kitchen table. When Julie, hiding out from her party in the kitchen and unmoored after a break-up, insists that Jean remove his jacket then dance with her they end up having sex. Again, yeah, yeah. Is Jean after her money? Possibly; he vacillates, and if he does have ulterior motives, Julie puts him to the test by giving him to understand that her wealth is tied up in trust and unavailable.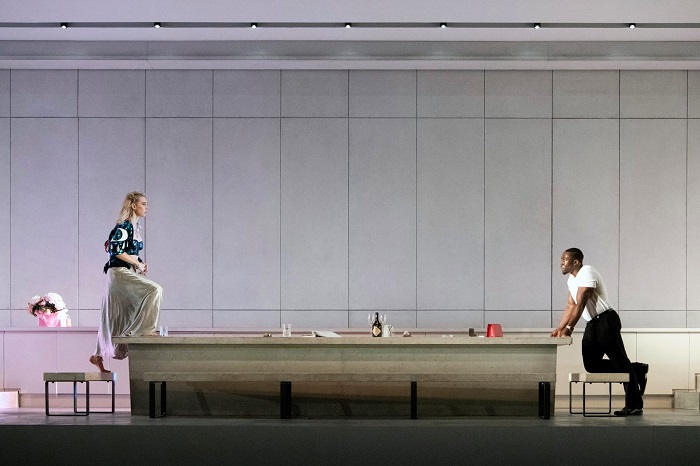 Vanessa Kirby and Eric Kofi Abrefa feature in the cast of the National Theatre production: Julie.
Kirby gives us a textured, emotionally complicated Julie, one who's flippant and fragile in turns. She's monstrous at times, especially to Jean. But it's not enough. Also, in these times a servant's story might be more relevant and interesting to audiences than that of the bratty privileged. The caged bird bit provides a moment of modern comedic horror but it doesn't make real sense here, although it's meant to signify Julie's intensifying mental anguish.
When Kristina catches Jean and Julie in each other's arms, Julie tells her that she and Jean are planning to run off and open a restaurant in the East Indies. In fact, Julie suggests that Kristina could come too, the idea being that Julie briefly imagines she could set Kristina to work for her and Jean in the restaurant. The National Theatre audience laughs at this point. The audience at Cinema Nova didn't and afterwards a woman wondered why there was laughter from the London audience at Julie's suggestion. Is it that class dynamics are more at the forefront of the UK viewer's mind, thus the preposterousness of the suggestion and the unkind disregard on the part of Julie towards Kristina ring louder? It's funny because Julie is so selfish, but you also see her picturing some kind of ménage-à-trois which enables her to keep Kristina in her life because she needs her. Her sense of entitlement informs the suggestion and for a second Julie thinks it's possible.
For me, the tension between Julie and Kristina is infinitely more interesting than that between Jean and Julie. Julie treats Kristina like a friend, is affectionate and confiding, leans on her emotionally, yet Kristina is still the maid. There cannot be parity between them. Julie betrays Kristina by seducing Jean, sure, but the stakes could have been heightened here by more focus on the women's friendship and how trust is given and broken within an assumed and structural power dynamic. There's certainly more chemistry between the two women than between Julie and Jean.
So, it's good to watch Kirby and the other two are fine, but ultimately, meh.
3 stars ★★★
Julie
A new version of August Strindberg's play Miss Julie, written by Polly Stenham
National Theatre Live
Encore in selected venues