Installation view Design for Life: Grant and Mary Featherston Heide Museum of Modern Art, Melbourne. Photograph by Christian Capurro.
For most Australians, if the name Featherston means anything at all, it means a chair. My first thought when I heard about the exhibition at Heide was to imagine a line of chairs against walls, spaced like paintings, and wondering how that could be made sufficiently interesting to sustain a show. The story of Design for Life: Grant and Mary Featherston starts with the chair but it doesn't finish there. It turns out to be much, much more.
Before you descend the steps for the exhibition proper, your eyes are attracted to an intriguing anteroom to your left. It's the Featherston Design Studio. As inviting as it is, that experience is best saved for later, as you will see.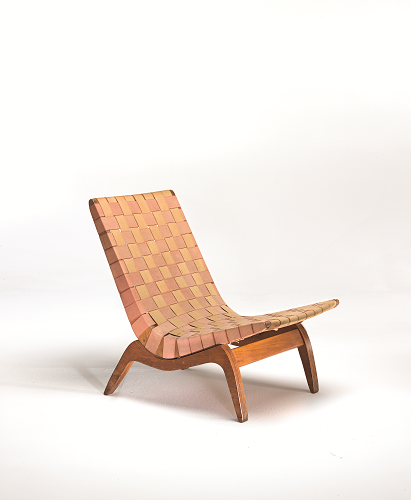 Grant Featherston Relaxation chair, 1947. Collection: National Gallery of Victoria © Grant Featherston/Licensed by VISCOPY, Australia.
Down the stairs and to the left are the chairs, the Relaxation Chair first, made in 1947 from laminated plywood, sponge rubber and wool or upholstered with cotton webbing. It could belong in any collection of Scandinavian designs. Influenced by the forms of nature and the theories of the Bauhaus, by May 1951 Featherston had patented the Contour Chair, developing his own technique of layering and bending the plywood laminate. By now, to the uninformed viewer, Grant Featherston takes on a much larger dimension, as a scholar, thinker, innovator, experimenter, manufacturer and an agent of social change. And we're barely into the exhibition.
This space has already proved how to make a collection of chairs interesting. First, the chairs are placed on raised platforms, to take them off the floor and elevate them as objects. Then, between chairs are the artefacts of nature that inspired him, the working drawings and sketches that show a decisive hand, and the large blueprints that become works of pictorial finesse. The speed of development in materials and techniques also impresses, such that by 1955, less than a decade into his career and aged 30, his work was acquired by the National Gallery of Victoria.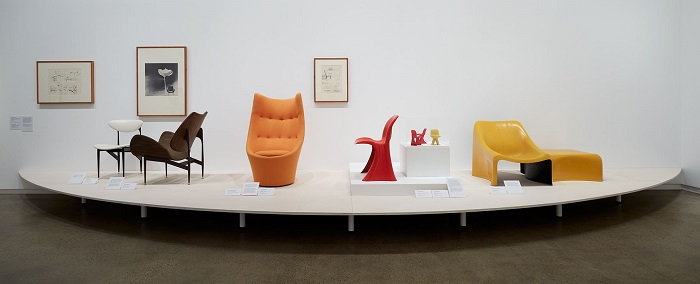 Installation view Design for Life: Grant and Mary Featherston Heide Museum of Modern Art, Melbourne Photograph by Christian Capurro.
Your eye then leads you to where the solo designer becomes two, when Grant established Featherston Design in 1965 with his wife Mary. A video, their personal collection of natural objects, and more designs tells the story of their partnership, beginning with the Expo '67 Talking Chair.
From there a stunning colour display proves their ability to be of the time in the funky Pop Art styles they explored together, extending their versatile use of materials to plastics in particular, but also glass, vinyl and steel in objects that anyone who has spent time in an office or a school will instantly recognise. Here you realise that knowing it or not, we have all had a Featherston in our lives at some point.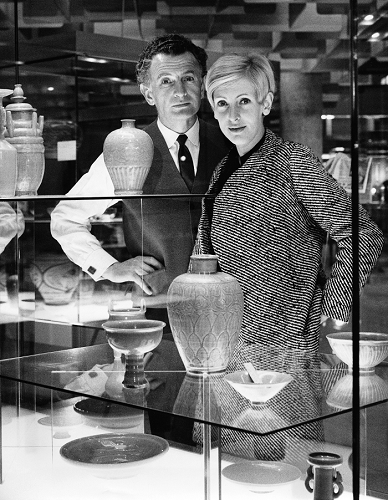 Grant Featherston and Mary Featherston in the National Gallery of Victoria's Oriental Gallery, 1968.
Ever the innovator and style leader, Grant Featherston is shown to have an instinct for promotion through major media events to launch product ranges, print advertising, product catalogues and a cinema newsreel.
So, how do you create an exhibition around a chair? You separate them into spaces to create a narrative sometimes chronologically, sometimes thematically, and give it a contemporary context, populated with drawings, objects, blueprints, catalogues, video, a newsreel, displays, sculptures, instruments and implements.
And when you're done, you come back to where the design took place: in the studio. Here, with all the tools of their studio on shelves, you get to make your own chair from card cut-out shapes, discovering your own inner-Featherston. Here are the chairs against a wall that I first imagined. The design studio becomes a measure of engagement. The day I was there the wall was nearly full, and that was day 10. The curators may need to consider a second wall before the exhibition closes in early October.
Rating: 4 ½ stars ★★★★☆
Design for Life: Grant and Mary Featherston
Curators
Kirsty Grant and Denise Whitehouse / Project Curator: Kendrah Morgan
30 June – 7 October, 2018
Heide Museum of Modern Art, Melbourne