Two large lions welcome viewers at the entrance to the 2020 Helpmann Academy Graduate Exhibition. Vietnamese-Australian artist Truc Truong constructed the lions in her installation Unicorn Land from heads imported from Vietnam and her own discarded clothing which she bleached to symbolise the destructive impact of migration on her parents, who left Vietnam in 1975, and her own hybrid cultural identity. In her artist's statement, Truong says, 'Lion dancing symbolises the removal of unwanted spirits, a concept I pursue as a way of understanding my past and hidden aggression toward experiences of racism and displacement.'
Behind the lions is her Bench the French, three black banners bearing text in pre-colonial Vietnamese script, the currently used Vietnamese script and English – her languages – which read, 'thanks for the bread but we good.' French, the language of Vietnam's former colonial rulers, is conspicuously absent, and she created the text using bleach.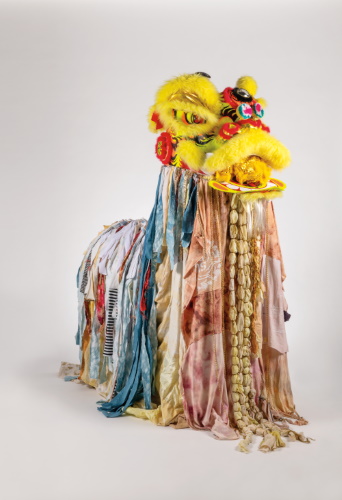 Truc Truong, Unicorn Land (detail). Photo: Michael Haines.
Curatorial manager Logan McDonald indicated that the works of the 27 graduates from the Adelaide College of the Arts (TAFE SA), Flinders University and the University of South Australia visual art programs had been selected to encompass a range of theoretical and conceptual approaches to artmaking. Emergent themes include identity, artistic form and materiality, the environment, myth and story, and philosophy, and the collection includes painting, drawing using stitching, fashion, jewellery, sculpture, ceramics, installation, photography, video, computer-generated imagery and interactive work.
Katherine Vasquez and Fangyi Kuang draw on their cultural heritage in diverse ways. Kuang's CASA comprises a sequence of large panels of silk, the first with a length of bamboo concealed behind it, suggesting her cultural origins, and the second with a small tree branch emerging from it to suggest her new landscape. These enchanting, minimalist works reference traditional Han Dynasty painting. 'Within ambiguity I dwell,' she says in her artist's statement. Jewellery-maker Katherine Vasquez's pendant entitled El union de dos mundos, the union of two worlds, incorporates native Australian seeds within a traditional Salvadoran design. 'The work defines how Australians can be more than one nationality,' she says in her statement.
In a different vein, Anika Gardner's Urbanscape comprises an arresting bronze sculptural form suspended by steel cable and hand-made steel chains above a row of insulation batts. The tortured-looking bronze form appears to have been melted and violently twisted and the batts imply protection from a hot sun above.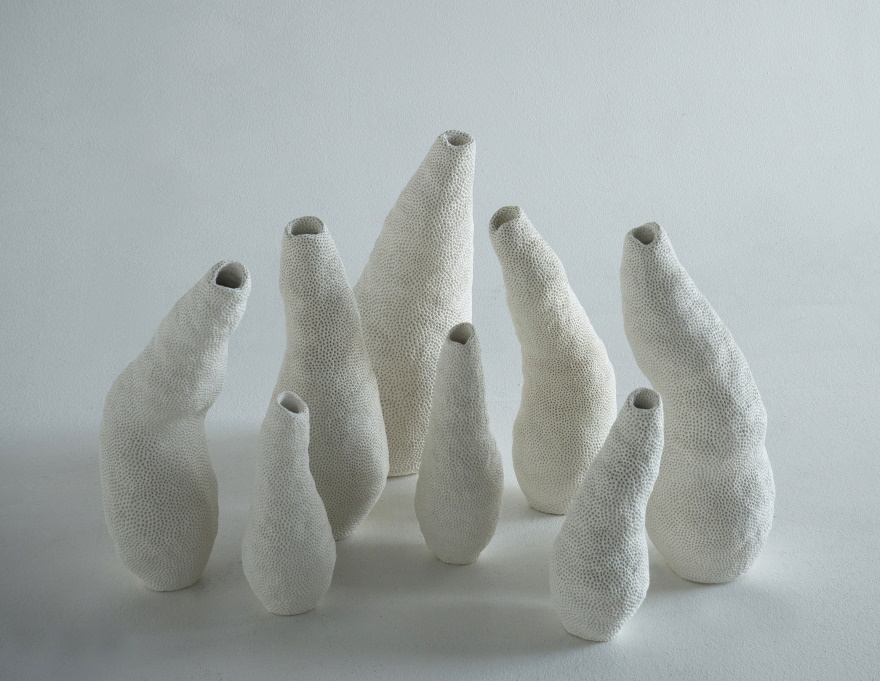 Caitlin Lang, Anthropocene (detail). Photo courtesy of the artist.
Caitlin Lang's Anthropocene comprises several exquisite porcelain vessels resembling vases, but which depict dead coral. They are all the more haunting for their oblique reference to the cause of the decline of the Great Barrier Reef. In Lily Pook-Ryan's In a Bit of a State, 30 objects resembling bones are set out in what looks like an archaeological display, but the bones are made of compressed recycled paper mixed with epoxy resin, a comment on the consumption of non-essential goods and the polluting waste thus generated. Some are painted gold as if artificially glorifying their value.
Georgia Clark's I'm sorry for the state of my brain comprises a row of eight tiny hologram images. In one image, a text constructed from metal lettering reads, 'This is all what I had planned', and in her artist's statement she apologetically expresses her lack of certainty about who she is, seemingly representing herself as vague, momentary thoughts captured in the hologram illusions.
Perhaps countering Clark's uncertainty, Brooke Mitchell cites French philosopher Jean-Paul Sartre's writings on existentialism to emphasise the idea of free will and our responsibility for our own actions in her work entitled Unattainable Goal. In her artist's statement she says, 'Perhaps a self-awareness of existentialism, of understanding the root of our capacity for free will, could be the answer to our nihilistic tendencies wrought by the online landscape of social media.' She represents her theme with a gold-plated, garnet-studded dart embedded at the centre of a circle drawn in pencil high on the white gallery wall. Adjacent stands a well-worn, paint-spattered step-ladder, implicitly inviting viewers to reach for the dart and, in so doing, determine their personal targets and hit them.
A striking theme in this absorbing and well-presented exhibition is that of how the forms and traditions of art characterise cultural and personal identity and how artists reconsider their artistic traditions to interrogate and assert their own sense of selfhood. The exhibition reflects a broader societal concern with the importance, contingency and mutability of identity, an issue not confined to people of immigrant descent and which is perhaps exacerbated by the feeling of meaninglessness experienced in 'the landscape of social media.'
Many generous sponsors support the Helpmann graduates with prizes, making possible the further development of their art. They can be seen here: 2020 Helpmann Academy Graduate Exhibition Award Winners
4.5 stars out of 5 ★★★★☆
2020 Helpmann Academy Graduate Exhibition
Presented as part of Adelaide Fringe
Artists: Wilson Adams, Goretti Castle, Georgia Clark, Amber Cronin, Erin Daniell, sZear Darkling, Thomas Folber, Anika Gardner, Seiichi Kobayashi, Fangyi Kuang, Eric Kuhlmann, Caitlin Lang, Kate Little, Chelsea Materne, Brooke Mitchell, Alicia Murphy, Kate Oakenfold, Lily Pook-Ryan, Anna Revesz, Frances Rogers, Callan Sawyer, Truc Truong, Katherine Vasquez, Kate Verner, Vino Vinayagamoorthi, Jianzhen Wu, Dainis Zakis.
14 February-8 March 2020
Drill Hall, Torrens Parade Ground, Adelaide SA
Free admission