Enemies of Grooviness Eat Sh!t
Part witchy sex cult, part art church, Enemies of Grooviness Eat Sh!t is the latest performance work from Emma Maye Gibson – aka Betty Grumble – performed at North Melbourne's Arts House.
Gibson has a keen understanding of the power of ritual and, for this work, she's dived into witchcraft, Christianity, paganism ('Christianity is just paganism anyway'), sex, stagecraft and rock 'n' roll to create a wholly spiritual and body-positive piece of inclusive performance art.
As the audience finds their seats in the seating bank or at the black-tableclothed cabaret tables, the smell of frankincense hangs in the air (for this reviewer, who grew up Catholic, it hit right in the sense memory). Gibson is already on stage. Dressed in arse-revealing chaps, bolero-like jacket and decorative breastplate, she looks like the lovechild of Elvis and Xena: Warrior Princess.
She dances, shaking her curly hair as she folds herself over, shimmying, bouncing and grooving like she's about to head into battle, or psyche herself into an evangelical frenzy.
Enemies of Grooviness Eat Sh!T is a revelatory experience for those that kneel at the altar of art. Gibson is its prophet, its cult leader, a powerful figure that invites the audience in to her show, which she says is about justice, pleasure and grief. 'Just some small themes,' she says, laughing. It's a mixed bag of art forms, but wholly Gibson's own brand of whatever it is.
She sings, she performs spoken word, she talks to us about her mentors, revealing a triptych of her holy trinity hanging on large cloth panels: Palestinian poet Candy Royalle, US sexologist and performance artist Dr Annie Sprinkle and a large artwork print of her vulva (by artist Ms Saffaa) at the centre.
Gibson dances, she writhes, she sings. She casts a glamour spell to call upon her alter ego, Betty Grumble, asking an audience member to paint her face in Grumble's signature white, pink, green, gold and black paint.
Be warned though, the show is not for the faint of heart. There is discussion of domestic violence, as the show becomes a spiritual purge, a catharsis, for Gibson. There is also a heck of a lot of nudity and, at one point, Gibson masturbates using a pink dildo, surrounded by a circle of salt, while musician assistant Megana Holliday plucks at the bass.
Look, it's wild. But there's also something insanely alluring about Gibson on the stage: you really have absolutely no idea where it's going to go. But you don't care – because you'll follow this art cult leader anywhere. There is truly no one else quite like her.
★★★★★
Enemies of Grooviness Eat Sh!T
Artshouse
Creator: Emma Maye Gibson
Performers: Betty Grumble and Megana Holliday
Dramaturg/Art Doula: Victoria Spence
Original Dramaturgical Team: Dr Vivienne Linsley, Charlotte Farrell and Dr Annie Sprinkle
Care Consultant: Stella Delight
Sound Design: Betty Grumble and stereogamous
Pussy Print Flag: Ms Saffaa
Costume Design: Matthew Stegh/Haus of Helmutti
Lighting Design and Operator: Alex Torney
Producer: Performing Lines
Tickets: $35
Enemies of Grooviness Eat Sh!T will be performed until 21 October 2023 as part of Melbourne Fringe Festival
WAKE
WAKE was a work by theatre collective THE RABBLE, created after conducting interviews with older women in Melbourne's west. The result is a co-created work featuring eight of the women they met, comprising a collection of conversations between those women and their personal reflections on themes such as bodies, time, aged care, regret, euthanasia and dying, and surviving.
The women's ages mean that most of them have experienced their parents' deaths already, some their partner's death, and they are now looking down the barrel of their own mortality.
The show was performed at the Italian Social Club, Altona, around a glossy parquetry floor and white-tableclothed function tables strewn with fake flowers. It felt as though we'd arrived at someone's marriage – or funeral. Each of the women wore white – one in a wedding dress, another in a white pantsuit, another in what looked like a plastic rain suit.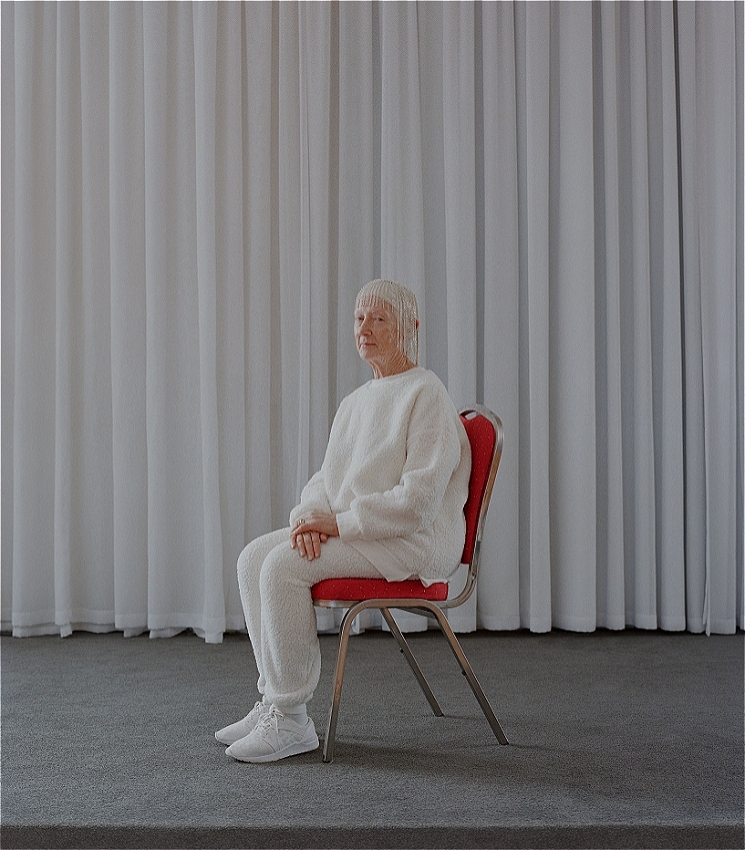 Most of the women had never performed in front of an audience before. There was a retired nurse, a former Pan Am stewardess, an emeritus professor, an artist, an actor. This meant that some were more gifted storytellers than others, but the overall result felt like you'd been invited into a sacred and important place, where the elders of our community were gifting us with knowledge.
The reflections moved from humorous musing to quite hard-hitting truths. One of the women talked about how in Aboriginal and Torres Strait Islander communities, Elders are venerated. 'But not in ours,' said another woman. 'In ours, we are forgotten when we no longer serve a purpose.' 'Except babysitting,' another said wryly. Oh, how it stung.
While the monologues and individual pieces shifted the energy and focus and allowed us into each of the women's individual stories, it did make the show run a bit long – and, for this reviewer, the discussions and reflections were the show's strength. This was the heart of the show – women connecting with women.
When the women discussed their experiences with and their thoughts about aged care, a lot of apprehension emerged, particularly around the dependence they would have on the system. 'There are so many Baby Boomers. If you don't have the means to look after yourself, you could end up anywhere.' Sally, a trans woman, reflected that her fear lies in the fact that she doesn't have family who will be able to look after her in her old age, and make decisions in her best interests – a stark reminder that the privilege of spending one's declining years in dignity is as much a result of the heteronormative patriarchal structures of our society as it is about economics, politics and one's personal ability to crack capitalism.
Read: Performance reviews: Big Dyke Energy and T4T: A Transgender Showcase, Melbourne Fringe Festival
For all the heavy themes, it didn't feel like a purge – one of the women touched on surviving domestic abuse, but it wasn't explored, while another reflected that she didn't regret her experience in an abusive relationship, because, without it, she wouldn't have had her children. With age, or "maturation", comes nuance of experience, and WAKE felt like a celebration of that experience and the sustaining relationships that emerge between women.
★★★★
WAKE
Social Club Altona
Co-Creators and Co-Directors: Emma Valente and Kate Davis
Community Liaison: Cassandra Fumi
Set, Costume and Video Designer: Kate Davis
Sound Designer, Composer and Video Designer: Emma Valente
Lighting Designer & Associate Set Designer: Emma Lockhart-Wilson
Co-Creators, Performers and Co-Costume Designers: Heather Cull, Sandy Daly, Marilyn Davies, Sally Goldner, Clare Larman, Terri Seddon, Jo Walker and Sandy Wood
Production Manager: Nate Evans
Stage Manager: Zsuzsa Gaynor Mihaly
Assistant Stage Manager: Klari Agar
Associate Artists: Dana Miltins and Mary Helen Sassman
WAKE was performed until 19 October 2023, as part of Melbourne Fringe Festival.