Just off the busy Lane Cove Road at Macquarie Park in Sydney seems an incongruous place to put a garden. But as soon as you enter Eden Gardens, you know you are about to experience something special. Eden Gardens has many of the features of a traditional garden centre – a café, retail, homewares – but what makes it unique, is that it also has a sprawling one-hectare pleasure garden, with a meandering path leading through native plants, trees, water features and artwork.
The garden's owner, Simon Ainsworth, says that art and gardens 'just go together' and each year, a number of local and international artists are given a generous stipend to create an artwork for exhibition in the garden. The finished pieces are displayed for six months from November and open for the public to view on a daily basis as part of the Eden Unearthed exhibition.
Now in its sixth year, the exhibition has selected 35 entrants to present their work for the coming season. Curator Meredith Kirton says the artists present works around the themes of sustainability and use the gardens 'as a muse for their works'. The artworks are scattered over the garden, and visitors can amble along a meandering pathway, discovering artworks as they go. An explanatory sign with a QR code at each site links to a webpage where the artist discusses their work.
The artworks each address the exhibition themes in a different way. Ella McGaw's Promises features sculpted marsupials coated with handmade paper printed with the words of the government environmental policies, which McGaw says have failed to protect endangered species. The paper is coated in wax and, over the six months of the exhibition, will gradually disintegrate, revealing the skeleton of the animal underneath.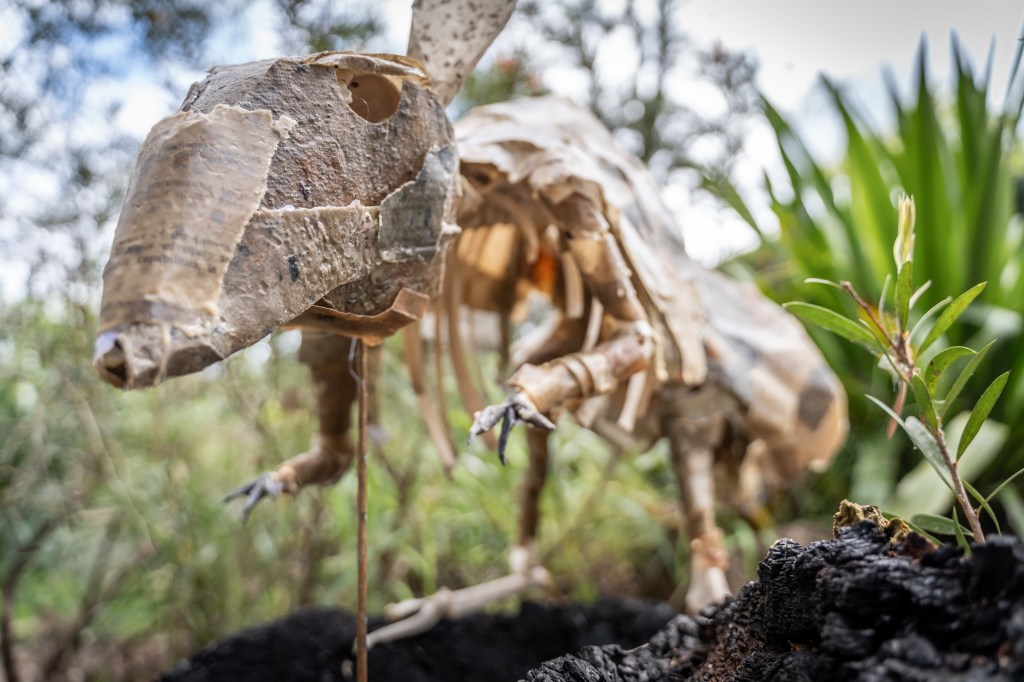 In Lost Habitat, Gloria Flores invites visitors to walk through and feel a series of printed muslin panels, printed using natural dyes with images of threatened fauna and flora.
Wendy Joyce gathered fallen leaves and branches from the Cooks River after a storm, wrapped them in a wool blanket and steamed it until the natural dyes left traces of the species to create her work, After the Storm.
Kathie Nadjar, meanwhile, has painted 144 ceramic tiles with images of local animals, plants and birds, and assembled them in to a whole based on Islamic geometry.
Eden Unearthed offers a series of prizes to the artists, awarded by a panel of three independent judges. This year's overall winner was Kristy Gordon, whose entry was described by judge Associate Professor Graham Forsyth as a 'place of space, meditation, and ambition'. The artwork features two pieces, Blowing in the Wind, a collection of fabricated gum tree leaves floating in the air, and Cloudspace is a series of coloured oval hoops suspended over a pool. Gordon says art should be 'a slow experience of reflection and meditation' and Cloudspace reflects her desire to recreate the mindful sensation of looking at clouds.
The Eden Unearthed exhibition prides itself on upholding three pillars of sustainability: economic, environmental and social. Alongside the exhibition, the gardens offer a series of workshops, talks and other events. In addition to the work by professional artists, the art trail highlights the work of Monte Lupo Arts, a social enterprise that provides career paths for artists living with a disability to showcase their work. Students from Father Chris Riley's Youth Off the Streets program also created work for the exhibition.
Read: Exhibition review: SIXTY
The artwork in Eden Unearthed is both thought-provoking and original. The message the collective art work sends is one of both despair at environmental destruction, and hope of renewal. Whether you are passionate about plants, ardent for art or just needing an oasis in the summer heat, visiting the Eden Unearthed exhibition offers an inspirational and restorative escape from the noise and pollution of the city.
Eden Unearthed
Macquarie Park, NSW
Eden Unearthed will be on display until May 2023.