In the late 19th-century, a 4,000-year-old clay tablet was lifted from the ground by archaeologists at an outpost in southern Iraq and it read: 'Lion let me caress you, my precious caress is more savoury than honey'.
It is suggested that the words were recited by the future bride of a Sumerian king and is considered one of the earliest meditations on love in recorded history. Fast forward to 1993 and Eurodance artist, Haddaway, gave us the comparatively bleak lyrics 'What is love? Oh baby don't hurt me'; an oddly upbeat, quasi-anthemic tune for all those burned and scorned by a relationship gone wrong. 
But what is love? With its exhilarating slippery slopes and inviting schmaltzy centre, it has and continues to be one of the greatest motivating forces for the evolution of the human species. It is this meditation on love that forms the premise of Pragma: Perils and Passions, an ambitious curatorial project conceived by psychotherapist and art consultant Mariyon Slany at Lost Eden Creative.
Situated in the picturesque town of Dwellingup in Western Australia's Southwest, the artist-run gallery and project space provides the perfect setting in which to contemplate love in all its forms.
Read: Exhibitions review: Innovation and the Mandurah 9×5 Art Prize, WA
Developing work in response to the Greek notion of the committed and enduring type of love (pragma), the exhibition features 13 mid-career artists exploring the complex spectrum of human love and emotion through a multitude of lenses and lived experiences.
Upon entering the space, it is a darker outlook on love that shapes the opening narrative. In the confronting photographic series Le Baiser, Christophe Canato explores the subject of enmeshment and the toll it takes on the human psyche when boundaries are not made clear. Capturing the human subject in various stages of discombobulation, the physical transformations are eerily reminiscent of a man shapeshifting into a wild beast.
Canato's portraits prompt us to consider how much of others imprint on us over time and if those personalities can become so entangled with our own that they cause permanent disfiguration.
Akin to a dark spectre on the wall, Kelsey Ashe's enigmatic screen print XX depicts a feathered entity hovering between the moon and the sea. Potently feminine, it whispers of an ancient and enduring relationship with the tides and the greater forces of nature that bind us together.
At the opposite end, Marcia Espinosa also looks to nature to describe the fine line between love and disappointment in a series of intricate ceramic objects. In The Vicissitudes of Love a female figure encased in tiny porcelain flowers stands in a pit of broken dinnerware shards like a pagan witch destined to burn. In keeping with the supernatural theme are Katrina Virgona's Nocturnal Obsessions, little love hearts woven from human hair, felt and fabric that conjure visions of love spells and hexes from a bygone era.
In Michele Eastwood's textile work Thinking of You, the frustration resulting from no longer being able to picture a former loved one's face comes to mind. Although the deeply etched feelings of love and tenderness remain, the brain is simply incapable of reconstructing an image of that person's likeness.
Moving into the second wing of the gallery, the perils gradually give way to pragma and passion. A galvanised wire wedding dress and suit by Tania Spencer symbolise the flexibility and strength of a longstanding marriage. Betsy Bush's Love you to the moon and back she wrote, and the collaborative work titled Binding by Olga Cironis and Anne Neil, are moving tributes to relationships that have withstood the test of time. They speak of the deeply transformative powers of long-lasting love and the healing that can be achieved through the sharing of memories.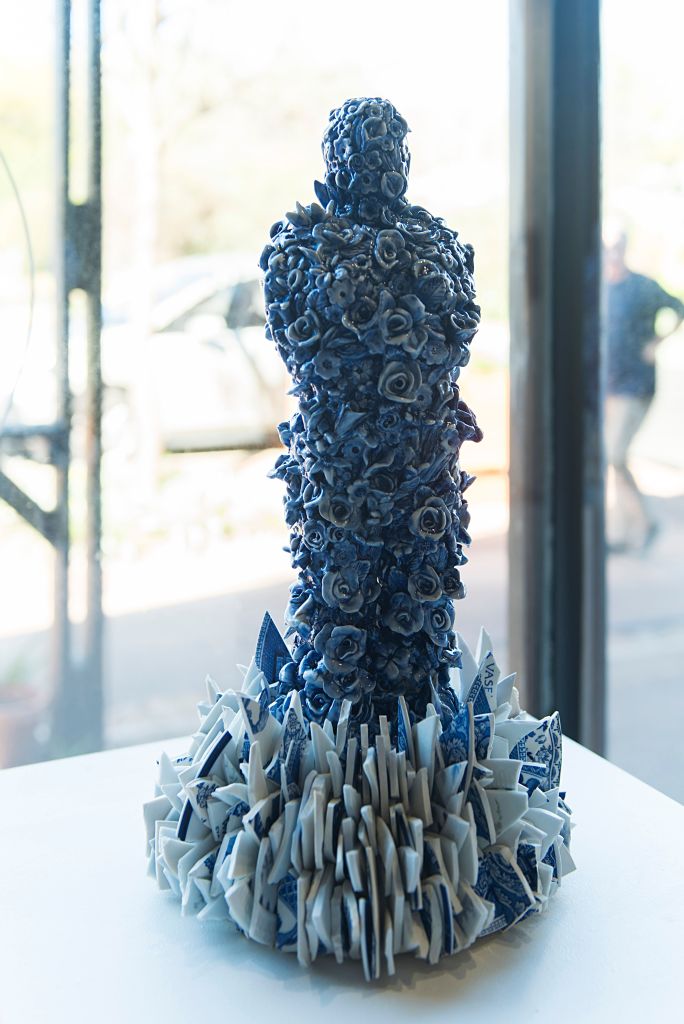 The daily ritual of self-discovery is explored with curiosity and playfulness in the mixed media works of Eden Lennox while Lucille Martin's Bedside investigates the spaces and conditions in which memories are formed.
Lastly, Guundie Kuchling's ceramic figures nestled inside open-ended, cage-like structures and Maxxi Minaxi May's text based (Self) Love is a Battlefield, propose a more holistic and authentic expression of self-love that is not founded on toxic-positive sentiments or a dependency on others.
As the 13th-century poet, Rumi, wrote; 'your task is not to seek for love, but merely to seek and find all the barriers within yourself that you have built against it.'
Pragma: Perils and Passions
Lost Eden Creative, WA
Curated by Mariyon Slany
Exhibiting Artists: Kelsey Ashe, Betsy Bush, Christophe Canato, Marcia Espinosa, Michele Eastwood, Eden Lennox, Guundie Kuchling, | Maxxi Minaxi May, Lucille Martin, Anne Neil and Olga Cironis, Tania Spencer, Katrina Virgona
7 August to 5 September 2021