Uniting Paul Yore's vivacious, politically and sexually charged mixed-media assemblages with Albert Tucker's painterly, modern-expressionistic oeuvre is an ambitious premise. Structures of Feeling, curated by Aaron Bradbrook, unites the artists in the diminutive Albert and Barbara Tucker Gallery at Heide Museum of Modern Art. It comes on the heels of Yore's expansive solo exhibition Word Made Flesh, which made memorable use of the considerable spaces of Melbourne's Australian Centre for Contemporary Art (ACCA) earlier this year.
The Albert and Barbara Tucker Gallery was the result of a bequest from the Tuckers, in which the Museum inherited around 200 paintings and drawings, as well as works and archival materials relating to the artist and his peers. This considerable donation was given to Heide in commemoration of the active part of John and Sunday Reed's patronage and encouragement of the artist, in his formative years of production.
The donation of artworks to museum collections potentially creates a tension within any institution, threatening to detract from its ability to respond freely and attract new audiences to trajectories of new and contemporary art. Heide does well to balance its responsibilities to highlight the significance of the Reeds, their community and their Museum, with a mission to respond to the contemporaneous artistic landscape.
There is a sense of continued depth of exploration and growth in its exhibitions. For example, in the excellent 2023 exhibition In Equilibrium, Barbara Hepworth's solo exhibition, curators Lesley Harding and Kendrah Morgan rendered an astute, strong and fresh vision of the continuing relevance and potency of modernism and modernist sculpture, using the interior spaces of the Main Galleries to great but intimate effect.
The Albert Tucker Gallery alternates between solo exhibitions that highlight Tucker's thematic and artistic leitmotifs, and exhibitions that tease out new dialogues between his oeuvre and that of other artists. Last year's Under Lamplight saw Patrick Pound's archives of curated cuttings and photographs plundered for reference to light and illumination, juxtaposing these against a selection of Tucker's paintings that incorporate unnatural, jarring light motifs to portray moments of melancholy, alienation and violence.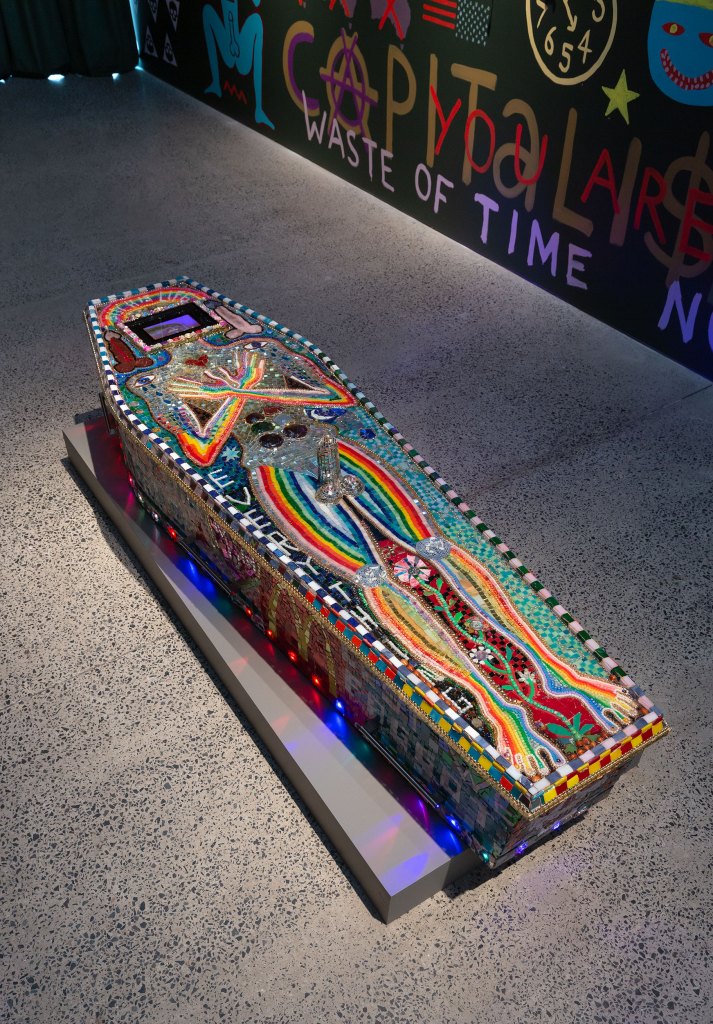 This year's Structures of Feeling works as a perfect mash-up of the emotional intensity of both Yore and Tucker. The overall feeling is of an authentic response by Yore to Tucker's wartime and postwar reflections. Here Yore has selected a small number of works in which Tucker marks the reverberation of wartime violence within the domestic sphere of Melbourne's 1940s and 50s.
Bringing Yore's contemporary voice and dazzling palette to an artistic context often seen as irrelevant, over-masculinised and failing to reflect the post-colonial mood of the nation creates a canny reframe to the art of both artists. Responding to Tucker's work by painting directly onto the walls of the gallery with layers of found and altered symbols and text, and creating complexity in the space with often deeply confronting sculptural and textile and detritus-based work, Yore attends to the lowest aspects of contemporary culture – compulsive consumption, fabricated culture, spiritual impoverishment, greed, bigotry, violence – and traces these themes into the history of white Australia through Tucker's lens.
Often reacting to historic events with brittle irreverence, Yore remembers the history of early modernist Australia that is lost within our desire to forget and transcend. This ability to confront the hidden and shameful within our culture echoes, rather than represses, the work of an artist who was similarly engaged, in content and form, in remembering what Australia wanted to overlook: a Melbourne lost and defined by the violence and trauma experienced and perpetrated by its white population – a continuing echo of an unexamined colonial inheritance.
Read: Exhibition review: Between Waves, ACCA
What is achieved in this exhibition is a restatement of the tensions inherent in the institution – that of finding a stage for elements that warrant both embrace and discomfort. There is a reluctance to cancel that which is ugly, unsavoury, ubiquitous – the things that are hidden within full vision, and that thereby fuel the communal psyche, a theme that permeates the oeuvres of both Yore and Tucker.
Paul Yore and Albert Tucker: Structures of Feeling
Albert and Barbara Tucker Gallery, Heide Museum of Modern Art, 7 Templestowe Road, Bulleen
Structures of Feeling will be on display until 3 September 2023.