A small but important series of screenprints has recently shown in Our Land. Our Future at Tangentyere Artists Gallery in Mparntwe/Alice Springs. Utilising bold colouration, photography, hand-drawn imagery and text, the prints reference iconic land rights posters of the 1970s and 1980s.
The collaborative body of new prints by Thea Perkins and Mparntwe Town Campers, Marlene Rubuntja, Stella McMillan, Carol Young, Rosina McMillan and Tim McNamara, is a timely reminder of what's at risk for First Nations people as the climate emergency worsens – everything. Country, kin, culture.
Developed as part of workshops in November 2020, the suite of five collaborative prints is the outcome of Perkins' Australia Council for the Arts Dreaming Award. Mentored by Tony Albert, Perkins worked with senior artist Marlene Rubuntja out of the Yarrenyty Arltere (Larapinta Valley) Town Camp art room, and emerging artists Stella McMillan, Carol Young, Rosina McMillan and Tim McNamara out of the Ewyenper-Atwatye (Hidden Valley) community centre to develop the imagery for the screenprints. The imagery was then collated by Sam Jones and printed by Troppo Print Studio. A contained suite of works, the project leaves room for more.
The standout work of the series is unsurprisingly a collaboration between Perkins and celebrated soft sculpture artist and senior community leader Rubuntja. For this work they draw on Rubuntja's powerful autographical practice and the activist voice of her late father, Wenten Rubuntja, as well as Perkins' grandfather Charlie Perkins. A photographic image of Rubuntja, a resolute figure, is mirrored by a column of handwritten text, 'You Are On Aboriginal Land'. The work recalls the 1981 poster by Marie McMahon, featuring Tiwi woman Phillipa Pupangamirri and reprising the same important reminder.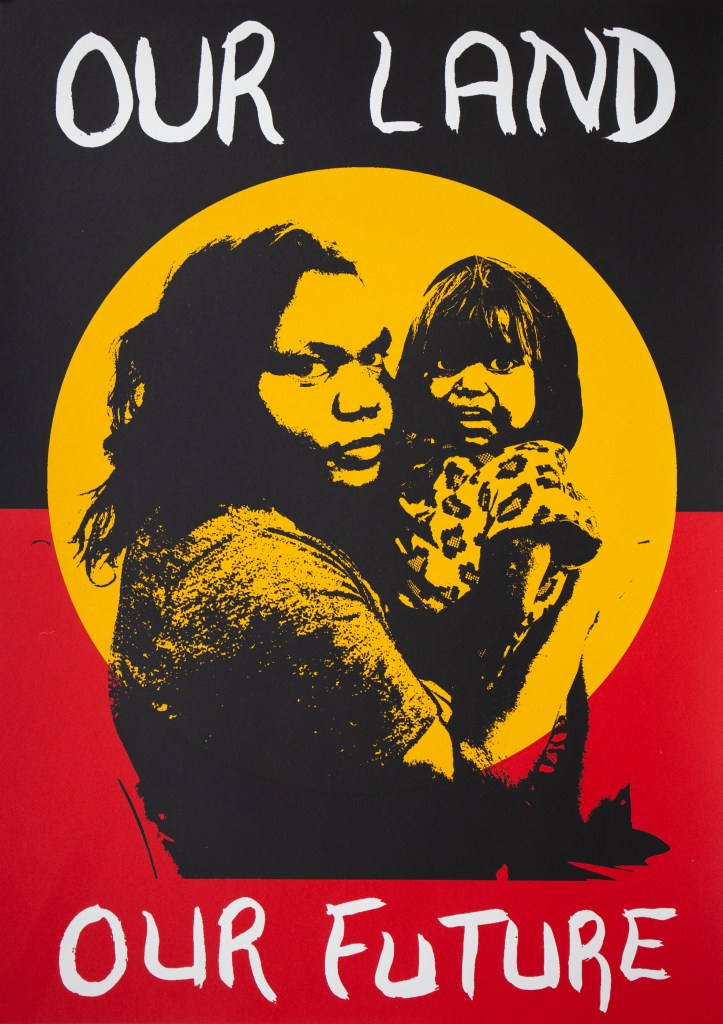 The title work of the show by Stella McMillan and Perkins also uses photography to evoke activism across generations. The work features a piercing image of McMillan's daughter Erika Armstrong, holding the artist's granddaughter Shenika Armstrong McMillan, sitting within an image of the Aboriginal flag, flanked above and below by text – 'Our Land. Our Future'.
Perkins' warm and powerful portraits of Rubuntja, Erika and Shenika are an extension of her previous series of painted portraiture of Town Camp artists. Again, a series of five, those tender portraits of artists at work were exhibited in 2019 at the Art Gallery of South Australia as part of Tarnanthi: Festival of contemporary Aboriginal and Torres Strait Islander art.
The three other prints in the series – by Perkins in collaboration with Young, McMillan and McNamara – combine hand-drawn imagery with text to speak to threats to Country through mining, water misuse and rising temperatures. The catchcry of each takes on a gentle Central Desert lilt, similar to that seen in the clothing and homewares developed by the same artists under the Town Camp Designs label. Young and Perkins' work reads 'no need to destroy kwatye (water). no one be helping'. The understated message of these works and the series as a whole, is that Country needs people, and those people must care and fight for it.
Read: Film review: Audrey Napanangka
Our Land. Our Future showed at Tangentyere Artists Gallery until 5 September. The prints are also now showing in On Message – Environmental Prints and Posters 1978-2023 at Wagga Regional Gallery until 19 November.
Thea Perkins has an upcoming solo at N. Smith Gallery, Sydney –Thea Anamara Perkins: Atherreyurre, 13-30 September.
This review is published under the Amplify Collective, an initiative supported by The Walkley Foundation and made possible through funding from the Meta Australian News Fund.